Between the years 1996 and 2014, the number of Asian students at the University of Delaware nearly doubled to become about 5% of the total student population.[1]
Is that what's driving an incredible surge in Asian cuisine along Main Street? Anyone who has been denied midday noodles at Ramen Kumamoto because every seat was filled with slurping students would say … yeah, that's probably it. Also, move along, kid. And get off my lawn.
But even the noodle-deprived must admit that this booming business is good for all fans of Asian cuisine. Newark has become the undeniable leader in Asian dining in the state, with several new spots and some established heavy hitters – all worth checking out. A brief tour, starting on the townie end of Main Street:


 Hot Pot Restaurant, inside the Newark Shopping Center
Introducing Delaware to the joys of hot-pot dining, this just-opened hot-pot spot is far sleeker on the inside than its exterior suggests, and a great place to gather with gastronomically inclined friends. (If you're unfamiliar with hot-pot dining, think of it as Asian fondue and you won't be too far off.)
Servers will help you choose between styles of broth – some full of herbs, some red from spice – and from there you can sample your way through the dozens of menu offerings, cooking as you go. Where you wander likely depends on who you're with. I took my kids, so there were dumplings and thin slices of beef brisket and pork belly and taro – and pork jowls, which were the hit of the night, tender and lovely as they emerged from the broth. I look forward to a night with more adventurous friends exploring my way through pork kidneys, surf clams, lotus roots and boneless duck feet.
Don't miss the sauce bar. If lobster exists as an excuse to eat melted butter, then hot pot dining is an excuse to mix and match from about 20 saucy offerings, which you're encouraged to blend together as you create your own special potions. (I'd suggest bringing 8-10 small samples to your table, and then experimenting with combinations from there.) Want to know more before you go? Here's an excellent guide to hot potting at home which will serve as a good primer.

 Poke Bros., inside the Newark Shopping Center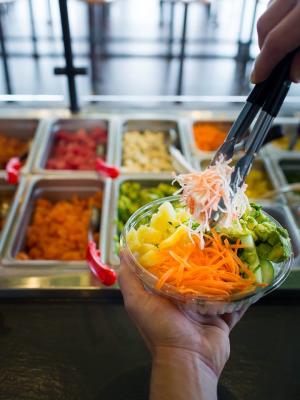 Just opened, this quick-serve Hawaiian joint offers cuisine from just deep enough into the Pacific Ring to be included on this list. Think of it as Poke Chipotle, as you can assemble your own or do as I did and glance around wildly before ordering a basic Da Kine bowl, with diced tuna, sweet onion, masago, green onion, seaweed salad, "OG Sauce (described as "a sweet sauce is soy based and has garlic and ginger notes") and some crispy onions and tempura on top. It's a light, flavorful lunch that I'd certainly order again, though now that I know the drill, I might make a few changes to fit my personal tastes – a bit lighter on the sweet onion and add some cucumber and edamame. Other proteins include chicken, salmon, shrimp and a marinated "Hawaiian tuna" that is also on my "must try" list.

 PoBu, at 215 E. Main St.
They proclaim themselves to be the first "poke bowl, sushi burrito and acai bowl restaurant in Newark," and there's no arguing with that. Beating Poke Bros. to the poke punch by just a few weeks, PoBu packs a many authentic flavors into a single bowl. Once again, quickly overwhelmed by the options on my first visit, I ordered one of the house specials. My Harajuku bowl featured spicy tuna, spicy salmon and spicy crab meat over sushi rice with edamame, avocado, fried crab meat, two sauces, and both tempura crunch and furikake sprinkled on top.
Other proteins include salmon, chicken, shrimp and soft shelled crab. Just about any combination of proteins, mix-ins and crunchy toppings can be rolled up into a "sushi burrito," a very modern way of saying "giant sushi hand roll cut simply in half." How is that like a burrito, you ask? Well, grab a fork, because like every other burrito you've ever had, the center cannot hold and everything falls apart in the end. You'll want something other than your fingers to scoop up the remaining goodies.
(I didn't venture into the acai side of the menu, an entirely different world of granola, coconut water, bananas and honey – but it sure looked tasty.)

 Banh Mi Boy, at 209 E. Main St.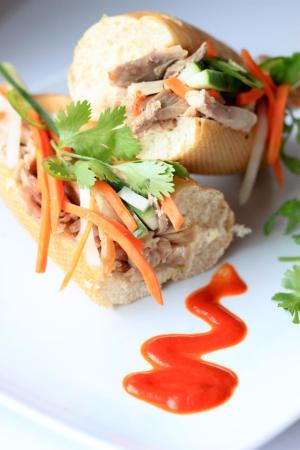 Just steps down from PoBu is Bahn Mi Boy, the Vietnamese sandwich shop that's practically a Main Street mainstay compared to all the new kids in town. The menu has expanded since they first opened to include soups and dumplings and other specials of the day, but the two excellent hallmarks remain: The delicious and inexpensive banh mi sandwiches and the fresh shrimp-and-pork summer rolls.  Go with a friend who likes to share and order two full sandwiches – perhaps the roast pork and the Vietnamese meat balls – along with a side of spring rolls, and you'll get a lot to eat without spending much money. (A half sandwich also makes for perfect afternoon savory snack, if you're feeling peckish but don't want to spoil your dinner.)

 Ramen Kumamoto, down the alley at 165 E. Main St.
I can't add much to what I've said before, but no list of Asian joints in Newark would be complete without Kumamoto. Local chefs raved about it when it first opened, calling the broth "pure expletive-deleted art." The mayu ramen topped my "Best Things I Ate This Year" list in 2015. On a chilly day, there are few things more satisfying.

 Chef Tan, 108 E. Main St.
I tried to hit every new Asian restaurant on Main Street, but ran out of steam before I hit this authentic Chinese sit-down spot that I've heard much about. Luckily, I stay in touch with beloved former News Journal food critic (and connoisseur of Chinese cuisine) Eric Ruth:
Eric: Someone in the kitchen clearly despises the overwrought dishes typical of some places, preferring flavors that speak more subtly and clearly. Best steamed crabs anywhere (they're wok fried with chilies). Szechuan cucumbers are a revelation. My fave: Spicy dry pot with chicken.
Me: Lots of heat then?         
Eric: No, not at all. Very restrained stuff. Spare in ingredients, bold in flavor. Most "heat" comes from Szechuan peppercorns. Best Chinese in Delaware.
Apparently, I have to get back to Newark sometime very soon.
---
[1] Source: The News Journal
invalid widget [plugins_collections_template_custom_articles] [custom_articles]