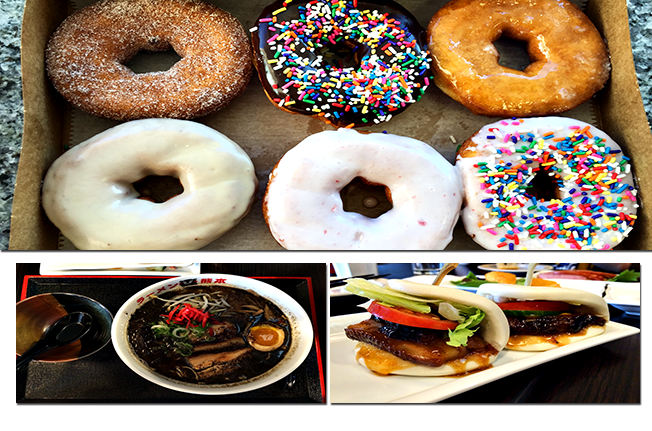 College towns, like their residents, are always in the process of reinventing themselves … especially over the summer. When the students leave and the offseason begins, the construction and reconstruction season begins as well. I remember part of the fun of going back to school was seeing what's old and what's new.
This year, I'm not waiting for fall … because two of Delaware's most exciting new food spots just opened within a block of each other in Newark. After all, they're already popular now. I'm not looking forward to the day when I have to stand in line behind some punk college freshman in order to get my ramen and doughnuts.
That's right. Ramen and doughnuts. Do we get more college then this?


 The Ramen: Ramen Kumamoto
When Ramen Kumamoto opened earlier this summer, it became Delaware's first real ramen joint – and local chefs immediately started talking about it. Since I know a few local chefs, I can share some of the stuff I was seeing on my Facebook:
 "It should be on everyone's must-try list."

"The broth is pure ***** art."

"I am seriously thinking about re-noodling." (Note: "Re-noodling," in this context, means returning to the noodle joint for a second helping of noodles within 24 hours.)
Yes, I was eager to try. No, I have not yet re-noodled. Yes, I have thought about it.
Chef Sam Ho, one of the partners behind Ramen Kumamoto, was once a sous chef at Morimoto – but you wouldn't know that by the prices. It's hard to find anything on the menu over $12. Some apps are closer to $2. And the food?
Pure. ******. Art. Indeed.
You won't want to fill up on apps too much, but you'll be tempted to order a few. Pork buns are a good bet – light, freshly made, and give you a good peek into the porky goodness to come.  Japanese sausage was a hearty portion for the price, and devoured by my kids (who also enjoyed the gyoza dumplings, enough to ask for a second order).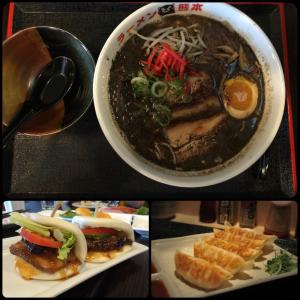 But the big bowls of ramen are the main attraction, and the eponymous bowl here is the pork bone soup with mayu oil (dark roasted leek with crushed garlic oil), topped with roasted pork (charshu), bamboo shoots, bean sprouts, kikurage mushrooms, chopped scallion and seasoned boiled egg with white thin straight noodles.
It's a bowl full of amazing flavor. The pork itself is tender and flavorful, but not as flavorful as the pork broth that the noodle swim in. In a dish with this many ingredients, everything was perfectly cooked – the egg (with yolk just barely soft), the sprouts (still crunchy), and the mushrooms. Asian condiments are on each table, but I didn't even notice them the first time I ate there. (That said, the sesame grinder adds a nice depth of flavor.)
There are other things on the menu, but I'll admit, I haven't sampled much. There's ramen in a spicy broth and a miso broth, as well as a few udon dishes with curry and tempura. If the same care goes into those as the ramen, it will be a tough choice.
The portion is impressive – both times I ate there, I couldn't quite finish my bowl. (And that was the $10 bowl of ramen.) If you do run out of noodles before you run out of broth and have a bigger appetite than I have, they'll replenish your noodles for two bucks or less.
I want noodles now.

 The Doughnuts: Duck Donuts
Right around the corner from Ramen Kumamoto, Duck Donuts brings the taste of the Outer Banks to Newark. The "duck" in these doughnuts comes from the original shop in Duck, North Carolina (and not because the donuts are made from 100% pure duck, which is something I told my kids hoping they would stop eating and leave the last glazed doughnut for me).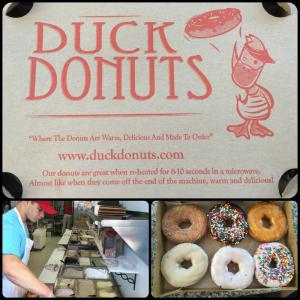 After you order, you can follow your doughnut and its friends down the line as they go from batter to fryer to capable hands of the human doughnut handlers, who complete the doughnut to order with the glazes and toppings of your choosing. Options are limited but well chosen. The simple glazed and cinnamon sugared donuts (with no other toppings) were big hits and show off how good the basic doughnut is without other fancy stuff thrown on top. (Note: This is a "cakey" doughnut, which I've learned is not to everyone's liking, because some people are wrong. These are doughnuts the way doughnuts are supposed to be.)
Other classic combinations: Peanut-butter icing and chocolate sprinkles. Strawberry icing and rainbow sprinkles (especially if you're travelling with a 5-year-old girl). Maple icing and bacon. Of course. (And that was some fresh-made bacon on top of that doughnut.)
You can buy one, but you know a six pack will get eaten. Whether or not you're with someone.