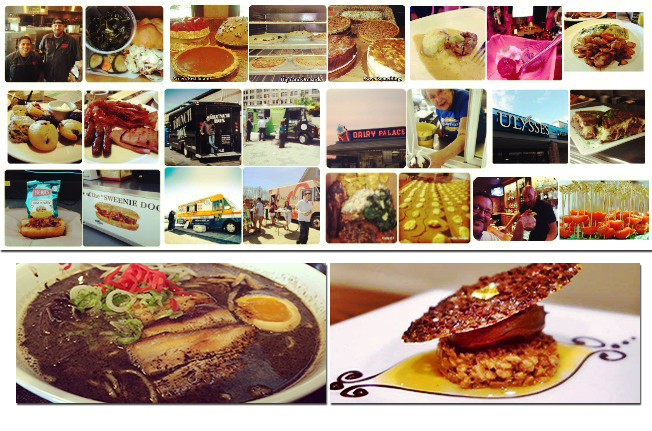 What an incredible year its been for eaters in these parts. New restaurants burst onto the scene in Newark, Wilmington, Middletown, Hockessin just about everywhere. A scrapple sandwich made it all the way to the finals in a national breakfast sandwich competition. The Wall Street Journal charted the rise of Mid-Atlantic cuisine, saying the region is staking its claim to culinary greatness. And I put on five pounds. These things are not unrelated. Once again, I'm taking stock and looking back on a year spent eating well. In order to narrow down the list (and its a long list), I'm focusing on bites that I bit for the first time this year some new, some just new to me. Which means some old favorites don't make the list, like the ceviche sampler at Harry's Seafood Grill, the short rib burrito at El Diablo, the Cali sandwich at Drip, the chocolate thunder cone at Woodside Farm Creamery, and it's amazing it's just five pounds.

The Best Things I Ate This Year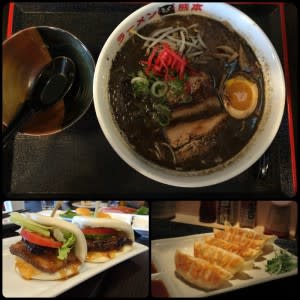 Mayu ramen with extra egg at Ramen Komamoto
The pork bone soup broth with mayu oil a friend called it f***ing magic, and I can't improve on that. The charshu (roast pork belly) is cooked perfectly, every time. The noodles are on point, every time. The seasoned seven-minute egg adds a richness you don't know the dish needed until you taste it. And then you'll want more of that richness, which is why you ordered it with extra egg. You'll thank me for that advice, unless you know me, in which case you're tired of hearing me rave about it.

Poached baby octopus at The House of William and Merry There were also morel mushrooms, lobster emulsion and preserved Meyer lemon zest, but I can't stop thinking of the local wild ramp puree at the bottom of the dish, as Chef Bill Hoffman captured the energy and essence of spring on a plate.

Chelsea Cheeseburger at Chelsea Tavern It won the Delaware Burger Battle with its straightforward, savory deliciousness. Beer-braised onions, aged white cheddar, fresh baked brioche, and that's it, unless you add bacon. Its the standard by which all other burgers should be judged. Until the next battle, anyway.

Beef brisket sandwich at Locale BBQ Post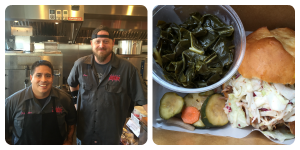 Here you will find meat that's been well loved and well smoked, topped simply with Alabama white sauce and cole slaw. You get a couple housemade pickles on the side, but the smart money adds a side of collard greens that come out smoky and spicy, a bit sweet and a bit sour.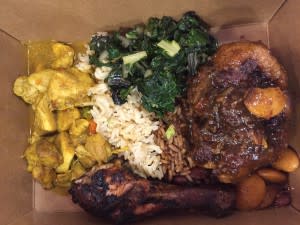 The lunch buffet at Cafe 67 inside Newark Natural Foods One day for lunch, I put together a plate of curried chicken over rice, braised oxtail, a jerked chicken leg and some Swiss chard. Did I need that much for lunch? No. But I'm a grazer, and I couldn't help myself.

Grilled Berkshire pork chop at Vita Nova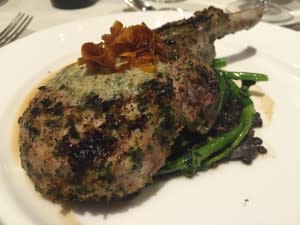 I expected the food at the University of Delawares student run fine-dining restaurant to be good. I did not expect it to be as good as it is. This thick pork chop with broccoli rabe, lentil caviar and rosemary glace was clearly a learning experience for the students. It taught them that even in fine dining restaurants, some customers will pick up a pork chop bone and gnaw on the bone a little when its this good.

Bread at V&M Bistro Everything about this new Italian place reminds me about the classic Italian food I grew up with the warm welcome, the Italian guys in the open kitchen, and the fantastic bread that they bake from scratch. Garlic knots, crusty Italian bread, a slice of tomato pie its all in the bread basket. All. The. Smells.

Caramel bourbon milkshake at Grub Burger Bar No, son, you cannot have a sip of my milkshake. Eat your fries.

Honey-jalapeno cornbread doughnuts at Stone Balloon Ale House I had a tremendously fun dinner at this Newark gastropub, where Chef Robbie Jester is clearly having a blast creating a modern take on comfort food. The sticky cornbread doughnuts hit all the right notes and the whiskey maple bacon butter that came alongside was not shy on the whiskey.

Tutti Frutti snack mix at the Wilmington Westin Dark bittersweet chocolate chips and popcorn tutti-frutti with walnuts, almonds, dried cranberries, raisins and apricots. All other snack mixes are now irrelevant. If you're in town for a conference at the Westin, get your event organizer to ask for it by name.

Guacamole with house-cut chips at Cocina Lolo When Chef Bryan Sikora announced he was opening a Mexican inspired restaurant in Wilmington, my first thought was that he better make some good guacamole. He makes very good guacamole.

Smoked brisket bahn mi at La Fia Bistro On May 12, I wrote that The $12 smoked brisket banh mi sandwich at La Fia is the best sandwich you can get in downtown Wilmington right now. I stand by that statement as of May 12. The beef brisket sandwich is sadly off the menu right now, but with the quality of the bread they made at La Fia, you'll enjoy every sandwich.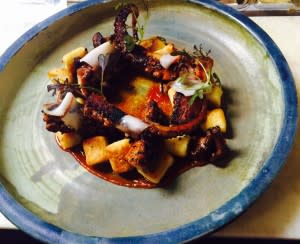 Charred Portuguese octopus at Domaine Hudson A true fusion of tastes and textures: Gochujang provided the kick to the spicy tomato-honey glaze, while beautifully melting lardo covered the tender charred octopus. Delicious. (And side note: This blog isn't called The Best Things I Drank All Year, but if it was, a significant portion of that list would be monopolized by cocktails made by Domaine Hudson bartender John Holton. The Orange Manhattan. The Tilton. The Sazerac. The 909. The Ginger Sidecar. I could go on. And I have.)

Tuscan salami that I made with my own two hands at Maiale Salumeria Maiale is a lunchtime destination with some of the best sausage sandwiches in town, but on weekends, owner Billy Rawstrom occasionally offers classes in butchering and sausage making. I had a chance to take one this year. I'm not saying my Tuscan salami was better than the ones they sell at the store on a daily basis, but it totally was.

Scallops and asparagus at Home Grown Cafe Home Grown launched a series of monthly Supper Club dinners this year, and one of the first events featured these thinly sliced raw scallops over crisp asparagus spears with a light Hollandaise sauce. Simple but elegant, the scallops practically melted onto the asparagus.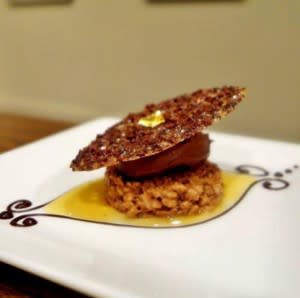 Tender guanaja cream, praline crunch, cocoa nib brittle from Michele Mitchell The executive pastry chef of the Hotel du Pont made this dessert at a what-would-you-want-at-your-last-meal themed dinner this year. I know when my last meal comes around (and hopefully not soon), I want Michele there making dessert.