The holidays are all about tradition, good food, making memories, and relaxing with loved ones. So why not make the season extra special by taking a road trip through Wilmington and the Brandywine Valley and spending some time this holiday season in one of the most gorgeous (and historic) areas of the country? From Christmastime exhibits at du Pont family estates to lush garden tours that evoke the spirit of the season, you can fill your days and nights with festive activities that will get you into the spirit and help you create lasting memories for years to come. Road trips aren't just for summer, so get ready for a weekend escape you'll never forget as you travel through Wilmington and the Brandywine Valley this holiday season. Here are some must-see stops to add to your route:
Holidays at Hagley: Starting November 23, you can make a stop at Hagley Museum and step back in time to 1803 as you visit the du Pont ancestral home Eleutherian Mills, decorated in vintage holiday charm. There's also a "Christmas Trees Past and Present" exhibit, which celebrates the history of holiday trees in the U.S. You'll get plenty of decorating ideas to take back home, just in time for the holidays.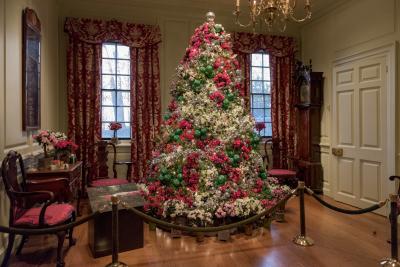 Yuletide at Winterthur: From November 23 through January 5, you can experience one of the Brandywine Valley's most memorable attractions. Henry du Pont's mansion is transformed into a magical holiday spectacle, with food, music, exhibits, an exquisite 18-room dollhouse mansion, and an Enchanted Woods children's garden. Reservations are recommended for the Yuletide exhibits, and it's your last chance to see Winterthur's Costuming THE CROWN (showcasing costumes from Netflix's Emmy winning series) before it closes on January 5.
Five Not-to-Miss Brandywine Valley Holiday Events
Nemours Estate: Another must-see stop along the way is the 1907 mansion that Alfred du Pont built for his wife Alicia. Starting November 17, you can  experience holidays in traditional du Pont style as you tour the grand estate and gardens, learn about the history of the family, and see original decorations (including a 19th century German crèche), twinkling lights, and bright colored ornaments. It's a beautiful way to spend a day or evening, and just minutes from downtown Wilmington.
A Longwood Christmas: Just 10 miles from Nemours you'll find Longwood Gardens, the perfect spot for travelers who want to soak in the season's natural beauty. From November 22 through January 5, stroll past poinsettias, pinecones, snowflakes and more as you tour the special holiday gardens. As the sun sets, you'll also see thousands of dazzling lights strung across miles of trees, and when you're ready to warm up there is a four-acre Conservatory with holiday sing-alongs, sung to the sounds of a 10,010 pipe Aeolian organ – the largest organ ever constructed in a residential setting. You can also grab a hot chocolate and cozy up to one of the many fire pits.
Brandywine Christmas at Brandywine River Museum of Art: If it's family fun you're seeking during your road trip, the Brandywine River Museum of Art along the banks of the river is a perfect holiday detour. Renowned for its collection from three generations of Wyeth family artists, during the holiday season they showcase the region's most impressive model train display, which includes nearly 2,000 feet of track. Throughout the season they display festive trees and have crafts, live musical performances, and imaginative "Critter" ornaments made by local volunteers. There's also a Polar Express Pajama Party, breakfast with the trains, and more special events.
Holiday Light Express: In Wilmington, throughout the month of December you can take a ride in 100-year old (heated!) coaches and experience thousands of holiday lights twinkling as you pass decorated homes along the route. The 45-minute ride provides plenty of photo ops, plus a chance to see Wilmington through the lens of holiday magic.
A Christmas Carol: While in Wilmington, make a pit stop to see the Delaware Theater Company's adaptation of the Dickens classic – with a twist! With just five actors Charles Dickens' beloved characters come to life using props, puppets, bold physicality and the imagination of the audience. Opening night is December 7, so make this a cultural must-see on your holiday road trip.
One-Day Excursions
Plan your road trip to hit these one-day events in the area: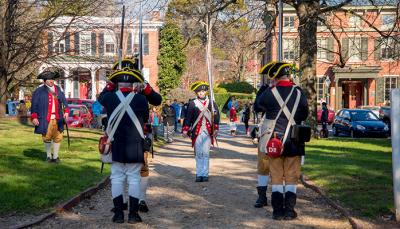 Christmas in Odessa: Just a short drive from Wilmington, the town of Odessa showcases historic homes decorated for the holidays on December 7. Take a walking tour of historic private homes and public buildings that are decorated for the holidays and then spend some time taking in musical performances, antique shows, and more throughout the day.
Spirit of Christmas in Historic New Castle: On December 14, head south from Wilmington for the 19th annual Spirit of Christmas celebration in New Castle. Get immersed in old-time holiday fun with food, music, shopping and performances throughout the day, plus tree lighting and caroling. The event is free and open to the public.
This holiday season is the perfect time to plan a road trip through Wilmington and the Brandywine Valley to experience historic and beautiful celebrations of the season. Take a look at our site for food, lodgings, and entertainment along the way.