Delaware is consistently named among the top 10 bicycle friendly states in the in the country. And with its gently rolling hills, stunning scenery, uncrowded country roads, and miles of designated multi-use trails, Delaware's Greater Wilmington and the Brandywine Valley is a lovely area to explore on two wheels. Just a short drive from Baltimore, Washington D.C. and New York City, it's the ideal spot for a weekend bicycling getaway . . . whether you are a beginner or an intermediate cyclist. Because of our mild climate, you can bike here pretty much year-round if you have the right clothing.
Ready to plan your cycling adventure to Chateau Country? Here are seven of our favorite touring routes:
1. Chesapeake City, Maryland to Delaware City, Delaware - 29 Miles Round-Trip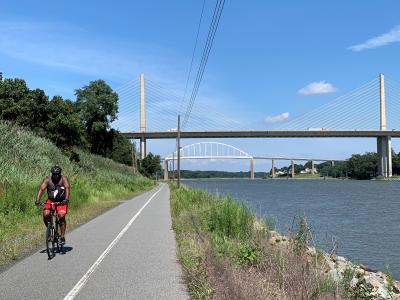 This trail connects two historic towns and traverses from Maryland across the entire state of Delaware crosswise, primarily following the Chesapeake & Delaware Canal along the paved, primarily flat Michael N. Castle Trail. You'll likely spot a few cargo ships passing by on their way to or from the Atlantic Ocean. The path also passes by a lovely wildlife area, woods and marshes. Be sure to check out the African American Civil War Veterans Cemetery about two and a half miles before you reach Delaware City.
Places to recharge and refresh along the way include Schaefer's Canal House in Delaware City, Grain H20 in the Summit Marina (about mid-way along the route), as well as Kathy's Crab House and Delaware City Bistro & Barbecue in Delaware City.
---
2. The Jack A. Markell Trail - 11.6 Miles Round-Trip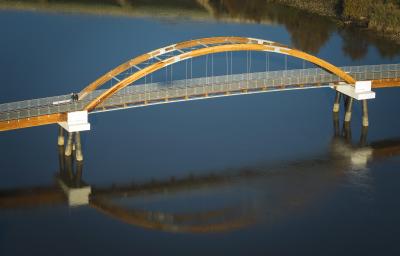 We love this trail because it provides a taste of two sites of our region: our thriving riverfront district and historic New Castle, a colonial gem seemingly frozen in time. The trail starts at the Wilmington Riverfront by the DuPont Environmental Education Center. Other than rises in elevation over two bridges that cross the scenic Christina River, the trail is primarily flat and perfect for family rides. The boardwalk and paved route crosses through wetlands (keep an eye out for herons, ducks, birds of prey, and a variety of other wildlife) and terminates in historic New Castle at the peaceful Battery Park overlooking the Delaware River.
On the Riverfront end of the trail, there are more than 10 restaurants (including a brew pub) for you to choose from. In historic New Castle, Jessop's Tavern is an excellent spot to grab a mid-ride refreshing beverage and lunch. Need a break from the saddle? Stroll the cobblestone streets of New Castle and admire the impressive examples of Colonial, Dutch, Federal and Georgian architecture found throughout this small town. Want to stretch your ride over two days? There are three new hotels to choose from at the Riverfront. Those looking for a romantic getaway will want to consider the Terry House Bed and Breakfast right in the heart of historic New Castle.
---
3. Biking the Brandywine Valley - Mileage Variable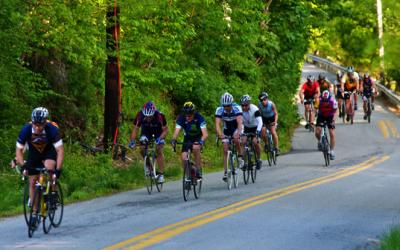 Take a leisurely cruise through the heart of Chateau Country on the road less traveled, checking out some of our world-class museums and gardens, small villages, and food/wine/beer finds all along the way. Our friends at Delaware Greenways have created a detailed biking (and walking) map that will help you chart your own course and choose how far you want to go.
Using the map, you can choose between stops at Winterthur Museum, Garden and Library; the Delaware Museum of Natural History; Brandywine Creek State Park; and the First State National Historic Park at Beaver Valley. The villages of Centreville and Greenville are perfect locations for lunch or a refreshing beverage. Or, pack your own and have lunch at the scenic Smith Bridge picnic area on the Brandywine Creek after taking some Insta-worthy cycling snaps in front of the covered Smith Bridge.
No matter how you choose to go, the route will be sublime. Enjoy views of pastures, mature woods, stone-lined meadows, and grazing horses and cattle along the way. This is another route that also makes a perfect romantic getaway. Consider stays at either the historic Inn at Montchanin or the recently renovated Fairville Inn to round out your adventure.
---
4. The Pomeroy and Newark Rail Trail - 9 Miles Round Trip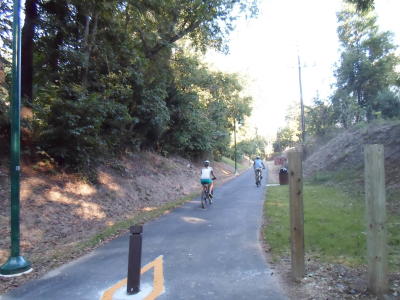 This scenic trail connects the college town of Newark (University of Delaware is located here) to White Clay Creek State Park. Begin your ride at the James F. Hall Trail, a paved rail trail. Park across from the College Square Shopping Center in Newark. The trail begins at the intersection of Wyoming Road and Library Avenue. Train aficionados are almost guaranteed to spot a train chugging along the adjacent tracks … safely divided from the trail by a large fence.
In a little under two miles, you will reach the end of the James F. Hall Trail. Here, head north on the Pencader Trail which will take you into White Clay Creek State Park. The wide, well-packed earthen trail follows parts of the Pomeroy and Newark Railroad that once cut through the valley. It runs on the east side of White Clay Creek, offering lovely views all the way to its terminus at Hopkins Road.
When you are back in Newark, take time to stroll through the lovely University of Delaware Campus, do some shopping on Main Street, and eat at one of the great restaurants downtown. The Stone Balloon Ale House, Taverna, Caffe Gelato, Home Grown Café, and Iron Hill Brewery are some of our favorites.
---
5. Carousel Park Loop - 2.5 Miles
This family-friendly trail is the perfect spot for the kids to hone their bicycling skills. The park is also an equestrian center, so if you love horses this is the spot for you. There's also the park's gaggle of resident geese and lots of leashed pups (there is a dog park on site). Mid-way through the loop, you'll cruise along the shores of a lovely pond. This is a great place to stop for a break, get a sip of water, and enjoy the beautiful view.
Park in the upper Carousel Park Lot just past 3800 Limestone Road. The trail is primarily flat. It circles the perimeter of the park before cutting through its center and returning you where you started. The other thing that makes this route great for families ... you never have to cross a road, so you won't encounter any car traffic.
---
6. The Northern Delaware Greenway Trail - 20.8 Miles Round-Trip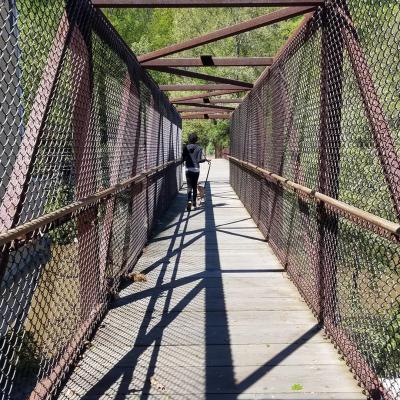 This trail links four parks through a series of trails that travel by some of the most beautiful woodlands, waterways and landscapes in Delaware. The route includes two historic estates, Bellevue Hall and Rockwood Mansion, and the Brandywine Zoo. Just off the trail is Nemours Mansion & Gardens, a former du Pont estate inspired by Versailles.  The trail winds through the Piedmont area of northern Delaware including Alapocas Run State Park with its dramatic rock faces and waterfall, Rockwood Park, Bringhurst Woods Park, Bellevue State Park and the Cauffiel House overlooking the Delaware River.
The portion of the trail that runs through Brandywine Park in the city is just a short walk or bike ride from Wilmington's Trolley Square district. This is a great spot to grab lunch or a beer. There's Catherine Rooneys, Kelly's Logan House, Trolley Square Oyster House, and BarRoja, to name a few.
---
7. The Toscana Loop - 23.4 Miles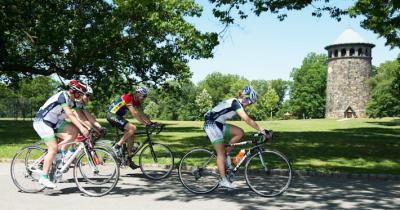 This loop has been a classic road ride for local cycling clubs for many years. It is for more advanced cyclists and includes some moderate climbs.
The route starts at Alexis DuPont High School at 50 Hillside Road in Wilmington. It travels through the rolling back roads of Greenville past Winterthur Museum, Garden & Library, a former du Pont estate that features awe-inspiring gardens and a celebrated collection of American decorative arts that draws visitors from around the world. It then loops through the charming town of Kennett Square, Pennsylvania, known as the "Mushroom Capital of the World," and back into Delaware, traveling through the bucolic rural villages of Yorklyn and Ashland before returning to the starting point.
You can make an entire day out of this ride. Stop for lunch at Pizza by Elizabeths for some delicious pizza (be sure to try the bread sticks with the pesto and mushroom duxelles sauces too). In Yorklyn, stop in at Dew Point Brewing Company … nestled in a historic snuff mill … for a pint of Nit Wit or Hop Worts Express IPA.
End the day at Piccolina Toscana, for which the route is named (bike clubs typically start and finish the route here rather than at the high school). Enjoy a glass of wine and a hearty plate of handmade tortellini to top off your day. Or, grab something to eat on the run at Toscana To-Go right next store from the main restaurant.
---
8. White Clay Creek State Park - Mileage Variable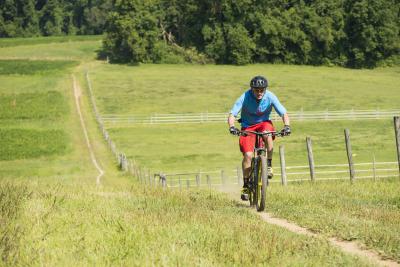 If you like mountain biking, you will love White Clay Creek State Park. The park has more than 3,600 acres of preserved forest stretching across the valleys and rolling hills of Newark and Pike Creek. It is known for its award-winning trails, 27 of which are mountain biking trails. They lead adrenaline junkies past historic ruins along the meandering White Clay Creek, beautiful open scenery, and rock outcrops.
Difficulty ranges from easy to intermediate. There are a lot of fast rolling sections and some technical downhills too as well as launch points where you can really catch some air. There is also an "expert" section with man-made obstacles, bridges and skinnies as well as a rock garden section that is great practice for both newbies and more advanced riders.
---
If you are a long distance cycling fan, you won't want to miss the Wilmington Grand Prix's Gran Fondo, a challenging 100-kilometer course through the Brandywine Valley held in mid-May. If you're not quite up to 100 kilometers, a shorter Governor's Ride (15 miles) is held the same weekend. And be sure to stay for the weekend as professional bicyclists race through the streets of downtown Wilmington at speeds that reach 35mph during the Wilmington Grand Prix, one of the premier criterium-style bike races on USA Cycling's National Racing Calendar.
Ready to start planning your bicycling adventure to Greater Wilmington and the Brandywine Valley? You'll find all the resources you need at www.visitwilmingtonde.com, including charming bed and breakfasts and full-service hotels minutes from your chosen route. If you need more specialized guidance, our team of experienced travel professionals is available to answer your questions via Live Chat on the website.
Happy cycling! We look forward to seeing you soon.