Centreville, Delaware, a hidden gem in the heart of Greater Wilmington's Brandywine Valley, began its story in the year 1750 when carters and drovers were moving goods and livestock along "Kennett Road," now known as Kennett Pike. The village, an easy half-day's wagon drive from the markets of Kennett Square and Wilmington, marked the perfect spot to rest and find refreshment. Now, in the 21st century, the village of Centreville is a historic, elegant town filled with antique shops and art galleries. With enough charm to capture the heart of every visitor, it still takes the cake (and lemon square) as the ideal spot to spend a leisurely afternoon.
One of the town's many wonderful attractions is the cozy and quaint Centreville Café. This popular gathering spot serves as a place to catch up on the local news, mark special occasions, enjoy an outing with your pup, and celebrate all the good things in life. Open 364 days a year, it's become the perfect spot for breakfast, brunch, lunch and of course afternoon tea! Serving a host of sweet treats, the café's lemon squares are a favorite.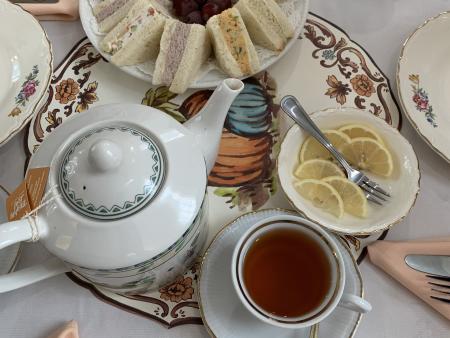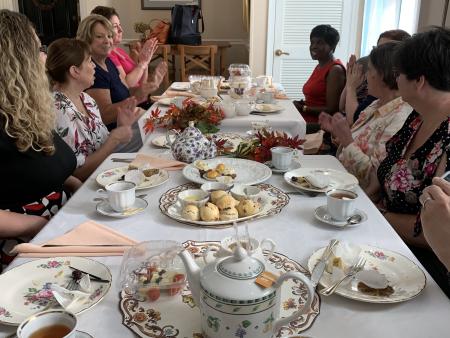 Afternoon tea at the Centreville Café is the ultimate girly-girl's tea party fantasy come to life. Tea includes four courses, with full service, offering a selection of savories, tea sandwiches and additional tasty treats. Be sure to save room for the hot-out-of-the-oven scones served as the final course with clotted cream, house made lemon curd and delicious homemade jam.
Afternoon tea, just like the rest of the café's menu, is made by hand using locally sourced and seasonal ingredients – offering new tastes, textures and flavors with each visit. Why? Because according to owner and server Susan Teiser, "Life is a lot more fun when it's a fresh experience!"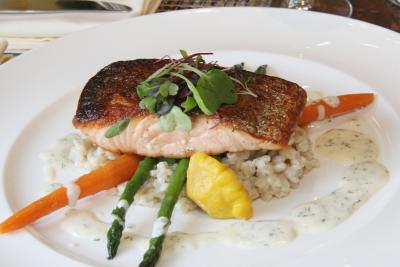 Centreville is also home to many one-of-a-kind shops and Buckley's Tavern, another favorite neighborhood meeting spot serving delicious comfort cuisine.  Buckley's dates back to 1817 when it was a private residence.  Through the years it has served as a tollgate to collect fees from travelers to and from Wilmington and a popular taproom and ice cream store.  But today Buckley's is known as a meeting place for all kinds, from world-renowned artists to professional athletes, the everyday locals and travelers alike.  The parking lot that once held horses and coaches now finds Rolls Royces and pick-up trucks.
Listed in the National Register of Historic Places and within easy reach of Wilmington's famed du Pont family estates and museums of the Brandywine Valley, Centreville should be on the must-see list of any traveler seeking a blissful off-the-beaten path experience.