The tradition of Eventing at beautiful Fair Hill continues with the inaugural Maryland 5 Star to be held at the newly constructed Fair Hill Special Event Zone in Elkton, MD (Cecil County). This four-day event is one of only two 5 Star events held in the United States, and seven worldwide. The prestigious 5 Star (CCI5*) designation is the pinnacle of the sport of eventing and is best described as an equestrian triathlon. Arriving in October 2021, the event marks a new chapter for the state of Maryland's prestigious horse and equestrian tradition. The event will showcase four days of competition in Dressage, Cross Country, and Show Jumping.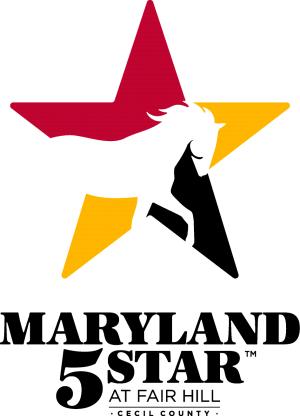 Fair Hill is a 5,656-acre MD Department of Natural Resources Management Area, conveniently located between Baltimore and Philadelphia, and within minutes of both Newark and Wilmington, Delaware, . Fair Hill is known for its pristine terrain, woodlands, and natural beauty. The property was formerly owned by William du Pont, Jr., an avid equestrian and racecourse developer, then it was purchased by the State of Maryland in 1975. 
In 1925, William du Pont, Jr. began to assemble a mass of land on the Maryland-Pennsylvania border, that would eventually encompass more than 7,600 acres, to serve as a nature preserve and venue for his two favorite past times: horseracing and foxhunting. He designed a spectacular steeplechase course, recognizing the thick, healthy turf and giving it years to grow before putting it to use in 1934. Mr. Du Pont also built bridges, tunnels and a 17 mile "super fence" made of chain link to ensure his hounds' safety during foxhunting. After du Pont's death in 1965, the state of Maryland purchased their 5,633-acre portion of the estate. 
In 1989, Elkins "Elkie" Wetherill and John Ryan, organizers of the Chesterland Three-Day-Event in Unionville, PA, were looking for a new site for their CCI3*. They were directed to Fair Hill and enlisted in the aid of Trish Gilbert. When they saw the property, they knew the rolling terrain and lush turf made it an ideal venue for Eventing. A Founders Committee was formed, securing the services of England's Michael Tucker, a world-renowned expert, to design the cross-country course. 
The first event was conducted in October 1989, and the CCI3* was won by Karen (Lende) O'Conner on Nos Ecus. The venue was an instant success. Tucker continued to apply his magic touch to Fair Hill for eight more years until, in 1999, he passed the reins to Derek di Grazia, a former competitor and up-and-coming course designer. Di Grazia rose to the challenge, and, in short order, he produced a championship course that has only gotten better with each passing year. 
In 2003, Fair Hill International served as the venue for the Pan American Eventing Championships when the Dominican Republic was unable to provide a venue. In 2011, the Young Event Horse East Coast Championships for 4/5-year-olds was held at Fair Hill and the event has remained here ever since. In 2013, the Future Event Horse East Coast Championships 1/2/3-year-olds were held on the Fair Hill grounds with great success. In the same year, The Dutta Corp. became the title sponsor of the event. 
But it's among the horses and riders that Fair Hill has earned its well-deserved reputation as a cradle of champions. It has always attracted the best of the best, and that's not a coincidence.  
Learn more about the Maryland 5 Star at maryland5star.us and find nearby hotel rooms, restaurants and things to do at VisitWilmingtonDE.com/5star.