If ever there was an area that personified Wilmington's revitalization efforts, it's North Market Street in the city's LOMA (LOwer MArket) district. A mix of cosmopolitan flair and small-town coziness, the row of businesses and shops that line both sides of the street offer residents and visitors alike a taste of everything the city is and what it aspires to be. Long-time city dwellers can attest to how much the area has changed and visitors are often delighted and surprised by the varied options the revitalized strip offers.
Among the most exciting changes, however, has been the opening of a bevy of new eateries. Varied in their offerings, cuisine choices are diverse and plentiful. Best of all, many of these restaurants offer seasonal outdoor dining which is a great way to take in the sights and sounds of the city. Let's take a look at some of the places along Wilmington's own Restaurant Row that offer al fresco dining: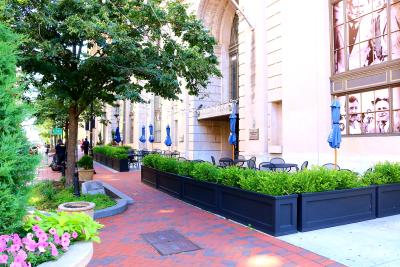 Literary buffs will take delight in knowing that Ernest and Scott Taproom (pictured at right) is named for legendary authors Hemingway and Fitzgerald, respectively. The cavernous, two-story space is housed in a retrofitted bank and features two mezzanine areas, but it's the outdoor dining space that serves as its biggest draw, especially at nightfall. Criss-crossing strings of white bulbs and chic outdoor furniture lend a festive air, making it a perfect date night or happy hour destination. A comprehensive and decidedly elevated menu—ranging from small bites to tacos to full-size entrees—comes from Executive Chef Modesto Castrejon and is offered until closing.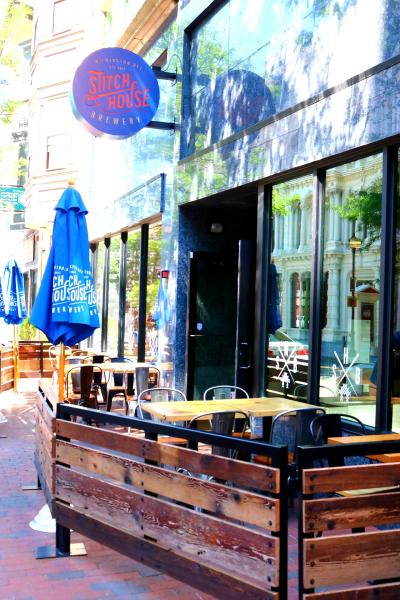 Continuing in that same vein of offering innovative cuisine and upscale al fresco seating are relative newcomer (and James Beard Award semifinalist) Bardea Food & Drink and renowned chef/serial restaurateur Bryan Sikora's La Fia and Merchant Bar. Both Bardea's and La Fia's eclectic menus are heavily influenced by European rustic cooking and take diners on a wild and fulfilling ride through a number of the regional culinary styles of Italy. Your plate is your passport at another one of Sikora's ventures (which sits directly across the street from La Fia) as well. Merchant Bar, with its chic, vintage feel is reminiscent of the seaside bars that dot California's coast. Nautical kitsch and maritime art line the walls and one half-expects to hear a foghorn in the distance. The menu, however, pays homage to a number of cuisines—from Asian-inspired crab pad Thai and Szechuan dan dan noodles to a Latin American crab ceviche tostada and Spanish-influenced shrimp a la plancha. No matter the global origins of Merchant Bar's menu, it's quite clear that seafood is its mainstay.
For those searching for a gastropub with a slightly less formal feel, Chelsea Tavern, Stitch House Brewery (pictured above), and Farmer and the Cow fit the brew-and-burger bill. Situated within a stone's throw of the Grand Opera House, this trio of restaurants provides perfect vantage points of Market Street and boasts theater-friendly menus of creative sandwiches, burgers, and starters alongside extensive wine, beer, and cocktail lists. Try local landmark Chelsea Tavern's aptly-named Chelsea Burger; the signature dish goes beyond basic by filling a brioche bun with a Hereford Beef patty, beer-braised onions, and white cheddar. Stitch House Brewery, comfortable in its skin as both a destination for beer enthusiasts and food lovers, elevates pub grub to another level by crafting artisanal dishes using locally-sourced ingredients. Curated meat and cheese boards, innovative sandwiches (try the short rib panini), and a menu of skillet-cooked bites (think seared scallops four-cheese mac and cheese). The Farmer and the Cow may be Wilmington's arbiter of all things cool when it comes to the humble hamburger, though. The folks behind the menu (we hear it's a collaborative effort) may or may not moonlight as mad scientists—that's the only way to explain the quirky roster of burgers. Daring diners can order the Moo Caliente, a burger topped with habanero and ghost pepper aioli while pork-loving movie buffs can nosh on the That'll Do Pig burger—an ode to both cinematic comedy and all things piggy. (Bonus points if you can name the movie from which the burger's title hails.)
Got a penchant for pizza? DiMeo's Pizza and Chicky's Pizza Pub, both churn out some of the city's best slices and pies but that's where the similarities end. If DiMeo's was a song playlist, it would be a greatest hits list—all classic, all the time. The menu is full of tried-and-true traditional dishes like chicken parm, spaghetti and meatballs, and chicken marsala. On the other end of the spectrum is where Chicky's finds its stride. With a shamrock serving as part of its logo, head-scratchers may wonder if they've wandered into an Irish pub. The answer is yes—an Irish pub that serves pizza. Talk about culinary diversity! Chicky's is Wilmington's Cheers—that unpretentious, no-frills pub where everyone is guaranteed to know your name—and that's where the "confused" pub's charm lies. Pull up a seat outside of either one of these spots, hunker down over a folded slice, and make a sport of people-watching.
For night owls who like to nosh, two venues come to mind. The Queen Wilmington, the city's beloved music venue, may be known more for its musical acts than menu but grabbing a bite outdoors post-concert is a great way to end the night. The menu is simple and concise—think chicken wings, tacos, and tenders—and is everything one would crave after rocking out to big-time artists and indie newbies. Another great way to end a summer night is savoring a scoop at UDairy Creamery. Enjoying ice cream at dusk just as the fireflies light up the night sky is the stuff of summer dreams.
North Market Street has long been thought of as the cultural heartbeat of Wilmington, abuzz with shops, restaurants, and music and art venues. Why not round out your visit to the LOMA district by taking in a student art show at Delaware College of Art and Design or learning more about the First State at the Delaware History Museum?