Just in time for the sound of school bells ringing… the Delaware Art Museum is set to unveil their new Kids' Corner Installation. The museum's interactive children's space first came about in 1987 when a new wing of the museum was opened. A refreshed design was introduced in 2005 and now, the expansion of their Family-in-Residence program, established in 2016, is set to have a new look with a new title "Who Hears Twell Van Dunder?"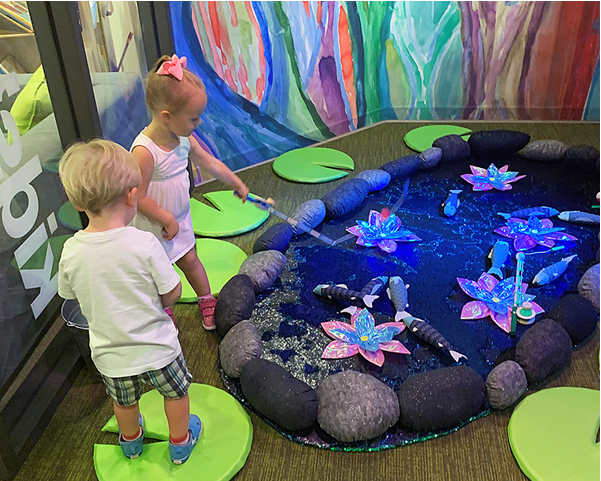 The new installation, an artist-made space, has been designed and created by the New Jersey- based Smith family. They have transformed the area into a colorful enchanted forest allowing visitors to wander on paths winding around giant trees containing displays of magical places. Truly letting your imagination wander!
"Our intention was to turn upside down the current social pressures of children growing up to quickly," says Danielle Smith. "We wanted to celebrate childhood as the destination-to encourage children to enjoy life and preserve the moments of wonder, play, and imagination that come with being a child. Additionally, we would love for teenagers and adults to remember how to play, imagine, and ask "what if", the told that might have gotten lost in the process of growing up."
The Smiths also created the beloved 2017 installation "Lenny the Ice Cream Man," which included a life-size ice cream truck, giant ice cream cushions, and an illustrated wall-magnet story. "The newest installation by the Smith's is truly a joy to behold for all ages," says Saralyn Rosenfield, the Delaware Art Museum's Director of Learning & Engagement. "In addition to the playful sensory-oriented interactives, the overall atmosphere is transformed by the color-filled walls, lighting scheme, and folk-like sound."
The Kids' Corner will also include a shimmering, sequined fishpond where children can sit on lily pads and "fish" with magnetic poles; stool-sized mushrooms encircling a fabric campfire; and a plush bird's nest perfect for curling up with a book. A gigantic sheepdog named "Twell Van Dunder"—the main character of this imagined space—greets children along the path. The walls of the space are covered with sunset murals and trees painted by the Smith children, Lilly, Ida, and Lukas. Tiered seating is available in the back of the room, where the Museum's popular Friday morning story-time program, Glory of Stories, traditionally takes place.
"Who Hears Twell Van Dunder" will be a two-year installation open during regular museum visitor hours, until summer 2021 The opening celebration took place Sunday, September 8 from noon – 2:00 p.m. during the museum's monthly Family 2nd Sunday program, a monthly drop-in day of artmaking, story time, movement, music, and sensory play for children ages 0-12. Additional programming with the Smith Family will take place on select Family 2nd Sundays.
The museum is excited to move forward with this new installation creating a new way to encourage imaginative ideas and creation among today's youth. The museum has served as a primary arts and cultural institution in Delaware for over 100 years. Originally created in 1912 to honor the renowned illustrator and Wilmington native, Howard Pyle. Learn more about the museum below.