Whether it's a scoop, cone or split, there is nothing better than ice cream on a hot summer day. As the temperatures rise, cool off with a visit to one of Greater Wilmington and the Brandywine Valley's locally owned ice cream parlors. It's just what your sweet tooth ordered! 
Family-owned since 1796, this Hockessin dairy farm is an ice cream lover's dream. Thanks to a herd of Jersey cows, the ice cream is made on-site using milk straight from the farm. And there is no shortage of flavors. Inventive scoops like Motor Oil (yes, you read that correctly) and Bacon along with more traditional flavors like Chocolate, Peach and Cake Batter draw crowds of eager adults and children alike. And this ice cream has its own celebrity following. A few years ago, movie stars Ryan Reynolds and Blake Lively made an impromptu stop at Woodside for some scoops. 
This Wilmington favorite pulls double duty as a café and an ice cream parlor/gelateria, satisfying one's need for all things savory and sweet. The ice cream and gelato come from Nelson's Dutch Farms, a Pennsylvania-based creamery, and are used in a bunch of creative ways. Imagine combinations like ice cream and bread or ice cream and coffee. For those needing a tasty energy boost, Nel's affogato is a sugar-and-caffeine rush of double espresso poured over a scoop of vanilla ice cream and topped with whipped cream and chocolate shavings. The Smooshie is one scoop of ice cream smooshed between two warm cookies and rolled in your choice of delectable toppings. The Baklava Sundae combines ice cream, whipped cream and a generous slice of crunchy honey-covered dough sprinkled with pistachios.
Paleteria y Neveria Tocumbo
(6236, 3322 Old Capitol Trail, Wilmington, DE 19808; no website) – In Mexico, paletas (popsicles or ice pops) are a traditional sweet treat and known for their inventive flavors; some have a creamy consistency that mimics ice cream. Lines at this paleta and ice cream parlor often stretch out the door, but it still has a hidden gem vibe that makes you feel fortunate enough to have found the place. Some of our favorite flavors are corn (try it – you will become an instant fan), elote and queso. The menu is extensive, providing a wonderful excuse to visit again and again.
Picture yourself telling Mom and Dad you're going to school to major in ice cream. That's just the conversation some enterprising agriculture students likely had with their parents when University of Delaware opened its flagship ice cream store. Talk about a sweet job. The creamery offers a rotating roster of traditional and one-of-a-kind flavors. Delaware First is one of our go-to flavors. It's blueberry ice cream infused with fresh blueberries and granola. Or try the All Nighter, the winner of the Blue Hen flavor contest. It's coffee ice cream with cookie dough, chocolate sandwich cookies and a fudge swirl. 
This gem on Wilmington's Concord Pike is not just about ice cream. They make delicious ice cream cakes from scratch, and there are jars and jars of bulk candy everywhere you look. It's a dream come true for the young and the young at heart. 
The homepage of the Ice Cream Shoppe's website reads, "Seeking balance? Eat ice cream!" Sounds like excellent advice to us. This quirky spot on Wilmington's Philadelphia Pike looks like what would happen if you mixed car garage, a 1950s hop, and an ice cream parlor in a blender. Tucked away on a tiny corner lot, you might miss it if you are not paying close attention. But who could miss an ice cream shop attached to an open garage of vintage muscle cars? The retro memorabilia is a throwback to a time of poodle skirts and saddle shoes. The menu is stocked with Hershey's Premium flavors including classics like Cookies & Cream, Black Cherry, Peanut Butter Twist, and Banana Pudding.
The unassuming little shop with bright pink walls in Kennett Square, Pennsylvania churns out big flavor. Don't-knock-it-'til-you've-tried-it flavors like corn, avocado, and guava cream find their roots in Mexican culture and will take your taste buds on a journey without you ever needing a passport. There's also the standard chocolate, strawberry and vanilla for 30 different flavors in all. For extra flavor, sprinkle a little Tajin — a blend of chili, lime, and sea salt — and cinnamon on top of your scoop.
When you think of this sandwich shop in the corner slot inside DE.Co Wilmington, you may not think ice cream. But, low and behold, this fan favorite for lunch has added in some sweet treats - perfect for an afternoon pick me up on a hot summer day. 
If you have a craving for soft serve, this is the place to go! Aptly located on Ice Cream Drive behind North Wilmington's V&M Bistro, it serves more than 100 flavors of the soft stuff in addition to frozen yogurt (for those of us watching our waistline).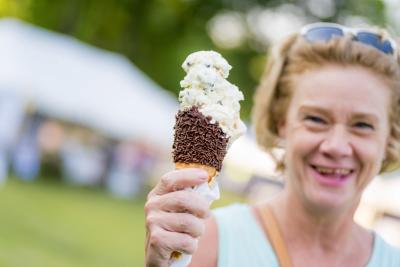 Very popular among locals, it is not uncommon for lines to form around this old-fashioned, unpretentious ice cream stop on sunny days. Also be sure to try the handmade ice cream sandwiches here!
Established in 1956, this spot in New Castle is still operated by the same family. Its bright neon sign is a well-recognized beacon for ice cream lovers, and it is the go-to place for yummy soft serve and milkshakes after a Little League game or leisurely weekend drive. Locals know it simply as "The Palace." Visits to the "Palace" are a multi-generational summer tradition for many New Castle County families.
If you are a fan of ice cream, there are so many amazing spots to indulge . . . whether you are seeking traditional favorites or something more on the wild side. For some real summer fun, why not make this your summer bucket list for the frosty stuff, and go on an ice cream themed adventure?