FOR IMMEDIATE RELEASE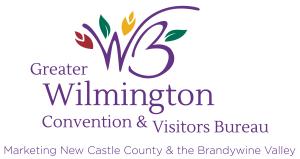 Wilmington & the Brandywine Valley (July 25, 2017) – As National Ice Cream Month comes to a close, we want to remind you that some of the best ice cream available anywhere in the Mid-Atlantic is in Delaware. This small state has a huge appetite for hand-churned, frozen goodness, but three vendors in New Castle County really stand out as top ice cream choices for visitors and locals alike.
                At the student-run UDairy, operated by the University of Delaware's College of Agriculture and Natural Resources, employees learn the fundamentals of food science, business management and entrepreneurship as they take ice cream "from the cow to the cone." UDairy's original location opened on the university's campus in Newark in April 2011, but it all started with a business plan created by some students back in 2008. The ice cream – and the dairy's concept – left such a sweet taste in patrons' mouths that a second location opened in downtown Wilmington in May 2017. There are 36 flavors in Newark and 26 in Wilmington, but each recipe starts with fresh milk from a herd of 100 Holstein cows that live on the university's farm. That milk is used as part of a 14 percent butterfat ice cream mix that's processed in coordination with Hy-Point Dairy. And then it's all blended with some student creativity to come up with such flavors as Delaware River Mud Pie, which is chocolate sandwich cookie ice cream with fudge swirls; First State Cobbler, a peach ice cream with a blueberry swirl and cinnamon crumble; and 1923, French vanilla ice cream with a ribbon of salted caramel studded with bittersweet chocolate chunks whose name pays homage to the year the university's study abroad program was launched.
                Just down the street from the university, on Main Street in Newark, Caffé Gelato relies on skills its chef-owner, Ryan German, learned on his own trips abroad. His popular Northern Italian restaurant has been hand-making its own gelato for the past 18 years. It serves 13 standard flavors all year round but also dabbles in seasonal and specialty creations based on the calendar and the staff's mood. The traditional top-sellers are chocolate hazelnut (baci0 – or "kiss" in Italian) and salted caramel, but when it's available, pistachio is especially popular. Because the restaurant makes its gelato in small batches, it has the ultimate flexibility to experiment with new and offbeat flavors, which is how they arrived at a champagne gelato for Valentine's Day. Gelato has some different characteristics than ice cream, including the facts that it's creamier and best served at 10 degrees Fahrenheit. Caffé Gelato serves its scoops in traditional cups with tiny, shovel-like spoons – tools that have been perfected by the Italians over the past 200 years as they strive for the most optimum gelato-eating experience.
                For those two centuries – since the days of George Washington's presidency – a farm in nearby Hockessin has been operated by the same family. Jim Mitchell, that family's seventh generation, decided to return to the dairy business about 2o years ago and quickly realized he needed to do more than sell milk. He enrolled in Penn State University's famous ice cream course and opened Woodside Farm Creamery in 1998. Today visitors can come out to the farm to get the ice cream that's made right on the premises, bringing coolers so they can transport pints back home or simply mingling with other ice cream lovers over long picnic tables ... perhaps while they enjoy music at a Saturday-afternoon jam. The creamery's most popular flavor is vanilla, but Woodside is also famous for its signature pink peppermint and various seasonal flavors, which include lemon in the spring, peach in the summer and pumpkin in the fall. The farm is open from late March through October, but Woodside's ice creams are also available at more than two dozen restaurants and attractions throughout Delaware and the Brandywine Valley. If you've ever had a double-decker cone at Longwood Gardens, for example, you've enjoyed the handiwork of the Mitchell family and their cows.
                It doesn't have to be National Ice Cream Month to enjoy one of Delaware's creamy confections, but it sure is a good excuse. All year round, a trip to Wilmington & the Brandywine Valley is a big bowl of fun, but visiting one (or more!) of these favorite establishments is definitely the cherry on top. For help planning a visit to Wilmington & the Brandywine Valley, please visit www.visitwilmingtonde.com.
# # #
Wilmington & the Brandywine Valley is in the heart of the Mid-Atlantic region and less than a two-hour drive from both New York City and Washington. Steeped in American history and the legacy of the famed du Pont family, Greater Wilmington is a destination marked by sharp contrasts – town and garden, past and present, historic and hip. From renowned gardens, world-class museums, colonial towns, outdoor adventure, festivals, and an ever-growing craft beer and restaurant scene, each experience is more vibrant, more unique and more authentic than the last. Learn more at VisitWilmingtonDE.com. And to see the beauty of the Brandywine Valley now, watch this: https://youtu.be/KyPWLnciO0E. 
Be social. Connect with us.
Blog: https://www.visitwilmingtonde.com/blog 
Facebook: https://www.facebook.com/GreaterWilmingtonCVB  
Instagram: https://www.instagram.com/visitwilmingtonde/
Twitter: https://twitter.com/visitwilmington
YouTube: https://www.youtube.com/user/VisitWilmingtonDE
Hashtag: #VisitWilm
MEDIA CONTACT
Mindy Bianca
919-200-6060