Soon, it will be time for the annual Old-Fashioned Ice Cream Festival and I find myself thinking about my favorite thing more than usual. You see, I consider myself an ice cream sommelier. (Is that a real job title? If not, it should be.) My palate can detect the percentage of butterfat in a single scoop and distinguish between Madagascar and Tahitian vanilla. I've never been one to chase down the neighborhood ice cream truck. Only the real deal for me, thank you very much. Fortunately, Wilmington and the Brandywine Valley are home to some of the best ice cream shops in the area and the arrival of warm weather can mean only one thing: It's time to hit the road and discover the best local scoops.
Woodside Farm Creamery – Family-owned since 1796, this dairy farm is an ice cream lover's dream. Thanks to a herd of Jersey cows, the ice cream is made on-site using milk straight from the farm and there is no shortage of flavors. Inventive scoops like Motor Oil (yes, you read that correctly) and Bacon along with tamer, more traditional flavors like Chocolate and Cake Batter draw crowds of eager adults and children alike. In addition to having a large, family-friendly picnic area, the creamery hosts music events, craft shows, and an open house on National Ice Cream Day (on the 3rd Sunday in July).
Sweet Nel's – This Wilmington favorite pulls double duty as a café and an ice cream parlor/gelateria, satisfying one's need for all things savory and sweet. The ice cream and gelato come from Nelson's Dutch Farms, a Pennsylvania-based creamery and are used in a bunch of creative ways. Imagine combinations like ice cream and bread or ice cream and coffee (both are common in Italy and gaining popularity here in the US). For instance, the popover sundae—a play on the Italian brioche con gelato—is exactly what it sounds like: a warm, airy roll stuffed with a single scoop of ice cream served with whipped cream and a cherry. For those needing a tasty energy boost, Nel's affogato is a sugar-and-caffeine rush of double espresso poured over a scoop of vanilla ice cream and topped with whipped cream and chocolate shavings. While your palate might thank you, your waistline most certainly will not, but everything in moderation, right?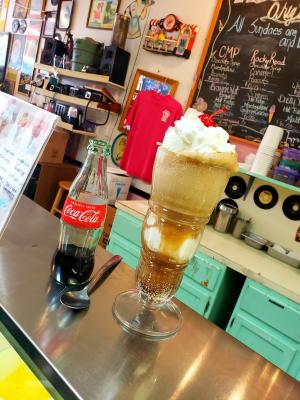 Paleteria y Neveria Tocumbo (6236, 3322 Old Capitol Trail, Wilmington, DE 19808; no website) – In Mexico, paletas (popsicles or ice pops) are a traditional sweet treat and known for their inventive flavors; some have a creamy consistency that mimics ice cream. Lines at this paleta and ice cream parlor often stretch out the door, but it still has a hidden gem vibe that makes you feel fortunate enough to have found the place. (I have stood in line countless times for the corn ice cream—a personal favorite.) The menu seems endless and provides a wonderful excuse to visit again and again to try as many flavors as possible.
UDairy Creamery – Picture yourself telling dear ol' Mom and Dad that you're going to school to major in…ice cream. That's just the conversation I imagine some enterprising agriculture students had with their parents when University of Delaware's flagship ice cream store opened. Talk about a sweet job. A rotating roster of traditional and far-out flavors, several of which pay homage to the area, keep ice cream lovers coming back for more. Want to show your love for the First State? Try the Blue Hen Tracks (a sprinkle- and peanut butter cup-studded affair) or Delaware River Mud Pie (for true chocolate lovers).
Sweet Lucy's – If you asked a child to draw up a blueprint plan of an ideal place, it might look a lot like Sweet Lucy's and that is thanks to the fact that it's a place where you can find jars and jars of bulk candy, ice cream cakes, and ice cream for sale. Woodside Farm Creamery is the supplier for the shop, but flavors here tend to be on the more traditional side rather than some of the more daring flavors the Hockessin creamery is known for.
The Ice Cream Shoppe – This place is confusing in a good way—it looks like the result of what would happen if you mixed a muscle car garage, a 1950s hop, and an ice cream parlor in a blender. Tucked away on a tiny corner lot, you just might miss it if you're not paying attention but then again, who could miss an ice cream shop attached to an open garage of big-bodied vintage cars? The retro memorabilia may be a throwback to a time of poodle skirts and saddle shoes, but the menu is pretty progressive; scoops of some of Hershey's best flavors like Brown Butter Bourbon Truffle and Cold-Brewed Caramocha are served alongside classics like Cookies & Cream and Black Cherry. Sidle up to one of the picnic tables out front and reminisce about the good ol' days.
La Michoacana Homemade Ice Cream – A visit to this Kennett Square gem is not for the faint of palate; only serious ice cream connoisseurs need apply. The unassuming little shop churns out big flavor. Don't-knock-it-til-you've-tried-it flavors like corn, avocado, and guava cream find their roots in Mexican culture and will take your tastebuds on a journey without you ever needing a passport. Pro tip: A sprinkling of chili powder takes some of the scoops over the top.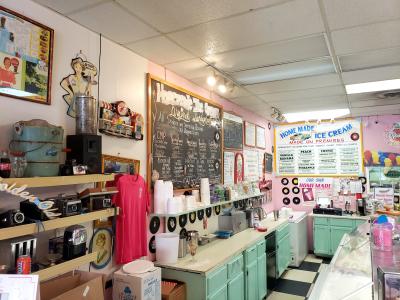 Cookie Dope – Eating raw cookie dough is not only acceptable here, it's highly encouraged. Jumping on the latest craze of wacky food trends, the West Chester parlor offers 8 kinds of edible dough (don't worry, it's made with heat-treated flour and pasteurized eggs) and a variety of Nelson's Premium Ice Cream. The menu changes daily, but the lineup is always delicious.
Ice Cream Delight – This is the kind of place you either visit solo or make tagalongs wear blindfolds because you don't want to reveal the location which is fairly hard to do because it's located on a street called Ice Cream Drive. Those in the know are very protective of this ice cream hotspot as well they should be; there are over 100+ flavors of soft-serve ice cream and frozen yogurt on the menu. Pro tip: The ice cream parlor is located behind V&M Bistro in the Marsh Triangle.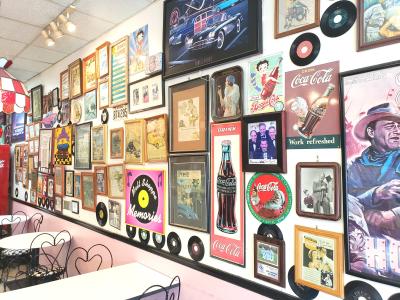 Dairy Palace – Reminiscent of a bygone era, this roadside ice cream stand is truly one of the greats and its magic lies in its simplicity. Its neon sign has been a beacon for local ice cream lovers for years. Unpretentious and no-frills, The Palace (as locals call it) is the go-to place for yummy soft serve and milkshakes after a Little League game or on a leisurely weekend drive. 
Below, you'll find an interactive map perfect for viewing on your phone and using as a GPS when driving. Hit the road (or the Brandywine National Scenic Byway) and turn your love of sweet treats into a weekend ice cream crawl. Try a few or try 'em all!
Plan Your Greater Wilmington Ice Cream Road Trip