Gone are the days of bowls of stale peanuts and unimaginative lists of draught beers. Happy hour has grown up and become a way for greater Wilmington and Brandywine Valley restaurants and bars to showcase exciting food and drink menus that emphasize both variety and value. Here are some of the area's top places to visit for food lovers and imbibers on the hunt for good times and outstanding happy hour deals:
(Note: Happy hour typically runs Monday – Friday from anytime between 4 PM – 7 PM unless otherwise noted.)
BARDEA FOOD & DRINK
620 N. Market St. Wilmington, DE 19801; (302) 426-2069)
Located in the heart of downtown Wilmington's revitalized area, Bardea pulls triple duty as a perfect date night spot, trendsetter, and happy hour destination. Thanks to an interpretive Italian menu, the vibe here tends to attract a hipper crowd made up of serious foodies looking for more than standard bar food. Small bites, an offering of oven-fired pizzas, a selection of raw bar items, and extensive cocktail, wine and beer lists make for an impressive happy hour.
CIRO FOOD & DRINK
321A Justison St. Wilmington, DE 19801; (302) 543-6071)
If there was ever any question if Wilmington could hold its own against major food cities, newly-opened Ciro may be the answer. As one of the riverfront's latest dining options, the cozy 30-seat gem features small plates with big flavors. With a notable wine list and an emphasis on creative dishes tinged with Mediterranean touches, it's quite possible to take a trip around the globe during a single happy hour visit.
TROLLEY SQUARE OYSTER HOUSE
1707 Delaware Ave. Wilmington, DE 19806; (302) 384-7310)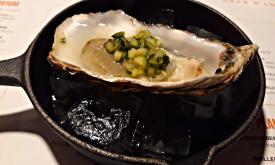 This Trolley Square eatery is just plain fun. A casual atmosphere, friendly staff, and live entertainment are siren calls for seafood lovers looking for a place to relax and get their buck-a-shuck on. The happy hour menu reads like a greatest (and elevated) hits list; in addition to raw bar offerings, there are a handful of land and sea bites that pair perfectly with the mile-long cocktail and beer menu. Remember, there's no better combination than bivalves and booze, so do yourself a favor and slurp down a $6 oyster shooter or two. (Note: Happy hour runs Monday – Friday from 3 PM – 6 PM and late night from 10 PM – 1 AM.)
FARMER & THE COW
413 N Market St. Wilmington, DE 19801; (302) 407-5957)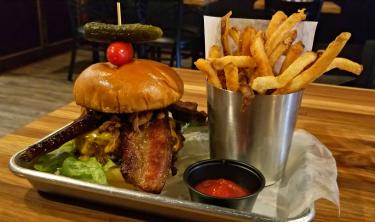 Burgers and booze are quite possibly the most perfect happy hour pairing and this downtown destination gets both right. A beef lover's dream, the roster of loaded burgers requires two hands, a bunch of napkins, and a healthy dose of digestive determination if you expect to make your way through an entire burger. By no means is this fan favorite a one-trick pony—appetizers like a bacon steak flight (yes, a "tasting" of thick-sliced piggy pleasure) and a triple-threat (lamb, veal, and pork) Scotch egg rocket this farm-to-table burger joint to another level. Salads, non-burger dishes, and everything-but-the-kitchen-sink shakes round out the menu; a slew of high-end cocktails, beer, and wine provide a boozy oasis for the business district shirt-and-tie set who often pop in after work.
GRUB BURGER BAR
4737 Concord Pike #810 Wilmington, DE 19803; located inside Concord Mall; (302) 358-2455)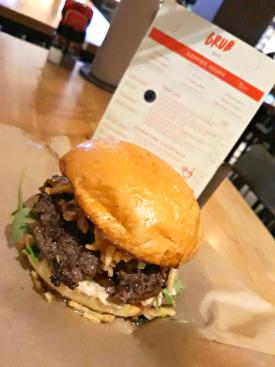 One of the city's best happy hours is located in a…mall?! Yup. Since the Texas-based gourmet burger chain made its way to Delaware a few years ago, it has quickly become a local favorite. Patrons often pack the place to the rafters, thanks to a crazy, out-of-this-world menu. (Ever have a burger topped with mushrooms sautéed in once-illegal absinthe?) If you're in the mood for something different, there's a host of sandwiches and snacks that is just as satisfying as the signature burgers. You'll find a serious cocktail, wine, and beer list that includes a 90-minute IPA from hometown brewery Dogfish Head and, as if that's not enough, there's a selection of handspun, alcohol-spiked milkshakes.
TWO STONES PUB
(2502 Foulk Rd. Wilmington, DE 19810; (302) 439-3231)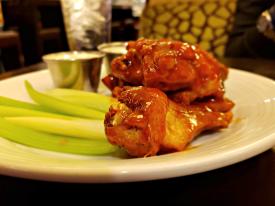 Luckily, Two Stones has a few locations dotted throughout the greater Wilmington area to cover hungry and thirsty patrons' happy hour needs. From $4 pretzel bites to $7 chicken wings, a pub grub menu of a dozen small plates offers varied choices at different pricing tiers. House drafts, craft cans, glasses of wine, and handcrafted cocktails follow suit and range from $3 - $6. The pub has gained a reputation for being the go-to destination for mussels. Step up your happy hour game and go off-menu and order a bowl of bivalves especially when the chef gets creative and runs a special that features riffs like Thai curry or short rib mussels. (Note: Happy hour runs Monday – Friday from 3 PM – 6 PM.)
BRANDYWINE PRIME
1617 Baltimore Pike Chadds Ford, PA 19317; (610) 388-8088)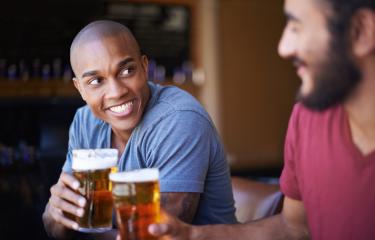 The Chadds Ford tavern has earned a solid reputation as one of the area's top-tier steakhouses and rightfully so—it's beloved by a wildly diverse crowd that ranges from hipster bar flies to the mature crowd. It should come as no surprise that the tony restaurant hosts one of the Brandywine Valley's most popular happy hours. A $5 menu of traditional small plates are delicious and filling, but the drink specials are the true highlight. Sip on $3 signature Italian pear martinis and select draft beers or $5 house reds and whites from the well-curated wine program for a swanky evening out. (Note: Happy hour runs Monday – Thursday from 5 PM – 6:30 PM.)
GOAT KITCHEN AND BAR
1845 Marsh Rd. Wilmington, DE 19810; located in Plaza III Center; (302) 746-7847)
Talk about a surprise contender—this strip mall gastropub serves up some seriously imaginative fare. Goat cheese toast, roasted carrot hummus, and Korean BBQ chicken wings are unexpected happy hour delights and that's just the beginning. The rest of the menu is the chef's twist on comfort food classics along with an inspired selection of pizzas, and a varied draft beer list that includes some local brews is the perfect complement. If you're looking to take a walk outside the comfort zone of pub standards, turn to the cocktail menu that reads like a mad scientist's lab notebook. Ingredients like housemade fig compote, elderflower syrup, and violet liqueur are a mixology enthusiast's dream.
NOMAD BAR
905 N. Orange St. Wilmington, DE 19801; (302) 655-8800)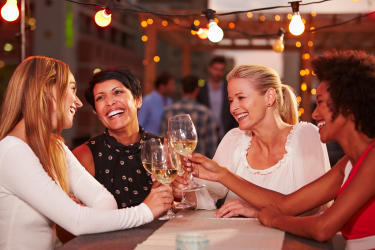 It's tempting to call any local spot that's not overrun with outsiders a hidden gem, but this no-frills bar truly fits the bill. Part dive bar, part hole-in-the-wall, there's no pretention here but there's plenty of character and it's easy to see why it attracts such a mixed crowd. Nomad is truly a watering hole—it's all about the drinks here—and it's completely BYOF (bring your own food). That's right—if you want snacks, bring 'em if you got 'em. The live entertainment (check the bar's Facebook page for the rotating band lineup) and inexpensive beer, whiskey, and cocktail list make for a pretty chill vibe.
ODDITY BAR
500 Greenhill Ave. Wilmington, DE 19805; (302) 668-1078)
With a name like Oddity Bar, you just know you're in for a good time and what's not to love? A massive beer selection and rock-bottom happy hour prices keep droves of bar hoppers coming back for more. There's a slightly gritty, mature feel that sets it apart from the college kid vibe of some bars; this is the place to come to hear awesome live bands (or early arrivals can crank out tunes on the jukebox), play games like bingo or Cards Against Humanity, and have some good old-fashioned, raucous fun.
For more information on great happy hour destinations, check out our restaurant and bar directory. How many have you visited?