History credits John Montagu, British statesman and heavy gambler, with inventing the sandwich. Apparently, he refused to leave the card table during a 24-hour hot streak and ordered a cook to bring him a meal that wouldn't interfere with his gambling; the quick-thinking cook served him sliced meat between toasted bread. So, yes, the cook (whose name was never recorded for posterity) technically invented the sandwich but, in all fairness, John Montagu's formal title as the Earl of Sandwich was probably way cooler than the cook's surname.
In recent years, there has been much national debate among the foodie set about what actually constitutes a sandwich (and, no, a hot dog is not a sandwich—that is not up for debate), but Delawareans face a different culinary dilemma. How does a state that is…ahem…sandwiched among cities with their own distinct food icons distinguish itself? New York City is the undisputed doyenne of pizza. Maryland is the reigning king of crabs. And, of course, Philadelphia's entire identity is tied to the cheesesteak (although, the roast pork sandwich is the official sandwich of the city). Like a little brother forgotten among a multitude of siblings, it's easy for the Blue Hen State to get lost in the culinary landscape but you may be surprised to learn that, while we may not have a distinct food that defines our cuisine, we do have a bevy of unique sandwiches that I believe should cement Delaware's place in the culinary annals as the First State of Sandwiches (remember, you heard it here first). Here are ten (!!!) local options that are the best things between sliced bread: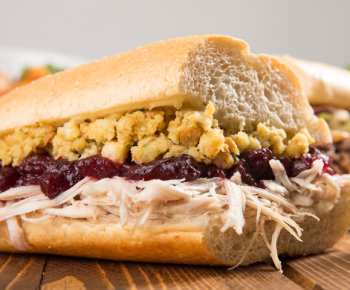 1. The Bobbie® (Capriotti's) – Imagine a food so unique it has a registered trademark. That's right—the oft-imitated sandwich that is easily considered a Delaware icon is officially that good. For you purists, technically The Bobbie® is a sub and, since its debut over 40 years ago, Delawareans have been going crazy for the combination of slow roasted pulled turkey, cranberry sauce, homemade stuffing, with a generous schmear of mayonnaise. Basically, the sandwich is a Thanksgiving meal on a roll. Capriotti's has multiple locations throughout the greater Wilmington and Brandywine Valley area, so if you're visiting, do yourself a favor and turn your ordinary day into a holiday and get your hands on a piece of Delaware history.
2. Chicken salad sub (Casapulla's) – Casapulla's and Capriotti's (see above) are the Pat's and Geno's Steaks of Delaware—two eateries serving similar menus whose merits are argued amongst many a friend and family member. Conclusion: Both serve delicious fare and both are considered among the area's most beloved sandwich shops. The chicken salad sub is definitely an unsung hero; no Delaware food list would be complete without at least one chicken dish. I mean, we really love the stuff—we're the Blue Hen State, for goodness sake. The chicken salad keeps things simple and is made with just a few ingredients; you won't find any unnecessary mix-ins here.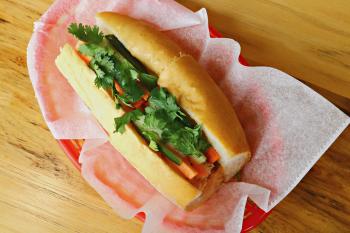 3. Saigon (WiLDWiCH) – Honestly, this entire list could have been filled with sandwiches from this food truck turned brick and mortar hotspot. To please the 9 to 5 lunchtime set, WiLDWiCH's mobile truck is still operational as well as two cafés which serve as owner Mike Stanley's creative laboratory. The guy has some serious culinary chops as evidenced by the roster of gourmet sandwiches like the Saigon, a twist on the traditional banh mi, that consists of hickory smoked salmon, serrano aioli, pickled daikon and carrot, cucumber, and a sprinkling of cilantro. Obsessed with the delicious sauces and spreads on the sandwiches here? Good news—according to the owner, there may be bottled versions available for sale in the not-so-distant future.
4. Filet of beef (Sugarfoot) – For 20 years, this casual gourmet café has been serving elevated seasonal lunches reminiscent of the fresh, light cuisine of the California coast. The "left coast" menu pleases the palates of those looking to step outside the traditional culinary box. If you're looking to avoid the heavy, lead-belly feeling often brought on by a lunchtime cheesesteak, the filet of beef with cheddar almond cheese and fried shallots is a tasty alternative.
5. Porkette (Goodfella's) – The menu at Goodfella's reads like what you'd imagine every mob film craft services table looks like. (Remember Tony Soprano's love of sausage and pepper sandwiches? Note: If you want to walk in the culinary footsteps of the fictional New Jersey don, Goodfella's has a delicious version on the menu.) The porkette is arguably the best sammie in this no-frills shop—roasted pork, bitter greens, and a few slices of tangy provolone that perfectly sum up the Italian-American cuisine of the area.
6. Shrimp po'boy (Cajun Kate's) – As the name implies, the menu is Cajun-inspired and the diminutive spot churns out big flavors daily—this is the go-to place for authentic NOLA dishes and the shrimp po'boy is one of the restaurant's most popular menu items. Here, a soft roll gets stuffed to the gills with lightly battered, crispy shrimp, shredded lettuce, tomatoes, and a healthy smattering of mayonnaise. Owners Don and Kate Applebaum, both classically-trained chefs and former New Orleans residents, are not shy with the seasoning that embodies the heart and soul of Gulf cuisine.
7. Special Italian (Gaudiello's) – This Trolley Square gem bills itself as Delaware's "most serious sandwich shop" and the description is spot-on thanks to the use of premium ingredients and the care with which the menu is crafted. It takes a certain amount of moxie to claim that title and call your most popular sandwich "special", but chef/owner Eric Huntley does so deservingly. Starting off with soft fresh bread, the hefty two-hander is packed with the greatest hits list of Italian meats—ham, Genoa salami, capicola, pepper ham, and prosciutto—and capped off with provolone, a bunch of toppings, and the holy duo of sandwich-making: olive oil and red wine vinaigrette.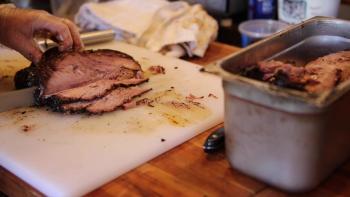 8. Brisket sandwich (Locale BBQ Post) – It's no secret—it's hard to find good barbecue this side of the Mason-Dixon Line—but this little joint aims to change that. You'll find the standards here—mile-high plates of smoked meat and sides—but don't overlook the sandwich menu. The fork-tender brisket has just the right amount of smokiness and the side of housemade pickles is the perfect mouth-puckering complement.
9. The McMuzzin (Angelo's Luncheonette) – Sure, a lot of restaurants bill themselves as mom-and-pop spots and slap a bunch of retro kitsch on their walls all in the name of attempting to transport diners back to a bygone era, but Angelo's is the real deal. Not much has changed since its opening over 50 years ago—the place oozes authenticity. There's no pretention, no frills—just good old-fashioned eats, friendly staff, and a bevy of neighborhood regulars. It speaks volumes that the McMuzzin, a playful portmanteau that combines the owners' surname Muzzi and the McMuffin from McDonald's, is the only breakfast sandwich that makes the list. Its perfection lies in its simplicity. It starts with quite possibly the softest English muffin on earth that transforms into a sturdy foundation after getting buttered and hitting the grill for a bit before getting topped with an expertly fried egg and a few slices of grilled ham. That's it—simple, scrumptious perfection that tops anything the clown from the Golden Arches serves.
10. Grilled cheese Mambo (LOMA Coffee) –   LOMA Coffee, whose name speaks of its commitment to serving the local community (LOwer MArket Street), is a hipster's dream. Part event space, musical venue, and ethical coffeeshop, the all-in-one gem offers a slew of tasty breakfast and lunch sandwiches. Looking for a grownup version of a childhood favorite? Order the grilled cheese Mambo, a melty blend of provolone, cheddar cheese, and Italian spices topped with a tomato slice on sourdough bread. Really get in touch with your inner child and order a cup of soup to dip your sandwich in.
Why not give your knife and fork a rest and grab one of these tasty sandwiches, throw together a DIY picnic, and enjoy the spring weather at a local park? (Pro tip: Pick up a few gourmet prepared side dishes from Janssen's Fine Foods, an upscale specialty grocery store in the tony Greenville area, to transform your picnic into an all-out al-fresco dining experience.)