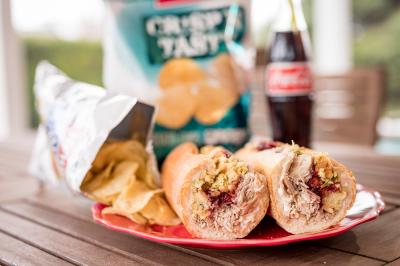 Note: Updated as of 3/26/2020. Please contact individual restaurants for the most up-to-date information.
Even though the Governor of Delaware has requested that all restaurants state-wide suspend eat-in dining (effective as of 8 p.m., Monday, March 16) until the Coronavirus risk is reduced, lots of eating establishments are offering takeout and delivery. Some restaurants have also added special offers and discounts so they can keep their patrons fed and their staff working.
Getting a little tired of preparing all your meals from home? Support the restaurants of Greater Wilmington and the Brandywine Valley and take a break from cooking with take out or delivery today. There are lots of great options to choose from, from fine dining to tasty sandwiches, soups and pizza.
We've compiled a list of all the eating establishments we know of that are offering these services. But if you don't see your favorite dining spot on the list, please give them a call. While we've made this as comprehensive as possible, there are likely other restaurant offerings that haven't reached our ears yet. In the meantime, we'll continue to add to our list as we get more information.
Also, be sure to call or check online for hours as some restaurants have adjusted their regular hours of operation. 
Bon appetit!
Delaware
Centreville/Greenville/Montchanin
2 Fat Guys American Grill: takeout, curbside pick up, delivery (5 mile radius)
Buckley's Tavern: takeout, curbside pick up 12pm-8pm 
Centreville Café: modified hours, takeout and delivery, 20% off takeout orders -- Regular dinner menu items change daily!
Janssen's Market: curbside grocery pickup (call 302-654-9941 with order info., pickup time, and payment information)
Krazy Kats: takeout
New Castle
Jessop's Tavern: takeout, 25 percent off all beer bottles, wine bottles, crowlers, and growlers to go - New hours 4pm-8pm
Kegler's Pup & Sports Bar: takeout and curbside delivery
Spare Rib Xpress: takeout and curbside delivery 
Hockessin
Back Burner Restaurant, Tavern & Cafe To Go - takeout only through To Go Shop Entrance
The House of William and Merry: curbside menu orders Friday and Saturday 
Middletown
Back Creek Golf Club & Grille - curbside pickup
Metro Pub & Grill: curbside delivery and takeout 
Odessa
Cantwell's Tavern - limited To-Go menu from 11:30am-8pm which can be picked up inside, curbside or delivered.
Newark
Café Gelato: delivery and curbside pickup 
Home Grown: pickup and delivery are available
Stone Balloon Ale House: 5pm - 9pm Wednesday through Sunday for takeout. 20%off. 
Woodside Farm Creamery: drive through only                                          
Wilmington
Banks' Seafood Kitchen and Raw Bar: takeout and curbside pickup
BBC Tavern & Grill: takeout 
Bellefonte Brewing Company: takeout 
Buffalo Wild Wings: takeout and delivery 
Chelsea Tavern: takeout and delivery
Columbus Inn: curbside pickup and brunch to go Sunday's 10am-2pm beginning Sunday, March 29th. 
Del Pez: takeout and delivery Tuesday - Sunday 11:30am-8:00pm. Free chips, salsa and churros with any order $20 or more. 
DiMeo's: takeout and delivery
Harry's Savoy Grill & Ballroom: takeout 
HOTEL DUPONT: takeout and delivery 
Eat Clean: takeout 7am-3pm
Eggspectation: takeout and delivery 9am-3pm, 20% off takeout
El Diablo: takeout service at Trolley Square, Branmar Plaza and Pike Creek locations *day to day basis. 
Farmer & the Cow: curbside takeout and local delivery Tuesday through Saturday 12pm-7pm
Feby's Fishery: takeout and curbside delivery 
Jimmy John's: takeout and delivery
Kid Shelleen's: takeout  
Limestone BBQ & Bourbon: takeout 11am-7m Thursday through Sunday, 20% off
Makers Alley: curbside pickup Tuesday through Saturday 4pm-8pm
Mikimotos: Sushi takeout only 
Olympic Subs: takeout, curbside pickup and delivery (walking distance only) 
Piccolina Toscana: takeout 
River Rock Kitchen: takeout and delivery 
Starbucks: takeout
Stitch House Brewery: takeout, curbside pickup from Locale Post, Faire Market, and Stitch House available at Stitch House, includes expanded family and kid-friendly options and crowlers of beers, for take-out, call (302) 250-4280
Sullivan's Steakhouse: takeout and delivery 
The Chicken Spot: takeout and delivery 
Tierra Mexi-Cali Grill: takeout and delivery 
Timothy's Riverfront Grill & Wilmington Hall: takeout and delivery 
V&M Bistro: takeout, curbside pickup
Washington Street Ale House: takeout only
Wilmington Brew Works: curbside pickup, cans only
Walter's Steakhouse: takeout 4pm-8pm 
Multiple Locations
Capriotti's Sandwich Shop: free delivery on orders through www.order.capriottis.com, contactless delivery is an option (please specify at checkout), free grilled cheese sandwiches for kids with entrée purchase starting 3/20
Crabby Dick's at Fort Delaware: takeout only
Grain Craft Bar & Kitchen (Newark) - takeout and delivery
Iron Hill Brewery & Restaurants: takeout and curbside pickup
PENNSYLVANIA
Avondale
Va La Vineyards: barn door takeout
And Don't Forget …
Even more restaurants offer delivery through DoorDash, Grubhub, PostMates and Uber Eats, so be sure to check those apps for even more yummy dine in options in Greater Wilmington and the Brandywine Valley! 
For even more awesome Delaware take-out and delivery options please see "A Guide to Delaware Restaurants Offering Takeout, Delivery" from our friends at Delaware Today and "A List of Delaware Restaurants Offering Takeout and Curbside Pickup" from Delaware Online.