Make room for mushrooms—the popular Kennett Square Mushroom Festival comes to town September 11 and 12, celebrating mushrooms and the surrounding community.
You've probably driven by the mushroom houses hundreds of times and not even noticed. But behind those non-descript buildings that dot the landscape in and around Kennett Square, PA, an economic engine is humming. Kennett Square is home to the Mushroom Capital of the World. The area accounts for nearly two thirds of all commercial mushroom production in the U.S., meaning from Philadelphia to Phoenix, if you enjoy mushrooms on your pizza, in your salads, or stuffed, sauteed or sliced, they quite possibly came from Kennett Square. For more than 30 years, the Kennett Square Mushroom Festival has showcased the mushroom industry and the surrounding community. And after pandemic restrictions forced the cancellation of the well-known event in 2020, the 36th Annual Mushroom Festival is back with the theme, Rooted in the Community!
New this year, the Mushroom Festival app! Download on Apple or Google Play for schedule updates, wristbands, parking and other Festival info, mushroom facts and more!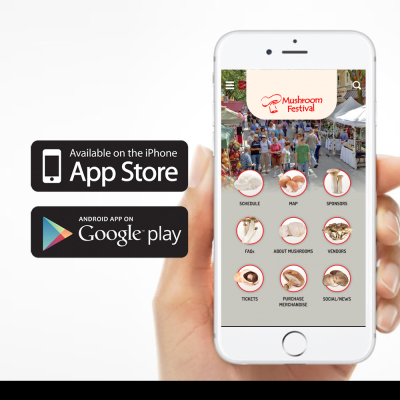 The 36th Annual Mushroom Festival will take place at 600 S. Broad Street, Kennett Square, PA, Saturday, September 11, 9am-7pm, and Sunday, September 12, 10am-5pm. Wristbands are $5 per person.
"We are excited to be able to host this event, which has become a destination event for families here in Chester County and beyond," said Gina Puoci, 2021 Mushroom Festival President.
"At its core, the Mushroom Festival is an opportunity for the Kennett Square mushroom farms to give back to the community in which they work and live," explained Gale Ferranto, Buona Foods who recently joined the Festival Committee as Mushroom Festival Coordinator.
Each year, proceeds from the Festival are awarded to local charities and non-profit organizations. Over the past 20 years, the Mushroom Festival has donated more than $1 million in funds to local organizations for things like books, playground equipment, food, transportation, and healthcare services.
"This year, perhaps more than in years past, we want to highlight all the wonderful businesses and groups that support the Kennett Square community, including the mushroom farms which employ so many, as well as the businesses and restaurants that support our town. Like our theme suggests, this year the Mushroom Festival is truly Rooted in the Community," Ferranto added.
Here are just a few events not to miss:
Mushroom Growing Tent:
Did you know mushrooms double in size every 24 hours? That they don't need sunlight to grow? And a handful of mushrooms have more Potassium than one banana? A popular mainstay at the Festival, the mushroom growing tent is really where the magic happens. Learn how mushrooms grow—from tiny spores to the delicious mushrooms that end up on your table. Saturday and Sunday, Festival Hours
Amateur Mushroom Cooking Contest:
One of the most versatile foods, mushrooms make every dish better! Watch how a group of amateur cooks use mushrooms in their dishes—five ingredients or less—and see who wins the prize! Saturday, September 11 at 10:30am
Amateur Fried Mushroom Eating Contest:
This event puts the FUN in FUNGI when a group of brave contestants see how many fried mushrooms they can eat in eight minutes! Sunday, September 12 at 1:30pm
The Billy Kelly Show:
He's been entertaining kids and families with his smart, funny songs since 2009 and has opened for President Obama, duetted with Davy Jones of The Monkees and been nominated for a Grammy Award. Bring the kids and join him for a hilarious hour of songs, jokes and fun. September 12 at 3pm
Mushrooms are Art:
Budding artists from Kennett High School offer canvas mushroom-themed paintings for a silent auction to benefit non-profit organizations in and around Kennett Square. Make sure to stop by the Mushroom Painting Booth to bid on yours—who knows, maybe it will be the next Picasso! Saturday and Sunday, Festival Hours
Food, Crafts, Music and more!
There's much more to do and see at the Festival, including delicious treats, great music and amazing craft finds!
Download the Mushroom Festival app today—festival info, events and updates are added daily! Or visit www.mushroomfestival.org.