FOR IMMEDIATE RELEASE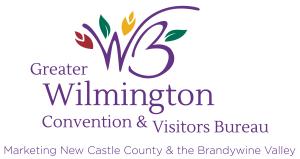 Wilmington, Del (October 17, 2017)...The premier travel guide for visitors to New Castle County, the annual Wilmington & Brandywine Valley Travel Issue, released its 2017-18 edition this week, with a cover photo marking the upcoming 40th anniversary of the Point-to-Point steeplechase races at Winterthur Museum, Garden & Library.
The 56-page visitors guide is published annually by the Greater Wilmington Convention & Visitors Bureau, the only organization devoted exclusively to marketing and promoting New Castle County attractions, lodging, restaurants, retail shopping and services to visitors, meeting and event planners, reunion groups, and tour groups.
Also in the 2017-18 issue:
A timeline of Delaware history becomes a guide to the area's most important (and sometimes hidden) historic sites, including houses that once gave refuge to escaping slaves on the Underground Railroad and the American Revolution battlefield where the Stars and Stripes first flew in battle.

Weekend itineraries help devise plans for couples on romantic excursions, girls' weekend getaways and families in town for a fountain show at Longwood Gardens.

Five established and emerging breweries create a craft-beer trail that extends from Hockessin to Wilmington.

Famed local chefs Dan Butler, Robbie Jester and Susan Teiser reveal where they want to eat when they're not in the kitchen
Matt Sullivan, former editor of Spark magazine in Wilmington, returned for his third year editing the Wilmington & Brandywine Valley Travel Issue, under the direction of GWCVB Director of Marketing Scott Ciancio.
"Matt and Scott have completely redesigned our visitors' guide over the past three years to feel more like a magazine," said Sarah Willoughby, executive director of the Greater Wilmington Convention & Visitors Bureau. "The feedback we've received from our members and visitors has been excellent."
More than 150,000 copies of the 2017-18 Wilmington & Brandywine Valley Travel Issue were printed. Most will leave Delaware for distribution inside the I-95 corridor between Washington D.C. to New York City, at airports, rest stops and other places where travelers seek information about things to do in the Mid-Atlantic region.
###
Wilmington & the Brandywine Valley is in the heart of the Mid-Atlantic region and less than a two-hour drive from both New York City and Washington. Steeped in American history and the legacy of the famed du Pont family, Greater Wilmington is a destination marked by sharp contrasts – town and garden, past and present, historic and hip. From renowned gardens, world-class museums, colonial towns, outdoor adventure, festivals, and an ever-growing craft beer and restaurant scene, each experience is more vibrant, more unique and more authentic than the last. Learn more at VISITWILMINGTONDE.COM. And to see the beauty of the Brandywine Valley now, watch this: HTTPS://YOUTU.BE/KYPWLNCIO0E. 
Be social. Connect with us.
Blog: HTTPS://WWW.VISITWILMINGTONDE.COM/BLOG 
Facebook: HTTPS://WWW.FACEBOOK.COM/GREATERWILMINGTONCVB  
Instagram: HTTPS://WWW.INSTAGRAM.COM/VISITWILMINGTONDE/
Twitter: HTTPS://TWITTER.COM/VISITWILMINGTON
YouTube: HTTPS://WWW.YOUTUBE.COM/USER/VISITWILMINGTONDE
Hashtag: #VisitWilm
MEDIA CONTACT
Lyn Lewis
302.295.2212
LynLewis@VisitWilmingtonDE.com