FOR IMMEDIATE RELEASE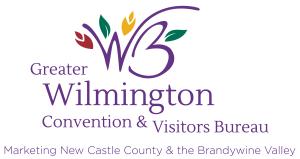 Wilmington, Delaware (December 7, 2017) – Tis the season for merriment and making plans for the new year. In 2018, consider a twist on the classic New Year's resolution and plan to spend more time with those you love, including your girlfriends (fun fact: if you follow through, you'll be in the approximately eight percent of people who actually keep their resolution!). Whether your interests include tax-free shopping, historical attractions, outdoor activities, dining and entertainment or simply an opportunity to recharge, Wilmington, Delaware and the Brandywine Valley is the perfect getaway for a long weekend with friends!
For the history and art buffs in the group, Wilmington and the Brandywine Valley offer an amazing roster of museums. Winterthur Museum, Garden and Library is a mansion-turned-museum featuring the prized possessions of prestigious antique collector Henry Francis du Pont. Hagley Museum is the home of the original DuPont Company gunpowder mill, workers village, and the du Pont family's ancestral home in Delaware. The Brandywine River Museum of Art features galleries dedicated to the work of the Wyeth family of artists.
Get some fresh air at White Clay Creek State Park, which offers 37 miles of trails leading to historic sites and scenic vistas overlooking the valley. For less cardio, but equally stunning vistas, head to Longwood Gardens, a must-see at any time of year. Here's a quick peek at the 2018 Longwood Gardens season: From January 20-March 25, the beauty and variety of orchids are displayed through the Gardens' Orchid Extravaganza; breath in the fresh air of Spring Blooms in the Gardens from March 31-May 6; take in the spectacular Festival of Fountains May 7-September 30; or experience the Chrysanthemum Festival between October 5-November 18, 2018. During the holiday season, A Longwood Christmas features a transformed Conservatory, colorful fountains dance, holiday music and a wonderland of a half-million twinkling lights.
Plan to unwind with Afternoon Tea at Hotel du Pont, an internationally renowned hotel nestled in the heart of Wilmington. As rich in history and tradition as it is in atmosphere, the hotel's afternoon tea features blends inspired by Longwood Gardens, Nemours Estate, and Winterthur. Nestled in the heart of the Brandywine Valley, the Inn at Montchanin Village & Spa offers custom-designed spa services for the group to rest, relax and rejuvenate.
For an evening on the town, enjoy dinner at Chelsea Tavern before heading across the street to The Grand to catch a performance. Or check out the Delaware Beer, Wine & Spirits Trail. Wilmington and the Brandywine Valley is home to local and regional brew favorites like Twin Lakes Brewing Co., Blue Earl Brewing Co. (which also features live music on most Friday and Saturday nights), Iron Hill Brewery, Victory Brewing Co., and many more.
If your girlfriends like to shop 'til they drop, Wilmington does not disappoint. The Christiana Mall is the largest tax-free mall on the East Coast and among its 175 stores, shoppers will find Anthropologie, Apple, Macy's, Nordstrom, South Moon Under and even a Target. Not to be missed is the Christiana Fashion Center adjacent to the mall, which includes a Nordstrom Rack, Saks Off Fifth, REI, Best Buy and more. Check out independently owned shops and high-end fashion boutiques in nearby Greenville.
Stick with this New Year's resolution and start planning your girlfriend getaway to Wilmington and the Brandywine Valley by visiting www.VisitWilmingtonDE.com.
# # #
Wilmington & the Brandywine Valley is in the heart of the Mid-Atlantic region and less than a two-hour drive from both New York City and Washington. Steeped in American history and the legacy of the famed du Pont family, Greater Wilmington is a destination marked by sharp contrasts – town and garden, past and present, historic and hip. From renowned gardens, world-class museums, colonial towns, outdoor adventure, festivals, and an ever-growing craft beer and restaurant scene, each experience is more vibrant, more unique and more authentic than the last. Learn more at VisitWilmingtonDE.com. And to see the beauty of the Brandywine Valley now, watch this: https://youtu.be/KyPWLnciO0E. 
Be social. Connect with us.
Blog: https://www.visitwilmingtonde.com/blog 
Facebook: https://www.facebook.com/GreaterWilmingtonCVB  
Instagram: https://www.instagram.com/visitwilmingtonde/
Twitter: https://twitter.com/visitwilmington
YouTube: https://www.youtube.com/user/VisitWilmingtonDE
Hashtag: #VisitWilm
MEDIA CONTACT
Sara Martin
919-200-6060
sara@mindybiancapr.com