FOR IMMEDIATE RELEASE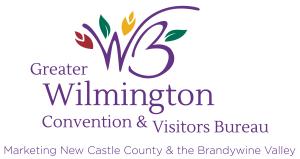 Wilmington, DE (February 8, 2018)…The Greater Wilmington Convention and Visitors Bureau is working hard to bring more conventions to New Castle County because we know that they have a very positive impact on our community and its economy.  We encourage you to contact us whenever you need more information.  We are happy to help.
The Greater Wilmington Convention and Visitors Bureau (GWCVB) is the only Destination Marketing Organization exclusively focused on generating economic impact for New Castle County. Marketing the area's history, arts, culture, gardens and tax-free shopping to leisure travelers seeking weekend escapes, as well as developing leads and relationships to bring convention, meeting, tour and reunion groups to area hotels and convention centers.

On average, visitors spend $2 billion annually in New Castle County, yielding $200 million in state and local tax revenues that help offset resident tax responsibility.  A large percentage of this revenue comes from the public accommodations tax (PAT) that visitors pay when staying overnight at hotels.  During Fiscal Year 2017 alone, the GWCVB brought 10 major meetings/groups to New Castle County. This resulted in 5,600 hotel room nights and an estimated economic impact of more than $1,508,220 for the county.  Additionally, the GWCVB was instrumental in assisting the lodging industry in attracting 29 more major meetings/groups.

Revenue from room nights is just the tip of the iceberg.  Convention attendees increasingly mix business and pleasure.  Jessica Bittmann, Director of Sales at the Bureau, says the trend toward work/play conferences is huge.  That translates into revenue for area attractions, retailers, restaurants and breweries. 
To bolster its commitment to bring more conventions, conferences and meetings to New Castle County, the GWCVB launched the Meet Me at Home (visitwilmingtonde.com/meet) campaign in 2017.  Residents and employees in New Castle County who have an existing relationship with a business or professional association, traveling youth sports league, or are planning a wedding or family reunion are encouraged to be proactive about bringing their events to New Castle County, their hometown. The GWCVB can assist and provide a variety of free services designed to aid in the selection making process.
Currently, the GWCVB is working with 11 conferences that have selected New Castle County as their location in 2018. These events have an estimated economic impact of over $1,100,000 for the county. In addition to these conferences, many area hotels, convention and conference centers are booking business into the area.  New Castle County is seeing a strong growth in business.  Beyond 2018 the future continues to look bright, the GWCVB is currently working on 26 active leads for conferences and events through the year 2020 that will continue to have positive economic impact on New Castle County.
###
Wilmington & the Brandywine Valley is in the heart of the Mid-Atlantic region and less than a two-hour drive from both New York City and Washington. Steeped in American history and the legacy of the famed du Pont family, Greater Wilmington is a destination marked by sharp contrasts – town and garden, past and present, historic and hip. From renowned gardens, world-class museums, colonial towns, outdoor adventure, festivals, and an ever-growing craft beer and restaurant scene, each experience is more vibrant, more unique and more authentic than the last. Learn more at VisitWilmingtonDE.com. And to see the beauty of the Brandywine Valley now, watch this: https://youtu.be/KyPWLnciO0E. 
Be social. Connect with us.
Blog: https://www.visitwilmingtonde.com/blog 
Facebook: https://www.facebook.com/GreaterWilmingtonCVB  
Instagram: https://www.instagram.com/visitwilmingtonde/
Twitter: https://twitter.com/visitwilmington
YouTube: https://www.youtube.com/user/VisitWilmingtonDE
Hashtag: #VisitWilm