FOR IMMEDIATE RELEASE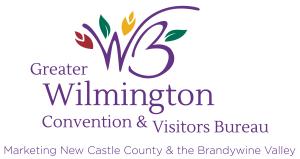 Wilmington & the Brandywine Valley (November 1, 2017) – Everyone knows this region in the Mid-Atlantic, straddling the borders of Delaware and Pennsylvania, as a place to visit in the springtime, when gardens are at full bloom and the beauty of the destination is beyond compare. However, some would argue that Christmas is an even more stunning time of year to admire the famed du Pont family properties, getting a good dose of history along with that holiday spirit.
The Hagley Museum and Library is where it all began for the du Ponts when they arrived in the United States. In 1802, they set up their gunpowder factory and their home at Eleutherian Mills, nestled along the banks of the Brandywine River. From November 24 through January 1, 2018, the mansion features holiday décor reminiscent of the du Ponts' French heritage – dried flowers, fruits, ribbons and fresh greenery – with heavily decorated Christmas trees and even an elaborate Twelfth Night dessert display in the dining room. Christmas music fills the air as guests get a look at some family-owned objects that are only on display at this magical time of year. Period rooms also demonstrate how an 1800s family would occupy its time during the winter months – reading, drawing or playing games. These seasonal exhibits are included with standard admission for a guided tour during the holiday season, plus there are special twilight tours on December 12, 13, 19, 20, 26 and 27, offered every half hour between 4:30 and 7 p.m. For a $10 admission fee, guests can see the mansion fully dressed for the holidays and also brilliantly illuminated by glowing lights.
The DuPont Company ultimately became the world's largest manufacturer of black gunpowder, then delved into a variety of other research and manufacturing ventures that resulted in the family becoming among the wealthiest and most powerful in America. They established homes and gardens throughout the region, each celebrated for its glamour and beauty.
                Winterthur Museum, Garden & Library is the former home of Henry Francis du Pont, and is known the world over for its astounding collection of American decorative arts. Visitors from near and far come to experience Yuletide at Winterthur, scheduled for November 18 through January 7, 2018. The site explores holiday traditions from the 1800s and 1900s, paying homage to early Christmas lights, the evolution of Christmas trees through the decades, and even a full-room recreation of a scene from Clement Moore's "A Visit from St. Nicolas." In honor of Winterthur's current special exhibit, "Royal Splendor: The Coronation Gown from The Crown," this year's Yuletide Tour features re-creations of the types of trees that would have decorated Windsor Castle during Queen Victoria's reign. The holiday festivities also include a live, one-man performance of a Victorian favorite, Charles Dickens' A Christmas Carol, performed by the author's great-great-grandson, Gerald Charles Dickens.
                Strolling Christmas carolers were also a part of many a Victorian holiday scene, and it's practically a guarantee that guests will run into some at Longwood Gardens. The nation's most celebrated gardens are simply unmatched during "A Longwood Christmas," this year scheduled from November 23 through January 7, 2018. The Gardens pay tribute to the du Ponts' native France, as the site's Conservatory transforms into a miniature Versailles with a collection of topiaries, wreaths, ornate mirrors and more than 50 trimmed trees. The entire site is illuminated with half a million twinkling lights.
                Longwood isn't the only enviable du Pont garden, however. Another member of the du Pont family, Alfred I. du Pont, created Nemours Estate around the turn of the 20th century, erecting a 77-room mansion and North America's largest formal French gardens on nearly 200 acres of woodlands, meadows and lawns. Guided tours of the mansion give guests a glimpse of how Alfred and his wife, Jessie, celebrated the holidays., including getting a peek at hand-painted antique ornaments hanging on elaborate Christmas trees. The entire mansion is ablaze with sparkling holiday lights; despite its enormous size, it seems especially cozy and welcoming during this season.
                Of course, Wilmington & the Brandywine Valley isn't simply about the du Ponts. Visitors can also capture the holiday spirit at the Brandywine River Museum of Art, which features a collection of dolls from the Ann Wyeth McCoy Collection and thousands of whimsical handcrafted ornaments on its many Christmas trees. And for the younger set, the Wilmington & Western Railroad gives families the opportunity to ride through the region's Red Clay Valley with none other than Santa, who happily poses for pictures during a 90-minute journey.
For those visitors more intent on exploring the region's early culture, on Sunday, December 10, the Old Swedes Church pays tribute to the region's Swedish heritage with a visit from "Sankta Lucia" in a celebration that combines the pagan ritual of the Sun God at Midwinter and the more traditional Christian holiday. As another way to step back into history, visitors to the village of Historic Odessa can stroll brick-lined streets and also take in the Storybook Trees Exhibit, which runs from November 14 through December 31.
                This is the year to start a whole new holiday tradition, embarking on a visit to a region that shouldn't be a secret at this festive time of year. For help unwrapping the joy of a trip to Wilmington & the Brandywine Valley, please visit www.visitwilmingtonde.com.
# # #
Wilmington & the Brandywine Valley is in the heart of the Mid-Atlantic region and less than a two-hour drive from both New York City and Washington. Steeped in American history and the legacy of the famed du Pont family, Greater Wilmington is a destination marked by sharp contrasts – town and garden, past and present, historic and hip. From renowned gardens, world-class museums, colonial towns, outdoor adventure, festivals, and an ever-growing craft beer and restaurant scene, each experience is more vibrant, more unique and more authentic than the last. Learn more at VisitWilmingtonDE.com. And to see the beauty of the Brandywine Valley now, watch this: https://youtu.be/KyPWLnciO0E. 
Be social. Connect with us.
Blog: https://www.visitwilmingtonde.com/blog 
Facebook: https://www.facebook.com/GreaterWilmingtonCVB Instagram: https://www.instagram.com/visitwilmingtonde/
Twitter: https://twitter.com/visitwilmington
YouTube: https://www.youtube.com/user/VisitWilmingtonDE

Hashtag: #VisitWilm
MEDIA CONTACT
Mindy Bianca
919-200-6060
mindy@mindybiancapr.com