FOR IMMEDIATE RELEASE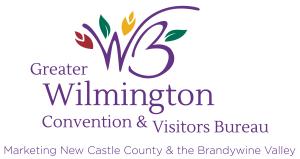 Wilmington, DEL (April 30, 2015)...The 21st Annual Communicator Awards has just named Greater Wilmington Convention & Visitors Bureau a Distinction Winner in the Website Category for Travel/Tourism.  GWCVB received this prestigious award for its new website, www.VisitWilmingtonDE.com, which was unveiled in December, 2014.  Working in conjunction with Simpleview, an Arizona-based company specializing in web design and customer management systems for destination marketing organizations, GWCVB completely redesigned the website to make it more interactive and useful for visitors, meeting/association planners and group tour operators.
Communicator Awards is the largest and most competitive awards program honoring creative excellence for communications professionals.  The Communications Awards are judged and overseen by the Academy of Interactive and Visual Arts, otherwise known as AVIA.  AVIA is a 600-plus member organization of leading professionals from various disciplines of the visual arts dedicated to embracing progress and the evolving nature of traditional and interactive media. 
According to Linda Day, Executive Director of the Academy of Interactive and Visual Arts, "The work entered in the 21st Annual Communicator Awards serves as a true testament to the innovative ideas and capabilities of communications and marketing professionals around the world.  Each year our entrants continue to amaze by reinventing the ways we communicate and market in an ever-changing industry." 
Scott Ciancio, Director of Marketing at Greater Wilmington Convention and Visitors Bureau, said "Receiving this award is a great honor.  More than 6000 entries from across the United States and around the world were submitted and we are proud to be selected as a Travel/Tourism Website Distinction Winner."
The Greater Wilmington Convention & Visitors Bureau is a non-profit organization founded in 1978, chartered by the Governor of Delaware, the New Castle County Executive and the Mayor of Wilmington. Its mission is to serve as the community's customer-focused destination marketing organization, generating economic growth through leisure travel and meetings development by aggressively marketing attractions, facilities, amenities and services for visitors.
###