FOR IMMEDIATE RELEASE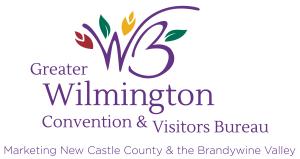 Wilmington, DE (March 1, 2017) – The Greater Wilmington Convention & Visitors Bureau (GWCVB), New Castle County's only tourism marketing group, announced today the completion and launch of a tourism video highlighting the area's attractions, natural beauty, festivals, activities and more. This comes as tourism in New Castle County grew by 5.2% from 2014 to 2015 and tourism spending reached $2.06 billion, its highest since pre-2008, based on a recent Delaware Tourism Office report.
Watch the video here: https://youtu.be/KyPWLnciO0E
For this project the GWCVB partnered with Wilmington video production company, The Kitchen, to develop a video that puts the area's rich history, colorful gardens and diverse culture center-stage while highlighting Odessa to the Brandywine Valley in striking footage that includes Hagley Museum, Nemours Estate, the Delaware History Museum and Center for African American Heritage, DuPont Clifford Brown Jazz Festival, Wilmington & Western Railroad, Historic New Castle, Newark's Main Street, Fort Delaware and so much more.
"We set out to produce a video that excites, inspires and even surprises viewers with all there is to see and do in Greater Wilmington, and I think we've done that," says Sarah Willoughby, Executive Director of the Greater Wilmington Convention & Visitors Bureau. "We've captured so much of what the area offers, yet there is so much more that just could not fit into two minutes and thirty seconds."
"This project was a really exciting opportunity for us to capture footage from all around the region, says Jason Prezant, of The Kitchen and the video's director. "As filmmakers living and working in Wilmington for years, we all know how beautiful it is here. It's awesome to be given the task of showing that."
The new video will live on the VisitWilmingtonDE.com home page, as well as the GWCVB's YouTube channel, and eventually be edited for commercial spots on Regional cable, connected TVs, Video on Demand and other digital video outlets. Willoughby encourages area businesses to reach out to the GWCVB should they want to use the video on their own website or video screen at their place-of-business.
###
The Greater Wilmington Convention & Visitors Bureau is a non-profit organization founded in 1978, chartered by the Governor of Delaware, the New Castle County Executive and the Mayor of Wilmington.  Its mission is to serve as the community's customer-focused destination marketing organization, generating economic growth through leisure travel and meetings development by aggressively marketing attractions, facilities, amenities and services for visitors.
Be social. Connect with us.
Web: https://www.visitwilmingtonde.com/
Blog:  https://www.visitwilmingtonde.com/blog  
Facebook:  https://www.facebook.com/GreaterWilmingtonCVB  
Twitter:  https://twitter.com/visitwilmington
Instagram:  https://www.instagram.com/visitwilmingtonde/
YouTube: https://www.youtube.com/user/VisitWilmingtonDE
Hashtags: #VisitWilm