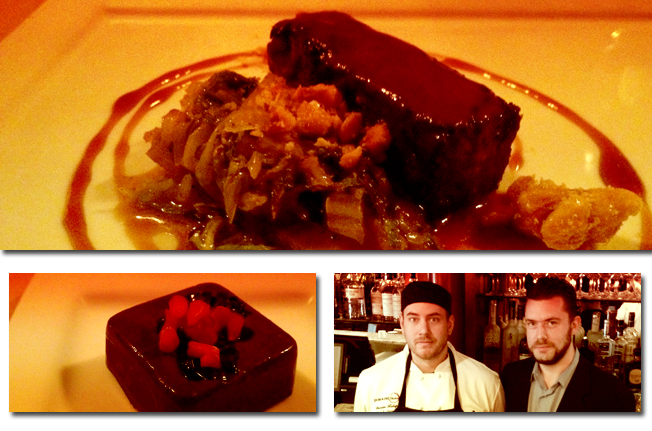 Roger Surpin calls our table to order and welcomes us to the third chefs table dinner of the year, inside the warmly lit private dining room in the back of Domaine Hudson. Were a ragtag group indeed -- nine of us, all one cocktail into the evening, with menus and high expectations already in front of us. Roger is ready to present the first wine, a 2010 Domaine de la Cornasse Chablis Grand Vin De Bourgogne from north Burgundy, where the summers are cold, the local terroir is made of volcanic ash, and the grapes never grow as ripe as they do in sunny California. This wine never sees oak, so it remains crisp, acidic, austere, with hints of green apple. Roger will be our guide through the nine wines of this eight-course meal, but he's also here to introduce newcomers to the cuisine of Chef Dwain Kalup, his successor in the kitchen, his collaborator in tonight's food and wine adventure. The first course he presents to us: A red snapper crudo with black olive oil, blood orange, fennel, caper berries and scallions. Roger smiles at us before we start to eat. Grab hold of your seat belts, he says.

First Course Domaine Hudson opened in Wilmington in 2006, immediately becoming a regional destination for oenophiles and food lovers. Ownership changed into the capable hands of Michael and Beth Ross in 2011, and a few kitchen changes found CIA-trained Chef Roger Surpin behind the burners in the kitchen. But the kitchen wasn't exactly where Roger wanted to be. A family love of wine, and a culinary school course with master mixologist Dale DeGroff, put Roger on a path toward the front of the house, and after a successful year-and-a-half stretch in the kitchen, he broke the news to Beth and Mike. They asked him to help find them a new chef. Enter Dwain. From pretty much the first bite of his food, I thought he was the guy, Roger said. (That first dish, a Humboldt Fog tortellini with maitake mushrooms, remains etched in Rogers memory.) Dwain started in the kitchen last September, and the two quickly discovered how they complement each other. Neither has yet hit 30. Dwain is reserved, yet ambitious; Roger is expressive and outgoing. Dwain develops the menu; Roger fills in the blanks with wine. Its the kind of pairing that surprises you. Maybe it shouldn't work, but it does.

Second Course Back at dinner. We've had morels with Serrano ham paired with a cabernet franc, followed by smoked linguine (the flour house-smoked before becoming pasta) with Obis One black garlic-hazelnut pesto, paired with 2010 Scarpa Monferrato Rosso Piemontese Blend and a second wine, a surprise that Roger has added to the menu, a 2008 Tenuta San Guido Sassicaia. (There are advantages to dining with people who know more about wine than you do. When the gentlemen sitting across the table bursts into spontaneous applause at the reveal, I get excited.) The nose is lovely, the wine full of berries and spice. Roger plays it to the crowd, asking us to compare which wine pairs better, not minding when were too busy eating to answer. Chefs Table dinners at Domaine Hudson are only held once a month, but I've seen Roger run the same show in the dining room in the main restaurant, any night of the week. Ask for him, and ask his suggestions. Talk to him, so he can learn what you like, and then let him suggest something you've never heard of before. Listen to him, and tell him you'd like to know more. Given him room, and he's got a lot of knowledge to share. Domaine Hudson offers 44 wines by the glass, and has more than 475 bottles in the cellar. OpenTable.com reviewers once rated it as having the best wine list in Greater Philadelphia. As he acquires new bottles, Roger looks for varietals that will surprise wine lovers, while pairing well with novices. He offers an Italian Nerello (a close cousin of Sangiovese) by the glass; a Schild Estate GMS, he says, is like a Côtes du Rhône from Australia. Such a claim begs two glasses, for comparison.

Later courses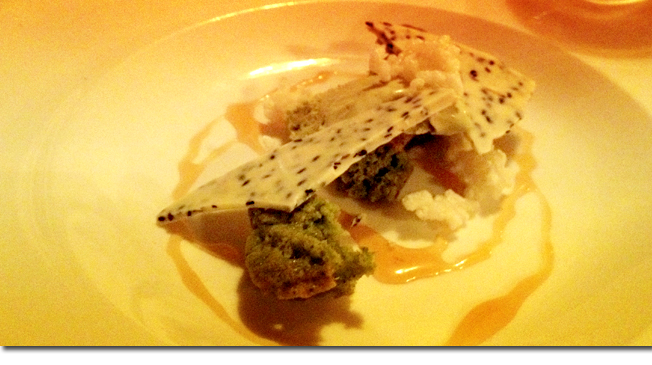 An intermezzo of kiwi sorbet arrives. Most of the table wants it to make an encore performance as dessert. Debate erupts around the table about the kiwi chips on top. Could they have been flash fried? Contrasting textures play a significant role in Dwains cooking style. Luxurious quail terrine (the next course) is plated with spiced pumpkin seeds that pop and crackle in the mouth. Braised kid goat (a daring choice for a sixth course) was pressed and then plated to resemble short rib, paired with charred cabbage and hazelnuts. A cloth-bound Cabot cheddar is shaved as thinly as the apples that provided a light crunch to the cheese course. On every plate, lighter flavors find a sharper edge to give them definition; familiar ingredients find new ways to surprise. Dwain started his career in Wilmington before moving to Chicago and the kitchen of the Michelin-starred Blackbird Restaurant. The chefs there were crazy and good at what they did, Dwain says. Roger likes that. He encourages Dwain to push the envelope. It keeps him sharp too. The kiwi? Simply dehydrated, Dwain tells us as he makes an appearance over dessert, a green tea cake with fried rice, yuzu caramel, white chocolate sesame bark and Thai basil gelato, paired with a 2003 Chateau Pajzos Tokaji. Roger chose that bottle to enhance the flavors on the plate the herbal notes, the bright citrus. I'm trying to take his food and amplify it to 11, Roger says. As all good pairings should.

When you go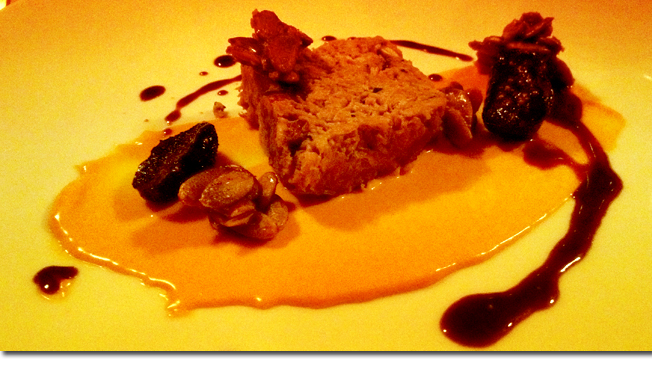 A few quick notes:

Domaine Hudson is great for dinner, but with 44 wines by the glass available in 1.5 oz., 3 oz. and 5 oz. pours, a nice selection of creative cocktail and craft beers and a killer cheese selection, it's a great place to head to after work with a small group of coworkers. Or a date. Or as a single guy out by himself, because I've routinely found myself sitting at that bar in the company of single, attractive women sipping wine, and seriously, someone single should pick up on this fact.

DH is located on Washington Street, right across from Wilmington Hospital. Street parking is free after 5 pm, but on crowded nights, you can park in the Christiana Care Clinic lot. How to get there: Drive on Washington Street toward the restaurant. Before you get to it, take a right onto 13th Street, followed by an immediate left onto Stockton Street (the yellow brick road) until it dead ends at 14th Street. From there, the lot will be across the street, to your left.