FOR IMMEDIATE RELEASE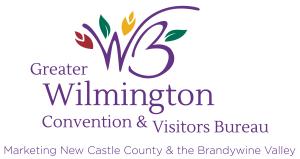 Wilmington, Delaware (August 7, 2018)…Sarah Willoughby, Executive Director of the Greater Wilmington Convention & Visitors Bureau (GWCVB), approached John Hawkins, Interim President of Delaware College of Art and Design (DCAD), about producing a video detailing the Bureau's mission and its contributions to New Castle County.  Hawkins accepted the challenge and Tad Sare, Animation Area Coordinator at DCAD, agreed to spearhead the student developed project.  The result is a fast-paced, three-minute overview of GWCVB's impact on the community.
The result of the collaboration is linked here:
https://www.youtube.com/watch?v=PZNcRiZ53HU&feature=youtu.be
The successful video project led Willoughby to inquire about summer interns.  Hawkins touted DCAD's internship program as an integral part of the college experience, noting that "…it plays well with the program and helps students generate income for living expenses.  Most of the students are right out of high school and just 18; working on a job relative to art and advertising is very helpful.  It also gives them an opportunity to add to their portfolio."
This summer, two DCAD students accepted internships at GWCVB:  Scott Taylor and Alia Spencer-ElBostic.  Scott Taylor says that size and price were the two biggest factors behind his decision to attend DCAD.  According to Taylor, "I had transferred from a school of 20,000 students and the difference in personal attention I received from administration and my professors made it a much more valuable learning experience."  He is going to continue his studies at Maryland Institute College of Art and Taylor observes that "…this internship has helped a lot with understanding productive time management skills for working under deadlines. Something that is going to be very valuable to me as I move forward as an illustrator." 
Alia Spencer-ElBostis says she "…learned a lot from being in an artists' environment.  Without this school (DCAD) I wouldn't have found the love of my life which is art and creating and sharing my ideas in a visually appealing way."  Alia is heading to the University of Arts in Philadelphia.  She says "I loved having this internship and being in an office setting for the first time."
Both Scott and Alia were hired based on their exceptional portfolios developed while attending DCAD.  Their primary summer objective was video editing—creating short, fun and creative videos that GWCVB could use on its social media channels.  Together they produced over a dozen short videos and Instagram-style animations for the promotion of events such as Clifford Brown Jazz Festival, New Castle County Ice Cream Festival, Delaware Burger Battle, Downtown Wilmington Brew Fest and many others.
Wilmington & the Brandywine Valley is in the heart of the Mid-Atlantic region and less than a two-hour drive from both New York City and Washington. Steeped in American history and the legacy of the famed du Pont family, Greater Wilmington is a destination marked by sharp contrasts – town and garden, past and present, historic and hip. From renowned gardens, world-class museums, colonial towns, outdoor adventure, festivals, and an ever-growing craft beer and restaurant scene, each experience is more vibrant, more unique and more authentic than the last. Learn more at VisitWilmingtonDE.com. And to see the beauty of the Brandywine Valley now, watch this: https://youtu.be/KyPWLnciO0E. 
Be social. Connect with us.
Blog: https://www.visitwilmingtonde.com/blog 
Facebook: https://www.facebook.com/GreaterWilmingtonCVB  
Instagram: https://www.instagram.com/visitwilmingtonde/
Twitter: https://twitter.com/visitwilmington
YouTube: https://www.youtube.com/user/VisitWilmingtonDE
Hashtag: #VisitWilm
MEDIA CONTACT
Lyn Lewis
LynLewis@VisitWilmingtonDE.com
Director of Communications & Public Relations
302-295-2212