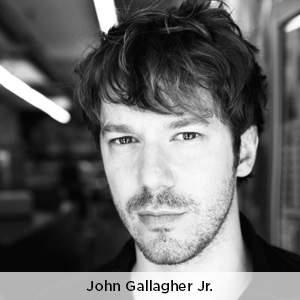 Wilmington, Delaware native Johnny Gallagher is known for his award winning work as an actor. He has appeared on Broadway in the musicals Spring Awakening and Green Day's American Idiot as well as the HBO series The Newsroom and the film Short Term 12.  And, he will make a return to Broadway in the Roundabout Theater Company production of Long Day's Journey Into Night starting in March, 2016.  But, on January 22nd, he'll return home to Wilmington to play his first show downstairs at World Café Live at the Queen.   I chatted with Johnny about the show, his new album Six Day Hurricane, and the importance of IMAX:
"It's been awhile since I've been back home to do any kind of performance. It's something I've wanted to do for awhile and the timing just worked out great.   I'm really exciting to check out The Queen.  I played the upstairs space when it first opened - I think 2011, I did an acoustic show, but this time around, I'm bringing my band, so it's a little louder, little more of a raucous. The downstairs room looks so beautiful - and I had been looking at it from a far online and taking their digital tour over and over again online, just thinking 'I don't know, it looks a little big, I don't know if I can get enough people' - but we worked it out, and so far so good. "
"Despite the fact that I've been playing and writing music for quite some time, this is the first time that I've really sat down and carved out some time to actually record it and put it out there.  It's really exciting for me, it's something that I'm really excited to come home and share.  Acting is something that I'm very passionate about, but there's a heart on my sleeve about the music that I write, so there's something a little more natural about coming home and sharing that with my family and friends."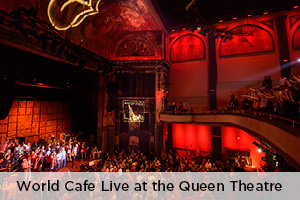 Johnny has certain benchmarks for when a city has "made it."  He told me a story of when he was traveling in a downtown area, and friends of his were a little disappointed in the area, until they found an IMAX theater.  "To me, once you have an IMAX, you're good, you're set. So, a couple years ago, when the IMAX opened on the Riverfront, my parents told me, and I just said - 'That's it! We've made it! We've gotten the IMAX, we're good to go!'"
The IMAX isn't the only stop Johnny makes when he's home to #VisitWilm! Here are his Top 5 favorite things to do when he's home: 
1.       Jupiter Records: "I always get to Jupiter Records now.  That place is really amazing. I collect vinyl.  New York is a good place for collecting vinyl - but the variety is very inconsistent. Something about Jupiter - I don't know what it is - man they have a killer selection. "
2.       Mrs. Robino's: "We always go to Mrs. Robino's, my family.  That's a family tradition.  My parents had their rehearsal dinner for their wedding their many moons ago.  Yet, I still don't think we have our Polaroid on the wall - but one of these days, we're gonna get it."
3.       Charcoal Pit: "Of course, in Delaware, no visit would be complete without a trip to the Charcoal Pit.  It's always been at the top of the list. "
4.       Family Gatherings: "It's not really a destination, but there's always a gathering at my cousin's house, or my aunt's house, and my parents all bring out the guitars and everyone sings and plays board games, that's a must. "
5.       Nomad Bar:   "I'm so behind the times on where people hang out now! There's all these places I want to try - I haven't been to 1984, I haven't been to Oddity Bar - but a few years ago I went in to Nomad a night Lew (Nomad bartender) was working and really dug that spot - I gotta get back there. "
Johnny's debut album, Six Day Hurricane, is out January 15th.  Find it on Amazon Music and iTunes. Don't miss Johnny Gallagher with Apache Trails, downstairs at World Café Live at the Queen on January 22nd - tickets won't be available for long!