San Francisco, Austin, New York, Boston and....Wilmington? When you think emerging technology, it's time to start thinking about taking a trip to Wilmington, Delaware.
What:
There's a tech boom happening in Wilmington, Delaware, and this is your official invitation to be a part of it.

Delaware's tech scene is thriving, and we think it has some serious staying power. The most common job held by immigrants in Delaware? Software Developer. According to data compiled by the 2013 American Community Survey, Delaware is the only area where that is the case. With a bevy of technology-centered start ups, large corporations looking for tech talent and digital marketing agencies, Wilmington is proving to be a tech destination.
Where & Who:
Technical.ly Delaware, an online magazine for all things tech in Delaware, calls it the Innovation Corridor. According to Editor Chris Wink: "Today, visitors from some of our country's largest and most culturally significant cities could hop off an Amtrak train and take a tour of tech and entrepreneurial success stories that rival those from most any other city Wilmington's size."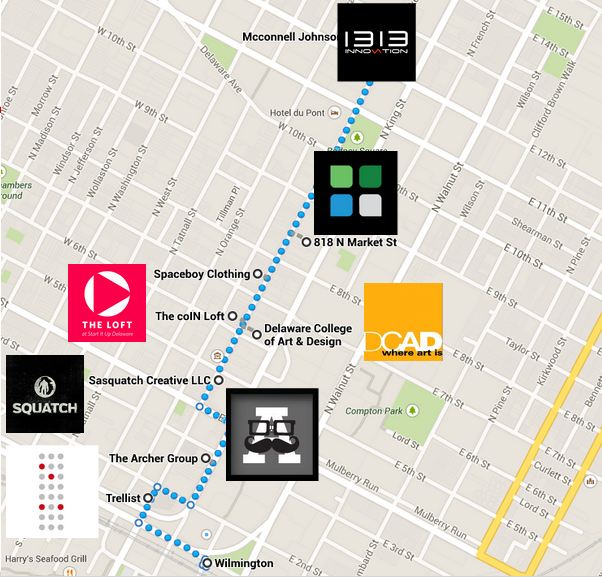 Wink continues with the ideal Innovation Corridor agenda:
• "Start at Trellist, the marketing technology firm with more than 100 employees and a satellite office in Philadelphia.

• Walk to The Archer Group, a digital branding firm that has national clients.

• Visit the Delaware College of Art and Design and its increasingly web-minded students.

• Walk past the hip Spaceboy storefront on Market Street en route to the headquarters of web design firm Squatch Creative and online gaming network IndieGameStand.

• Head inside the Hercules Building for a visit to 1313 Innovation, a new tech incubator that launched this year.

• Hang out at The Loft co-working space operated by Start It Up Delaware, a group catalyzing the state's tech entrepreneurship community with the help of a state grant."
There are also two newcomers to the ever-expanding Wilmington tech community: Zip Code Wilmington and Hatch House Ventures.
Zip Code Wilmington is Delaware's first coding school, and one of the first nonprofit coding schools in the country. This software development training school in downtown Wilmington not only teaches the students the foundation they need to be successful in the software development field, but acts as an apprenticeship program that launches new careers immediately upon graduation. The program is 12 weeks long and is now accepting applicants for its' January 2016 bootcamp.
Hatch House Ventures will make its home this fall on 7th and Market St in Downtown Wilmington. A nonprofit live/work space for student entrepreneurs, Hatch House helps young founders balance their startup life and their school life. Tenants are supplied with affordable housing and office space, a mentor with experience in their field and access to venture capitalists through regular investor pitch competitions.
When:
Delaware Innovation Week: This year will be the first for DIW. Organized by Technical.ly Delaware, it's a weeklong celebration of innovation and tech in Delaware. Attendees can participate in on talks covering innovation and technology in the Creative, Civic, Business, Media, Access and Dev worlds. It will run from November 13 -21st with Technical.ly Delaware organizing a handful of events, and local tech companies, enthusiasts and experts put together their own events to fill in the gaps.
Tech2Gether: This year will be the 2nd for the 1313 Innovation - run Tech2Gether. The conference highlights local entrepreneurs and startup companies while showcasing emerging technologies and creating opportunities for connections across industries. The full day event will feature multiple speakers, performers, bands, and demonstrations of emerging technologies. Last year's event featured discussions from nearly 50 presenters ranging in topics from Wilmington's emerging innovation sector to applications of wearable technology. Tech2gether concludes the day with a huge concert at World Café Live at the Queen, and based on pictures from last year, it's one you want to get to. The event, taking place November 18, 2015 at World Cafe Live at the Queen , will be an anchor event for Technical.ly's Delaware Innovation Week.
Delaware Tech Meetup: Some of the brightest minds in Wilmington tech and startups meet once a month at The Loft at Start It Up Delaware. Here, they discuss local tech, learn about local startups and their progress, share ideas and needs, and network. Local meetups have included topics such as: Zipcar's entrance into the Wilmington market and the company's strategies and practices that have been integral to its growth; the opening of Zip Code Wilmington; and how across the country, technologists using their skill sets to help solve civic problems.  For those interested in getting to know the local players in our tech scene - this is where you want to be.