The month of November is right around the corner, and that means it is almost time for the Sixth Annual Wilmington Beer Week! If you're looking for a good reason to visit Wilmington in November, this is it!

Starting on Saturday, November 5 and running all the way through the following Saturday, this city-wide celebration of all things beer is sponsored by Out & About Magazine and inspired by creative participation from all of our favorite local breweries and craft beer destinations. 
In order to help you navigate through the Wilmington craft beer scene a little bit easier during the festivities, we have put together a guide to some of our favorite craft beer destinations in the area. 
Buckley's is probably better known for their wine list, but don't sleep on the great selection of craft and import beers available at this popular tavern. This is a great spot to swing by for a quick bite where you can make an entire meal just from ordering off the appetizer menu!
Comfort food with a twist is what the Chelsea Tavern is known for, and with 31 taps there is no way that they aren't going to be a major part of Wilmington Beer Week. Tuesday night is trivia night here, which is always fun, and the kitchen is open until 1 am!
Dead Presidents Pub and Restaurant
Dead Presidents has a total of 10 beers on tap, and then another 59 to pick from in bottles and cans. This is a great casual pub that is known for its relaxed atmosphere. It's also a killer spot to grab a sandwich and a beer for lunch.
If you are looking to combine a little Sunday football with your Wilmington Beer Week experience, Ernest & Scott Taproom is the place for you. They have 18 beers on tap and all the games every Sunday thanks to Direct TV's NFL Sunday Ticket. 
Iron Hill Brewery & Restaurant
It's hard to celebrate beer week without including a trip to at least one of our local breweries. Iron Hill Brewery & Restaurant's location right on the Riverwalk makes it the perfect destination for kicking off or closing out the week. 
Nothing goes with beer quite like pizza, and when we are talking about craft beer and gourmet pizza made with the highest quality ingredients, that is even more true. Pizza by Elizabeths is best known for their amazing pies, but they also have a great beer selection too!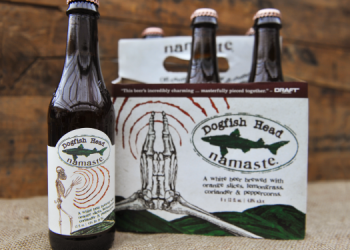 Trolley Tap House
Everything about the Trolley Tap House is fun, which is exactly what you can expect here for Wilmington Beer Week. They have 27 beers on tap and an excellent food menu to complete the experience. 
You can never have too many gastropubs, and luckily we have quite a few to choose from here in Wilmington. One of the local favorites is Two Stones Pub because the food here is outstanding, and the late-night menu is available until 1 am. They also have 32 beers on tap to complete your meal.
World Cafe Live at the Queen
If live music is your thing, then World Cafe Live at the Queen is the place to catch a show during Wilmington Beer Week. This venue has events booked for both Saturdays, and the Wednesday, Thursday, and Friday of beer week. And they have 25 taps to choose from while you are enjoying the show.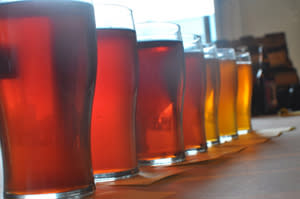 Washington Street Ale House
The Washington Street Ale House is another one of our fantastic gastropubs that offer a delicious menu and great selection of craft beers. But this one also has a terrific brunch menu that is going to be a necessary experience as part of your beer week celebration. 
Local Brews
To help you making selections during Wilmington Beer Week, we suggest trying something new, something local. The following Delaware brews are available at many of the Beer Week establishments listed above.
Bellefonte Brewing Co.
Twin Lakes Brewing Co.
Dew Point Brewing Co.
2SP Brewing Co.
Blue Earl Brewing Co.
Argilla Brewing Co.
Frozen Toes Brewing 
Iron Hill Brewery
Stewart's Brewing Co.
Victory Brewing Company
Kennett Square Brewing Company
McKenzie Brew House
Dogfish Head Craft Brewery
Mispillion River Brewing
16 Mile Brewery
Fordham Brewing Company
Dominion Brewing Company
In addition to all their normal food and beer offerings, each of the participating venues will also be offering a Beer Week Flight Special, which will include sample sizes of three different beers for a set price. 
There will also be plenty of other specials happening at each of these venues throughout the week, so make sure you ask your servers what they are doing to celebrate Wilmington Beer Week. Cheers!