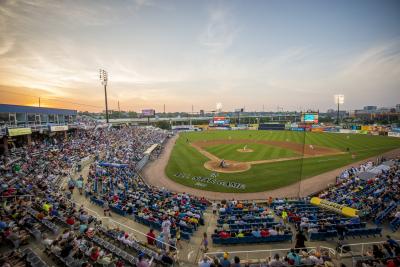 Did you know that many of the players from the World Series Champion Kansas City Royals started their professional baseball careers here in Wilmington. Delaware?
That's right. Eric Hosmer, Mike Moustatakas, and Salvador Perez all played for the Wilmington Blue Rocks back in 2009, and starting pitcher Yordano Ventura followed in 2012.
Altogether, there have been 150 players that have passed through Wilmington on their way to the big leagues. Some of the other notable Blue Rocks alumni include Zack Greinke, Jacoby Ellsbury, Will Myers, and Clay Buchholz.
Every player that eventually makes it to the majors obviously has to start somewhere, but there have been a larger than average number of future major leaguers here in Wilmington over the years. And from the look of the 2016 roster, this season's team has plenty of future star power as well!
In order to help you get the most out of your next Wilmington Blue Rocks game, here are four of the team's top prospects that you should be watching this year.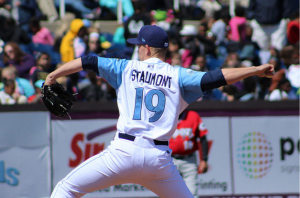 Josh Staumont - Pitcher
The Royals drafted Josh Staumont from Azusa Pacific University in the second round of last year's draft. He has started the 2016 season as one of the many promising pitching prospects here in Wilmington, with many knowledgeable sources ranking him as one of the top 20 prospects in the entire organization.
As a 23 year old who is just getting his career started, Staumont already possesses a fastball that is nearly ready for the big leagues with a velocity that can touch 100 mph. But while the speed of his fastball is devastating, his control of it can be lacking. One of the things he is tasked with improving this year is decreasing the number of walks he allows.
In addition to getting a better hold on his fastball, Staumont will also need to continue to develop his secondary pitches. He throws a curveball that sometimes curves a bit too much, and a changeup that just isn't yet good enough to fool hitters at more advanced levels.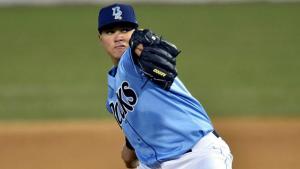 Pedro Fernandez - Pitcher
After signing with the Royals out of the Dominican Republic, Pedro Fernandez joined the Blue Rocks towards the end of the 2015 season.
Like Staumont, he has ample amounts of raw talent and a hard fastball, but he needs to develop his secondary pitches if he plans to make it to the big leagues.
Unlike Staumont, Fernandez has a solid changeup that does an excellent job of fooling hitters. His issue lies with his breaking ball, which falls somewhere between a slider and a curveball. Watch for the Blue Rocks coaches to work with him on developing that pitch into a cutter and maybe even transitioning Fernandez into a reliever this year.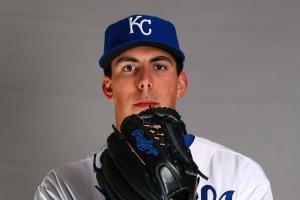 Kyle Zimmer - Pitcher
While there is plenty to like about Staumont and Fernandez, Kyle Zimmer is the pitcher with the most elite talent in Wilmington this year. He was taken 5th overall by the Royals in the 2012 draft and has already displayed a big league arsenal of pitches that all rate fantastically. Anyone who watches him pitch will be able to see why he is ranked as one of the top prospects in the entire organization.
Throughout his short minor league career, the only thing that has ever held Kyle Zimmer back is the fact that he just can't seem to stay healthy. However, that looks like it might be changing this year as he spent the offseason training, rather than rehabbing, for the first time since he was drafted. If Zimmer can stay healthy, he is going to be very exciting to watch this summer.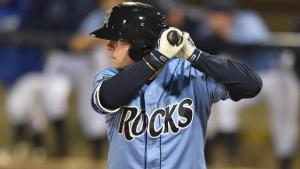 Brandon Downes - Outfielder
One of the more talented hitters for the Blue Rocks this year will be centerfielder Brandon Downes, who was selected by the Royals in the 7th round of the 2014 draft. He has the rare combination of power and speed that every team covets, but he needs to develop his plate discipline and stop swinging at pitches outside the strike zone this season.
So far this season, Downes has struggled with hitting for both average and power. It will be interesting to see if he can turn things around here in Wilmington as the weather warms up heading into the summer months.
With three top-tier pitchers and a centerfielder that has the potential to hit for power and steal bases well, there is going to be a lot to watch for in just about every Blue Rocks game this summer.
Keeping and eye on the development of these four players should give you plenty of knowledge to enhance your next trip to Frawley Stadium. Blue Rocks baseball is great family fun and tickets start as lows as $4.00 for children and $6.00 for adults. Learn more by visiting the official website of the Wilmington Blue Rocks.