It's another busy weekend in Wilmington and the Brandywine Valley!  Here are our picks for your weekend itinerary – and don't forget to share your travel pictures using #VisitWilm on Instagram & Twitter!
Broadway Christmas Wonderland 
November 25th – November 27th
Kick off your holiday season with The Playhouse on Rodney Square! This most loved Christmas show features glittering costumes, a dazzling cast, and the highest kicking Chorus Girls this side of the North Pole. Start Christmas in style as Santa and his merry helpers take you on an unforgettable nostalgic Christmas journey.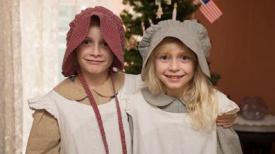 Thanksgiving Weekend at Hagley 
November 25th - 27th
Sample historic holiday dishes from "The Hagley Cookbook," enjoy nineteenth century crafts and parlor games, and dress up in period clothing! A great family activity for your out-of-town guests! 
Jaycees Christmas Parade 
November 26th
A Wilmington tradition! The 53rd Annual Wilmington Jaycees Christmas Parade will kick off on 5th and King Streets in Downtown Wilmington on Small Business Saturday. Bring the kids, because Santa will be here! He'll be walking the parade route, collecting letters from all the good little boys and girls in attendance! 
Brunch with Santa at Deerfield
November 27th - December 18th
Make your list, check it twice, mark your calendars and make reservations today for Deerfield's signature Brunch With Santa!  This year, Santa Claus will be hosting four of our incredible Sunday Brunches that offer over 111-feet of "brunchy goodness!" Meet the man in red, get a special gift, and most importantly, get the whole family together for an unforgettable family dining event.  Reservations are required. 
Find these and all the weekend events on our Calendar of Events page! What's on your agenda this weekend?