Once the leaves change to autumn colors, it's time to plan that long weekend getaway to Wilmington and the Brandywine Valley in Delaware. The area is known for its beautiful gardens, rolling hills and plush meadows. It's also home to breathtaking historic architecture in the charming towns located throughout the Brandywine Valley and New Castle County. Good Housekeeping even ranked the area as having some of the best small towns in the country. From sipping wine in a valley to embarking on a ghost tour, here are some of the best things to do in the fall in Wilmington and the Brandywine Valley in Delaware.

1. Tour the Brandywine Valley National Scenic Byway. Declared one of the top 10 best places for road trips by Forbes in 2012, Brandywine Valley National Scenic Byway is a designated 12.25-mile long route that takes drivers through gorgeous 20th-century architecture, water-powered mills and breathtaking gardens. Drivers can make quick stops along the byway, visiting some of the towns alongside it that feature historic main streets and mansions-turned-museums dating back to the 1800s. Plan ahead and book a room at a local historic inn like The Inn at Montchanin Village to extend your stay.

2. Visit historic New Castle, Delaware. History lovers can immerse themselves in the historic and well-preserved town of New Castle, Delaware, loaded with quaint shops, charming homes, and fine restaurants. Guests can go on a long scenic stroll by the Delaware River before stopping by New Castle Court House Museum or Amstel House Museum to learn about the city's rich past. Historic New Castle, Delaware has more historic structures than Colonial Williamsburg. And unlike other historic towns, New Castle is an active, thriving residential town where people live and work, with many homes having been passed down through generations.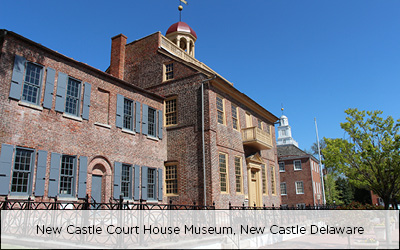 3. Take a Fort Delaware ghost tour-if you dare. Fort Delaware was built in 1848 and used as a prison to hold Confederate soldiers. The site was featured and explored in an episode of Ghost Hunters TV show. Available only during the fall are Fort Delaware ghost tours, which are nightly group tours of the prisons' dungeons, mess halls, kitchen and quarters led by a guide who tells stories of the fort's Civil War past. The fort's most popular alleged ghost is named Stefano, who reportedly fell to his death on the stairs over a century earlier.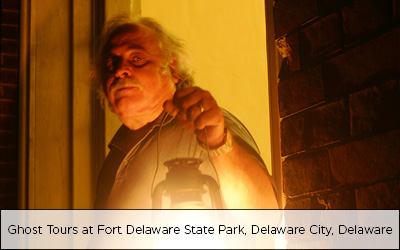 4. Bike the Michael Castle Trail. Michael Castle Trail is a 16-mile scenic route along the Delaware canal that connects Delaware City to Chesapeake City, Maryland. It's a newly paved trail open to walkers, joggers and bikers, flanked with gardens of wildflowers, lush meadows and rolling hills. Bikers can also pass under three bridges and make rest stops at some of the area parks. Be sure to swing by Lums Pond State Park, which is home to a largest freshwater pond in the state. The Mike Castle Trail and others like it throughout New Castle County, Delaware, are a large reason why Delaware is ranked as the No. 1 bicycle-friendly state on the East Coast and No. 3 in the nation by the League of American Bicyclists.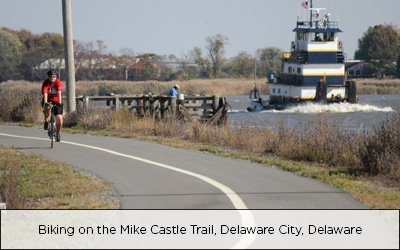 5. Experience autumn's colors at Longwood Gardens. Once autumn is in the air, head over to Longwood Gardens to see the brilliant shades of gold, orange, red and yellow. The garden is a 1,077-acre landscape in Brandywine Valley-a quick drive from Wilmington. Nature lovers can browse through 11,000 different types of plants and trees located in and around garden fountains and art sculptures. During peak fall season, the garden turns into a fairytale-like sanctuary with its gorgeous fall colors. Read about more of the top places to view fall's changing colors in Wilmington and the Brandywine Valley here.

6. Enjoy harvest season at local wineries. The Vintage Atlantic Wine Region is one of the oldest grape-growing areas in the country and has more than 60 wineries with six wine trails throughout parts of Delaware, Maryland, New Jersey and Pennsylvania. Some of those wineries are located in the Brandywine Valley region. During fall at many of those wineries, guests can witness grape harvesting and production, and they can take winery tours and sample some of the best local wines. Near Wilmington is the Brandywine Valley Wine Trail, which is known for its rolling hills and unique historic architecture found at many of its wineries, and the Delaware Wine & Ale Trail, which features 17 breweries, wineries and distilleries.

7. Attend the area's fall festivals. Autumn in Wilmington and Delaware's Brandywine Valley means it's time to celebrate at local events and festivals. One of the biggest events in the area is Oktoberfest in Newark, which celebrates all things German. Under towering trees of red and gold, Oktoberfest attendees sample Bavarian brews, eat schnitzels and folk dance. Arts and crafts vendors are set up throughout the festival selling souvenirs. Another popular local event is the Delaware Antique Show, where you can browse hundreds of antique items brought to the show to sell or for appraisal. New Castle County is also home to the popular Brandywine Festival of the Arts, where you can get your holiday shopping out of the way. Each fall, hundreds of art vendors flock to the area to sell one-of-a-kind art pieces including jewelry, paintings, sculptures, and pottery.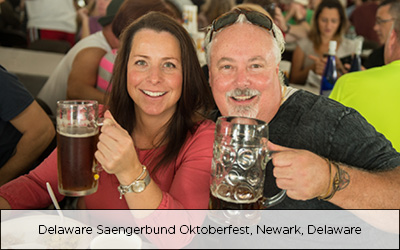 8. Do some tax-free shopping at Christiana Mall. There's no need to wait until tax-free weekends to chalk things off your wish list. In Wilmington, the Christiana Mall is known for its unique tax-free perks that are available year-round. The mall is the only tax-free shopping center on the East Coast. The mall is home to many high-end shops like Vera Bradley, Michael Kors and an Apple Store. While there, stop by the 11,000-sq.-ft. Cabela's store to check out its walk-through aquarium and indoor archery range.

9. Kick-off of the performing arts season. 'Tis the season to show your support for the arts by watching a show like "Playing the Assassin" at Delaware Theater Company on Wilmington's waterfront. Guests can listen to a troupe of professional musicians accompany the plays with brilliant classical or rock music. The Playhouse on Rodney Square is another popular place to see the performing arts. Tucked away inside the famous Hotel du Pont, the playhouse features a lavish Victorian stage where Broadway musicals like "Jersey Boys" or "Annie" take place. The playhouse is also a hotspot for touring comedians and popular bands. World Cafe Live at the Queen in Wilmington is a trendy venue space for world-class entertainment and concerts. Outfitted with two stages and a restaurant, the Queen theater hosts musicians like Howard Jones, John Prine and Dar Williams.

10. Check out new exhibits at Winterthur Museum, Garden and Library. Originally belonging to an aristocrat of Delaware, Henry Francis du Pont's former 175-room mansion is now a museum housing the country's premier collection of American decorative arts and a 60-acre naturalistic garden. Currently at Winterthur is the exhibition "Tiffany Glass: Painting with Color and Light," on loan from the Neustadt Collection. Winterthur Museum, Garden and Library offers group tours to educate visitors about the high lifestyle and history of aristocracies of the 20th century. Hagley Museum and Library is another great destination to get a glimpse of early life in Wilmington, Delaware. This 235-acre landscape along the banks of the Brandywine River houses the original DuPont Company gunpowder mill, workers village and the du Pont family's ancestral home in Delaware. Today you can tour the home, witness gunpowder demonstrations and explore exhibits in the museum.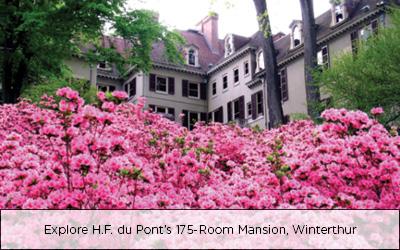 Plan your fall getaway today with a free Wilmington & the Brandywine Valley Visitors Guide.

Mike Castle Bike Trail Image courtesy ecodelaware.com. Photo copyright Shaun Bailey