One of the most beautiful times of year to visit Wilmington and the Brandywine Valley in Delaware is during fall when trees explode into bursts of color in shades of red, orange and yellow. Grab your camera or your smartphone and start planning a fall photo tour through the Brandywine Valley. Here are 10 of the top places to capture the natural beauty of fall throughout the Wilmington area. Snap your own photos and share them with us on Facebook, Twitter and Instagram using the #VisitWilm hashtag.
1. Brandywine Park
Located within the city of Wilmington, Delaware, the 100-acre Brandywine Park is an oasis from the hustle and bustle of Wilmington's corporate landscape. Visitors can walk, jog or bike alongside the Brandywine River or take stroll through the park's formal gardens. And when the fall foliage is at its peak, the park makes the perfect backdrop for an outdoor lunch, visit to the Brandywine Zoo or simple escape from reality.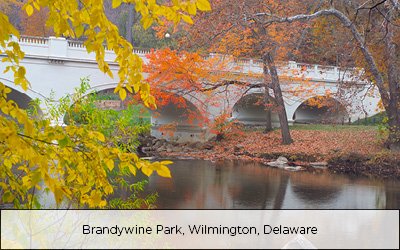 2. Brandywine Valley National Scenic Byway
Why hike when you can see a large chunk of Delaware's pristine Brandywine Valley by going on a road trip along the Brandywine Valley National Scenic Byway? Drivers can see the breathtaking rolling hills, orange and red trees, historic farms, covered bridges, mansions and the Brandywine River. Make several stops along the scenic route to further explore the intense beauty on foot.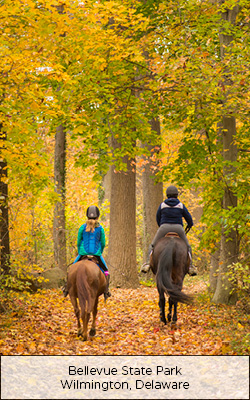 3. Delaware State Parks
Explore the dense wilderness on horseback, by bike or on foot at some of Greater Wilmington's Delaware State Parks, including Bellevue State Park (pictured). When the forests are shrouded in golden trees, park activities like hiking, biking, fishing and picnicking are automatically enhanced by the surrounding beauty. Delaware State Parks are great places to engage in your favorite outdoor activities while admiring the autumn leaves.

4. Hagley Museum
History buffs and nature lovers will get a good bang for their buck at Hagley Museum and Library-home of the original DuPont Company gunpowder mill, workers village and the du Pont family's ancestral home in Delaware. While taking in the fall foliage along the banks of the Brandywine River, visitors will also be able to tour the home, witness gunpowder demonstrations and explore exhibits in the museum.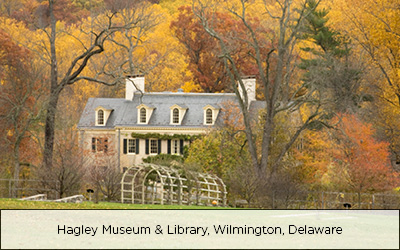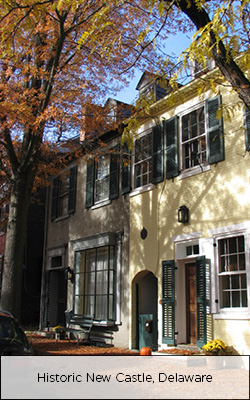 5. Historic New Castle
There's no need to venture far into the wilderness to admire the warm, earthy colors of fall when visiting Delaware. You can simply go on a scenic walk through the town of historic New Castle, Delaware, to see Colonial-style homes, a preserved courthouse, Federal period mansion and picturesque gardens all carefully placed along tree-lined cobblestone streets.

6. Longwood Gardens
This 1,077-acre public garden makes visitors feel like they've ventured into a Mother Goose fairy tale. Towering trees, radiant flowers, meadow gardens, fountains and art sculptures entertain nature lovers with 11,000 different plant species on site. Come fall, Longwood Gardens hosts its annual Autumn's Colors display with a series of special features including the Thousand Bloom Mum, the largest in North America.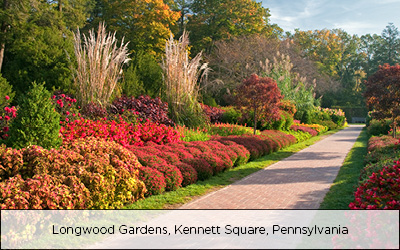 7. Mt. Cuba Center
This botanical garden is famous for its rural pastures with a wealth of woodland creatures like squirrels, chipmunks and butterflies, giving it a true enchanted forest feeling. You can hike the untamed wilderness and possibly snap a shot of a doe peeking out from behind the splendid golden trees at Mt. Cuba Center.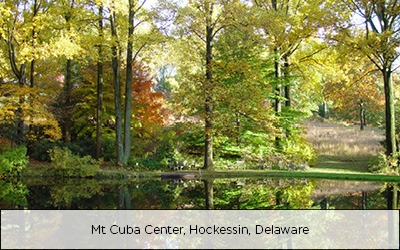 8. Rockford Park
Nestled among the tree-lined streets of one of Wilmington's grandest neighborhoods lies Rockford Park. Walk, jog or bike through its spectacular fall colors, or for a panoramic shot, climb to the top of Rockford Tower (pictured), an historic stone water tower that now serves as an observation tower. Continue your trek along the neighboring Kentmere Parkway to visit the Delaware Art Museum and for some photo opportunities of the finest architecture in Wilmington.

9. Wilmington and Western Railroad
Wilmington and Western Railroad is a historic railroad known for its vintage steam locomotives. The railroad hosts its own Autumn Leaf Special every fall, offering group rides lasting 1.5 to 2.5 hours through the pristine forests of red, orange and yellow in luxury coaches.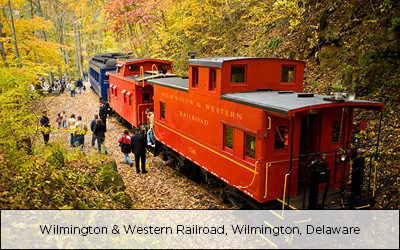 10. Winterthur Museum
Belonging to the prestigious antique collector Henry Francis du Pont, Winterthur Museum, Garden & Library is a mansion-turned-museum that houses many of his prized possessions for the public to see. Outside, the extravagant naturalistic gardens, reflecting pool and the Enchanted Woods children's play area are all Instagram-worthy.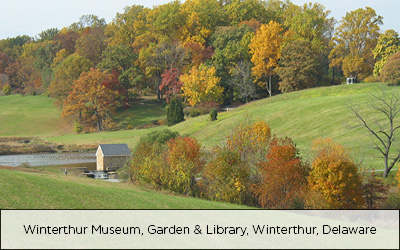 Read more about some of the top things to do in the fall in Wilmington and the Brandywine Valley in Delaware here. And order your free Wilmington & the Brandywine Valley Visitors Guide today!