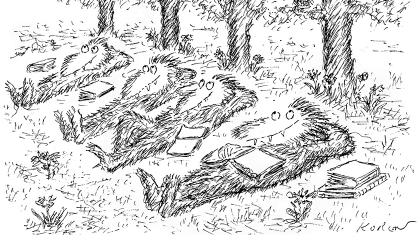 On Thursday July 21, roughly a month after his exhibit opens, Edward Koren will be giving a talk at the Delaware Art Museum.
Koren has contributed well over a thousand cartoons and many covers to The New Yorker since his work was first published in 1962. His illustrations have also been featured in various other publications including The New York Times, Sports Illustrated, and Time. Koren illustrated several children's books including his own: "Behind the Wheel" and "Very Hairy Harry." From 6 p.m. to 7 p.m., Koren will be discussing his influences and how they affect his work both generally and in his contributions to The New Yorker. Following his presentation, Koren will be signing his books, which will be sold on site.
Koren's full exhibit, "Edward Koren: The Capricious Line," runs at the Delaware Art Museum from June 25 through September 18 and features his career as mostly a contributor to The New Yorker. Though Koren himself will only be at the museum one day, the exhibit is on display every day during normal museum hours. The display includes about 50 exclusive Koren cartoons that are on tour for the first time.
A week before Koren's visit, The Delaware Art Museum will host a film screening of "Very Semi-Serious: A Partially Thorough Portrait of the New Yorker Cartoonists," beginning at 6:30 p.m. Creation of The New Yorker cartoons are explained in this documentary through behind-the-scenes looks at the magazine and the people who illustrate it.

The Delaware Art Museum often showcases famous illustrators. Currently, they're also running a Howard Pyle exhibit. Howard Pyle, who also happens to be from Wilmington, Delaware, is sometimes called the Father of American Illustration because of his influence on famous storybook characters such as Robin Hood and swashbuckling pirates. Recently, The Delaware Art Museum featured a John Sloan exhibit in which Sloan's magazine illustrations and rebuses were shown. Sloan grew up in Philadelphia but later moved to New York in order to advance his painting career. His portraits of New York are still currently available to view in the museum.
Dates to Remember:
June 25: Edward Koren exhibit opens

July 14: Film Screening of "Very Semi-Serious"

July 21: Artists Talk and Book Signing with Koren

Museum Hours:

Wednesday: 10:00 a.m. – 4:00 p.m.
Thursday: 10:00 a.m. – 8:00 p.m
Friday – Sunday: 10:00 a.m. – 4:00 p.m.
Monday and Tuesday: Closed