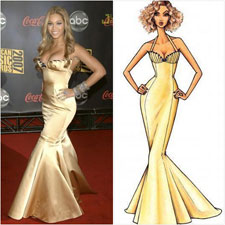 The next fashion hot spot? Wilmington, Delaware. Don't adjust your screen - you read that right! Thanks to the folks at Fashion In The Square, Wilmington is quickly becoming a place where fashion enthusiasts can thrive. Spearheaded by Natasha Otero, a former Ford model, fashion advocate and Delawarean, Fashion in the Square is passionate about bringing high fashion (and all that goes with it) to Delaware!
The organizations' first big event will make quite the splash. On Thursday, March 26th, the Hotel DuPont Gold Ballroom will be the most fashionable place in town.
Yes - you also read that right - Bey-hive to the ready, Scott Nylund is coming to #VisitWilm . The dinner event will also feature Miss Delaware, a fashion show, silent auction, performances by local musicians, and some of America's Top Models.
"We are excited about growing this International multi-Billion-dollar industry here in the First State," said Natasha Otero, Executive Director for Fashion In The Square. "We have many talented members of the fashion community living here in Delaware and working in New York, it's time to bring some of that work here."
Funds raised through this event will go towards expanding Delaware's fashion industry and working with disadvantaged youth in the region.
More details about the event and Fashion in the Square can be found at FashionInTheSquare.org.