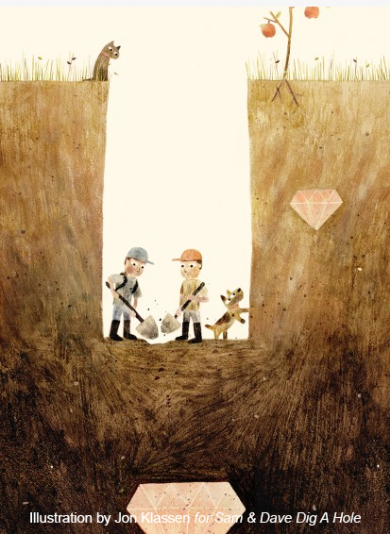 This month begins Get the Picture! an exhibition at the Brandywine River Museum of Art that features work by eight renowned contemporary children's book artists. The exhibit is guest curated by H. Nichols B. Clark who was the former director and chief curator of the Eric Carle Museum of Picture Book Art in Amherst, Massachusetts. Get the Picture! Contemporary Children's Book Illustration, featuring work by Sophie Blackall, Byran Collier, Raul Colon, Marla Frazee, Jon Klassen, Melissa Sweet, David Wiesner, and Mo Williams, respects the history of children's book illustration and still appeals to kids of today.
Every Thursday until August 25, the Brandywine River Museum of Art will host Museum Explorers family workshops for ages 2 through 8. The event themes change weekly, and each one features an interactive tour and hands-on art activity inspired by Get the Picture! Sessions are free with admission and run at 10 am and 11 am. Individual week events are listed below.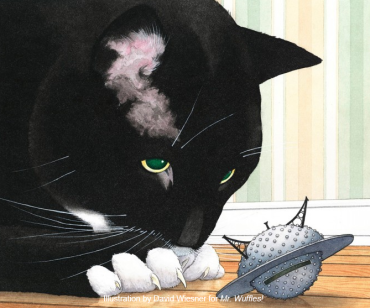 On July 13, at 6 pm, visit the museum for Illustrated Worlds: A Conversation with David Wiesner and H. Nichol B. Clark. The event is $15 for members and $20 for non-members. A book signing by the three-time Caldecott medal winning Wiesner will follow. 
Children will enjoy "Finding Winnie" Read-Aloud Pajama Night. The event, beginning at 6 pm on July 19, is $15 for adults and $8 for children. Kids can wear their PJs and bring their own stuffed friends as they listen to "Finding Winnie," the true story of Winnie the Pooh. Galleries for Get the Picture! will be open for viewing and include original storybook artwork. The evening will conclude with s'mores and a craft for each child to take home.
At 2 pm on July 20, Chistine Podmaniczky, curator of N.C. Wyeth Collections and Historic Properties, will be giving a gallery talk for free in the Get the Picture! exhibition.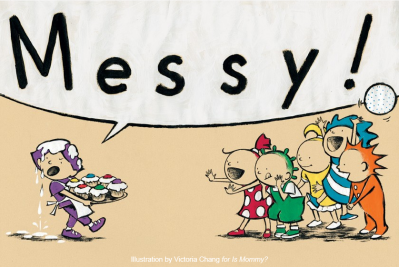 Teachers and parents can visit the Brandywine River Museum on Monday, July 25 for a lecture on interactive alternatives to picture book reading. The event is $15 for members and $20 for non-members and begins at 6 pm. Stick around for a book signing and reception after the lecture.
On Sunday, August 7, Raul Colon will be discussing his book "Draw!" There will be a book signing to follow.
Learn about the dynamic creative process behind Melissa Sweet and Jen Bryant's award-winning picture books on Wednesday, August 10. From 6-8 pm, listen to the duo discuss collaboration. Admission is $15 for members and $20 for non-members. 
Christine Podmaniczky will be giving a second gallery talk on September 21 at 2 pm. Her lecture will be free with admission. 

The Brandywine River Museum of Art, known for its collections dedicated to the work of N. C. Wyeth, Andrew Wyeth, and Jamie Wyeth, is located in Chadds Ford, Pennsylvania. The campus sits on 15 acres of land and includes a river trail and native plant garden. Work by hundreds of famous illustrators as well as nearly 300 special exhibitions have been shown in the museum's six galleries. The museum offers educational and kid-friendly programs throughout the year. 
The Brandywine River Museum's gallery hours are 9:30 am to 5 pm daily. Admission is $15 for adults, $10 for seniors, $6 for children, and free for members. 
Museum Explorers Weekly Family Workshops
July 7: Line Up
Look for all types of lines – straight and curvy, thick and thin – in art throughout the museum and make linear designs.
July 14: Fantastic Places
Search the museum for exciting places and draw fantastical and colorful worlds using oil pastels. Three-time Caldecott Award winning artist David Wiesner will be present and sign copies of his books from 11 a.m. to noon.
July 21: Creative Characters
Seek out traditional and unusual portraits throughout the museum and assemble a 3-D character from new and recycled materials.
July 28: Art Sounds
Imagine the sounds suggested by pictures and respond to music through art. Bryan Collier, winner of multiple Caldecott Honors and Coretta Scott King Awards, will sign copies of his books from 11 a.m. to noon.
August 4: Animal Safari
Capture the lines and shapes of animals on a trip through the museum, then add color and texture with a variety of art materials.
August 11: All about Me
Hunt for clues about famous people in illustrations and make an autobiographical mixed-media collage. Artist Melissa Sweet and author Jen Bryant will greet families during the program and sign copies of their books from 11 a.m. to noon.
August 18: Superhero Shapes
Soar to adventure with dynamic illustrations of classic and new stories, then develop an amazing superhero using Model Magic!
August 25: Finding Color
Gain inspiration from landscape art and reveal the colors of late summer with watercolor crayons.