While there is an almost never-ending list of fun ways to spend your time right here in Wilmington, there are also some really interesting little towns in the surrounding area that make for enjoyable day trips or weekend getaways.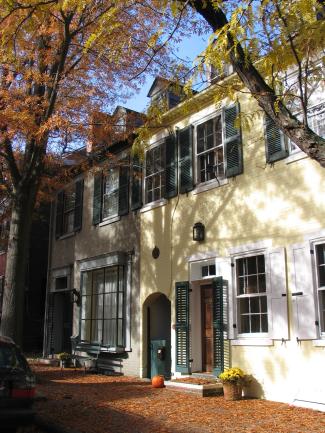 One of our favorite places to visit during the fall months is historic New Castle, which is located just a little over 15 minutes south and nestled along the Delaware River. Here you will find all kinds of interesting historic attractions to explore, first class dining options, and some fun places to stay over night. 
Let's take a closer look as some of our favorites in each of those departments!
Historic Attractions in New Castle
The first place in town that every history buff has to visit is the New Castle Court House Museum. This amazing building was built in 1732 and was used as the very first court and state capitol building in Delaware. Tours of the museum with extremely knowledgeable guides take place every day of the week except for Mondays. 
New Castle visitors can also find excellent tours available at the Read House and Gardens, the Old Dutch House, the Amstel House, and the Old Library Museum. Between all of the great historic buildings in New Castle, it won't take much effort at all to fill up an entire weekend. 

Visitors might also want to consider attending a service at the New Castle Presbyterian Church where a congregation has gathered for over 358 years and is considered one of the oldest Presbyterian churches in the nation. In addition to services, self-guided tours available 9am to 5pm, with guided tours available by appointment. 
First Class Dining in New Castle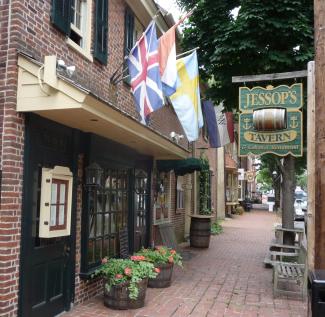 Another great thing about spending some time in New Castle is that you can get a first-class meal without having to fork over an arm and a leg. One of the most popular places in town is Jessop's Tavern, which continues our historic theme, as it is located in a building that is more than 300 years old. 
The food at Jessop's pays tribute to the English, Dutch, Belgian, and Swedish heritage of the region. There are lots of great sandwiches and salads available for lighter meals, as well as some more serious entrees like Fricken Chicassee, Roast Duck Halfing, and the Pilgrim's Feast Roast Turkey. 
Another fun place to grab a bite in New Castle is Nora Lee's French Quarter Bistro. The entire menu is devoted to Cajun/Creole food, so you will definitely want to try the Crawfish Jambalaya. This is also a great place to catch some live music along with a few drinks and an order of chicken nachos in the evenings. 
For your morning coffee and a quick breakfast bite pop in to the very friendly and cozy Traders Cove Coffee Shop at Penn's Place. Located in the heart of historic downtown New Castle in a circa 1682 building said to have hosted William Penn when he first stepped foot in America on October 27, 1682.
Places to Stay in New Castle
If you really want to keep with the theme of a history-filled weekend in New Castle, then staying at the Terry House Bed and Breakfast is an absolute must. This lovely old building is located right in the heart of town, so you will be close to all of the other historic attractions, and the service is second to none. You will love the breakfast too!

Of course, if you aren't a fan of B&Bs, you could also consider staying at any of the nearby hotels in the Greater Wilmington area, many just minuted from historic New Castle.
Whether you are planning to spend just a day or a full weekend, New Castle, Delaware gives you the opportunity to completely immerse yourself in the amazing history that runs through our region of Delaware. Taking some time to study and appreciate that heritage is always going to be time well spent!