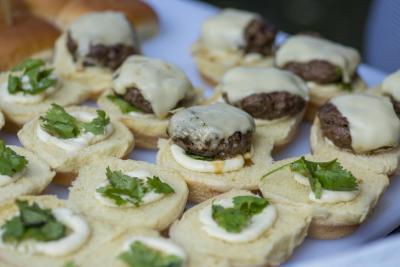 Smoke will rise, fires will burn and meat will meet bun at the 2016 Delaware Burger Battle, the end-of-summer tradition that's more flippin' fun than anything sizzlin' under the sun.
The fifth annual Burger Battle returns to the grounds of the Cauffiel House on Philadelphia Pike on Saturday, Aug. 27, the last Saturday before Labor Day weekend. Delaware's most competitive chefs will put their best burgers forward, offering guests unlimited samples as they compete for fame and glory in three categories: Critic's Choice, Critics Choice (alternative burger) and People's Choice.
Once again, money raised at the all-volunteer-run Delaware Burger Battle will benefit Ministry of Caring's Emmanuel Dining Room, which meets the immediate needs of Wilmington's hungry with more than 180,000 nutritious meals served annually at no cost and with no questions asked. The Delaware Burger Battle has raised more than $28,000 in its first four years.
In recent years, national media including MSN's Business Insider and Thrillist.com have recognized the winners of the Delaware Burger Battle as the state's best burger.
Stay tuned: a list of competing restaurants will be released in coming weeks.
The Delaware Burger Battle will take place on Saturday, Aug. 27, from noon to 3 p.m. on the grounds of the Cauffiel House, 1016 Philadelphia Pike, Wilmington, Delaware.
All Burger Battle attendees enjoy all-you-can-eat burger samples. Beer and wine are included in the ticket price for adults, while soft drinks are available for children and designated drivers. Super Early Bird tickets are $40 (plus processing fees) through June 27, $45 through July 25 and $50 through 6 p.m. Aug. 26 or until they sell out. Any unsold tickets will be $60 at the door. Tickets for teens ages 13-20 are $25, and children ages 5-12 are $9. Children under 5 are free.
For more information, visit www.deburgerbattle.com or facebook.com/deburgerbattle