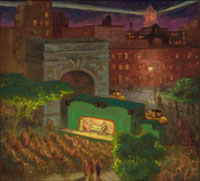 A painter, printmaker, and art instructor, Helen Farr Sloan (1911-2005) dedicated most of her life to promoting the art of her husband, the realist painter and illustrator John Sloan (1871-1951). Helen Farr Sloan was one of the Delaware Art Museum's greatest benefactors, donating over 4,700 works of art (including almost 2,700 works by John Sloan) and the John Sloan Manuscript Collection, transforming the Museum into the largest repository of his work and an invaluable resource for scholars of early 20th-century American art. Helen Farr Sloan, 1911-2005--on view September 26, 2015 - January 10, 2016--honors Helen Farr Sloan's legacy as an artist, philanthropist, and resource for generations of scholars and showcases approximately 30 of her paintings, prints, and drawings produced between 1925 and 1980.
Only a few of Helen Farr Sloan's works entered the permanent collection of the Delaware Art Museum during her lifetime. Since her death in 2005, the Museum has received a substantial number of Helen Farr Sloan's prints, drawings, and paintings--from her estate and as donations in her memory--which form the backbone of this exhibition.
Her career started early when she went to art school at age 16 and began producing ambitious prints and paintings in her twenties, but she completed little work after 1960, as she intensified her efforts to preserve John Sloan's legacy. Farr Sloan trained at the Art Students League with her future husband, Boardman Robinson, and Harry Wickey. Like many American artists in the 1930s, she found her subjects in daily life.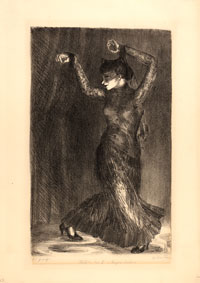 Her paintings and prints record the cafes and subways of New York City. Her visits to Santa Fe, New Mexico, resulted in Native American subjects, rendered with energetic line and vibrant color. Beginning in art school, figure study was a constant activity, and her sketchbooks are filled with nudes and model studies. Expanding on this interest in the human form, Helen Farr Sloan produced strong depictions of the dancer and mime Angna Enters in characteristic poses.
"The students of John Sloan and Robert Henri--Edward Hopper, Reginald Marsh, Isabel Bishop, Peggy Bacon-- absorbed their instructors' interest in everyday life and shaped the modern figurative art of the mid-20th century. Helen's art should be understood in that context," explains Heather Campbell Coyle, Delaware Art Museum's Curator of American Art.
Farr Sloan began spending summers in Delaware in 1961 and in 1989 she moved permanently from New York to Wilmington. Here she assisted scholars interested in Sloan and his circle, and helped to organize and annotate John Sloan's papers. She participated in the local art scene by taking ceramic classes at the Museum and keeping a studio at the Howard Pyle Studios on Franklin Street. In 1992, the Studio Group hosted the first retrospective exhibition of Helen Farr Sloan's work. In 1998, she received the Governor's Award for the Arts in honor of her philanthropy and continued to visit the Museum regularly, even in her 90s.
Founded in 1912, the Delaware Art Museum is best known for its large collection of works by Wilmington native Howard Pyle and fellow American illustrators, a major collection of British Pre-Raphaelite art, and urban landscapes by John Sloan and his circle. Visitors can also enjoy the outdoor Copeland Sculpture Garden and a number of special exhibitions throughout the year.

The Delaware Art Museum is located at 2301 Kentmere Parkway, Wilmington, DE 19806 is open Wednesday: 10:00 a.m. - 4:00 p.m., Thursday: 10:00 a.m. - 8:00 p.m., and Friday - Sunday: 10:00 a.m. - 4:00 p.m. Monday and Tuesday: Closed. Admission fees are charged as follows: Adults (19-59) $12, Seniors (60+) $10, Students (with valid ID) $6, Youth (7-18) $6, and Children (6 and under) free. Admission fees are waived Thursdays after 4:00 p.m. and Sundays thanks to support from generous individuals and the Longwood Foundation. For more information, call 302-571-9590 or 866-232-3714 (toll free), or visit the website at delart.org.

Top to bottom: 59th Street, New York City, c. 1930. Helen Farr Sloan (1911-2005). Oil on canvas, 23 3/8 x 30 inches. Delaware Art Museum, Gift of Johannes R. and Betty P. Krahmer, 2009. © Delaware Art Museum / Artists Rights Society (ARS), New York. | W.P.A. Theater, c.1935. Helen Farr Sloan (1911-2005). Oil on board, 22 x 24 inches. Delaware Art Museum, Gift of Kraushaar Galleries in honor of Jerome K. Grossman and his friendship to Helen Farr Sloan, 2007. © Delaware Art Museum / Artists Rights Society (ARS), New York | Feline No. II, Angna Enters, 1930. Helen Farr Sloan (1911-2005). Single color lithograph, 11 7/8 × 7 1/4 inches. Delaware Art Museum, Gift of the artist, 1978. © Delaware Art Museum / Artists Rights Society (ARS), New York.