"We've been focused on the trinity of original beer, original food, and original music since we opened in 1995."
- Sam Calagione,
  Founder and President
  Dogfish Head Craft Brewery
As one of the largest driving forces behind the craft beer movement, it only makes sense that Dogfish Head would have their own festival celebrating their favorite indie music, beer, and food. And fortunately for us here in Wilmington, they have outgrown their hometown of Milton, Delaware and decided to move their festival up north for year number six. 
The Sixth Annual Analog-A-Go-Go
This year's Analog-A-Go-Go festival will take place on Saturday, September 17 from 1 pm to 10 pm at Bellevue State Park right here in Wilmington, Delaware. 
Between the eclectic lineup of musical acts, the fantastic breweries planning to attend, and all of the food trucks that will be serving, this is going to be the perfect way to close out a great summer and kick off the fall season.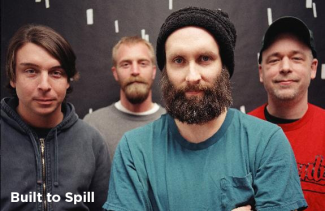 Indie Music
This festival celebrating "all things indie" has its roots in putting together a great mix of indie artists, and the 2016 festival will be no different. One of the biggest acts this year is Built to Spill, who was one of the most popular indie rock groups of the 90's. 
Proving that this is more than just an indie rock concert, the festival will also be welcoming the deep lyrics of rapper Talib Kweli and the New Orleans style of the Preservation Hall Jazz Band. The musical entertainment will be rounded out by Beach Slang, who are known for their punk and pop influences, and the local power pop band fiancé. 
Indie Beer & Cocktails
Just as Analog-A-Go-Go celebrates independent musicians, it is also designed to celebrate independent craft brewers…so you won't find any of those macro brewer conglomerates at this festival.

One of the highlights of the day will be a beer sampling called the Best Firkin Friends Beer Festival - the festival within the festival. Craft breweries like Allagash, Boston Beer, Burley Oak, Dogfish Head, Funky Buddha, Iron Hill, Sierra Nevada, Shorts, and Stoudts will all be bringing some of their most unique cask ales for guests to sample.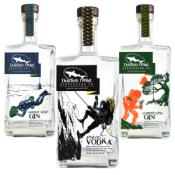 As if great beer wasn't enough, there will also be a "Distillery Garden" where guests can try craft cocktails created from Dogfish Head Spirits by a host of guest bartenders. This section will also feature some interactive mixology education so that you can replicate some of the craft cocktails at home. 
Keep in mind that the Best Firkin Friends Beer Festival and the Distillery Garden both require additional tickets that are going to sell out fast, so make sure you get yours from the Analog-A-Go-Go website as soon as possible!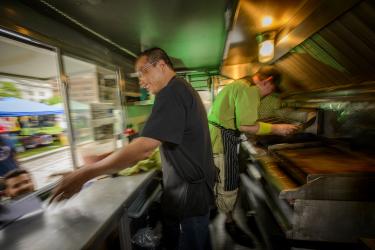 Indie Food
With the amazing lineup of music and beer that is going to be at Bellevue State Park for this festival, you can be sure that a simple concession stand just wasn't going to be good enough. And in the food world, it doesn't get much more craft or indie than a food truck, so Dogfish Head has a bunch of them lined up to serve at Analog-A-Go-Go. 
The list of participating food trucks includes I Don't Give a Fork, Wildwich, Mojo Loco, Taco Reho, Kapow, Outlandish, Hub Bub Coffee, Local 215, The Cow and The Curd, and the Plum Pit. So everyone is definitely going to be eating good here!

Indie Shopping
It wouldn't be a true "indie experience" without a record swap, so Dogfish Head has also booked more than a dozen local music stores and vinyl collectors to buy and sell records over in the marketplace section of the park. 
In addition to the record swap, there will also be lots of indie artists selling things like art, crafts, jewelry, and other handmade items. 
As one of the largest craft breweries in the country, Dogfish Head is known for getting the details right with just about everything that they do. So it doesn't take a huge leap of faith to guess that this year's Analog-A-Go-Go festival is going to be one more amazing experience that the company is happy to stand behind. 
Just make sure you get your tickets before it's too late!