The cold of winter has finally arrived, but that doesn't mean that you can't enjoy an amazing evening with both a little outdoor and indoor activity on the Wilmington Riverfront. Actually, there are some activities that you can ONLY do when visiting Wilmington during the winter months. 
With that in mind, we have put together an itinerary that you can put to use pretty much anytime that you like as long as the weather is a bit chilly. Let's dive in and look at the three essential components of an amazing winter evening on the Wilmington Riverfront!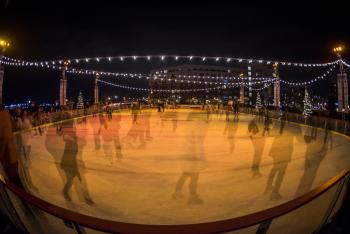 Ice Skating at the Riverfront Rink
Sponsored by the Riverfront Development Corporation of Delaware, the Horizon Services Riverfront Rink is a staple of the wintertime Riverfront experience here in Wilmington. This temporary ice skating rink magically appears in the Justison Landing Green right on the Riverwalk every year in late November and opens to the public on Thanksgiving Day. Skaters can then enjoy the rink through the end of February. 
One of the best things about the Riverfront Rink is that it isn't the type of activity that is going to break the bank. You can hit the ice for only $8 per adult and $5 per child. And since you probably didn't travel to Wilmington with your own skates, you can rent a pair for only $3. 
The Riverfront Rink is open from 4 pm to 9 pm every Monday through Thursday, then 4 pm to 10 pm on Fridays, 11 am to 10 pm on Saturdays, and 11 am to 9 pm on Sundays.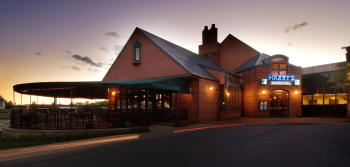 Dinner on the Riverfront
After a few hours of ice skating, you will surely have worked up an appetite. One of our favorite places to grab a bite along the Riverfront is Big Fish Grille, which offers the perfect combination of delicious food and a family friendly environment. The seafood entrees here will definitely impress, as will the raw bar selections, but they also have a kid's menu for the little ones. 

If you are looking for something a little more romantic, Harry's Seafood Grill is another recommended option. This is the place where true seafood lovers can find a wide selection of oysters, as well as stone crab claws and calamari. And if you aren't in the mood for a full meal, or find yourself short on time, you can also order smaller plates from their tapas menu. 
Another great option for dining along the Wilmington Riverfront is Iron Hill Brewery & Restaurant. There are always about 15 or 16 different rotating craft beers on tap here, so you are sure to find a style the fits your mood. On top of that, they also have an amazing menu that is sure impress.
Plenty more dining options are available on the Wilmington Riverfront, explore to find the restaurant of your choice.  
Movie Night in Wilmington
Nothing goes with dinner quite like a movie does, and after a long afternoon of skating and a big meal, you are likely going to be looking forward to kicking back, relaxing, and taking in a flick. Luckily, there are always more than a dozen options to choose from at Penn Cinema on the Riverfront. 
Penn Cinema offers all-leather stadium seating, and they are also the state of Delaware's only IMAX Theater. So if you are looking to catch that latest IMAX movie and fully immerse yourself in the experience, this is definitely the place to do it!
At this point, you've spent some time cruising around the Riverfront Rink, had an awesome meal at one of our favorite riverfront restaurants, and stopped by the theater to enjoy a movie. What you do next is completely up to you, but there is definitely not a lack of fun available along the Wilmington Riverfront. Enjoy!