A Brandywine Christmas offers visitors of all ages a spectacular holiday experience, with a gallery filled with a model train display, another filled with dozens of antique dolls ranging in size from three to 30 inches, along with holiday trees decorated for the season with Critter ornaments. The Brandywine River Museum of Art is open late on Thursdays in December, with dinner available for purchase, for a festive holiday evening for the whole family.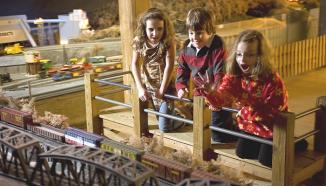 Trains
The museum's model train display, a family holiday favorite since 1972, offers something for everyone with its dazzling array of both toy and scale model trains made by Lionel, Williams, Atlas, Mike's Train House, K-line, and others. With more than 1,000 pieces, including locomotives, passenger and freight trains, and trolleys, all moving along 2,000 feet of track, the annual holiday exhibition of the Brandywine Railroad is one of the largest modular model railroad installations in the world.
Antique Dolls
On view in the Museum's first floor, A Holiday Fantasy: The Ann Wyeth McCoy Doll Collection features a stunning collection of antique dolls. Approximately three dozen dolls are "at home" for the holiday season in a grand dollhouse filled with hundreds of miniature objects, remarkable in every detail. On one side are six rooms from a large-scale dollhouse, filled with hundreds of miniature objects, remarkable in every detail. Larger dolls, up to 30 inches tall, will appear nearby in two-holiday vignettes. Ann Wyeth McCoy (1915-2005) started her doll collection as a young girl and added to it throughout her life.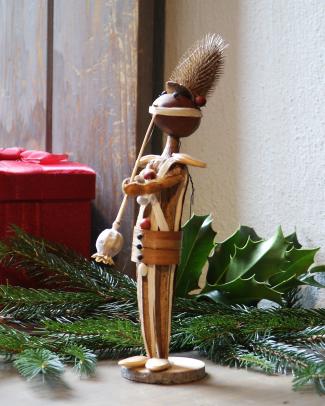 Critters
Critters are delightful, distinctive ornaments and tabletop decorations, each made by hand using natural materials. Each Critter has its own unique personality and expression—no two are exactly the same.  From delightful animals—like cats, dogs, reindeer, and bears—to heavenly angels and stars, critters come in all shapes and sizes. Using their imaginations, the volunteers work with raw materials such as pine cones, acorns, egg shells, flowers, and seed pods, to give each critter its own unique personality and expression. Brandywine volunteers have been creating critters for more than 40 years, with all proceeds benefiting the Volunteers' Art Purchase Fund, and Art Education and Programming. The annual Critter Sale starts on Thursday, December 1 from 5 to 9 p.m. and continues on December 2, 3, and 4 from 9:30 a.m. to 5 p.m.  
  
Thursday Evenings open until 9 p.m.
The museum will be open until 9 p.m. on Thursday evenings, December 1, 8, 15, and 22, with musical performances, drop-in creative art activities for all ages and holiday tours. The Millstone Café will serve dinner until 8 p.m. with a different hearty holiday entrée each evening, and stay open until 9 p.m. serving beverages and desserts. 
            December 1 
            Critter Sale
            Polar Express Pajama Night (separate ticket)
            Dinner: Gourmet Chili Fest
            December 8
            Movie Night: Dr. Seuss' How the Grinch Stole Christmas
            Dinner: Homemade Soups
            December 15
            The Tonics, male a cappella group
            Dinner: Oysters & Champagne—Seafood bar and seven fishes stew
            December 22
            Brandywine Valley Chorale
            Dinner: Pierogies & Mushroom Soup
Special holiday events and activities will take place throughout the season. The list of events includes:
The Polar Express Read-Aloud Pajama Night family program
Thursday, December 1, 7 to 8 p.m.
Children are invited to wear their pajamas as they delight in the tale of The Polar Express and enjoy hot chocolate and cookies. Tickets are limited. $15, adults; $8, children, includes museum admission
Children's Christmas Party
Wednesday, December 7, 6 to 8 p.m.
Enjoy magic and wonder at a beloved family tradition! Visit with Santa and Mrs. Claus and enjoy entertainment, costumed characters, face painting, model trains, antique dolls, trees adorned with hundreds of Critters, and Cookie Land! $15, adults; $12, members; $5, children ages 3-11; free for member children and children under age 3.
Breakfast with the Trains all ages program
Saturdays, December 10 and 17, 8:30 to 10 a.m.
All Aboard! Join in an exclusive, behind-the-scenes visit to the Brandywine Railroad. Discover how the extensive layout is created, and the complicated multitasking it takes to keep everything running. This before-hours event includes a private tour of the trains in action with the railroad's engineer, special activities for the youngest train fans and a continental breakfast
in the Millstone Café. Children will receive a Brandywine Railroad souvenir; ages 3 and older accompanied by an adult are welcome. Tickets are limited. $25 per person

Christmas with the Dolls family program
Saturday, December 17, 11 a.m. to 12 p.m.
Bring your favorite doll to the museum for a morning of creative crafts and light refreshments. Participants will cut and color paper dolls based on the Ann Wyeth McCoy doll collection, make matching bracelets for themselves and their dolls, and enjoy an informal tea party. Best for ages 3 and older accompanied by an adult. $15, adults; $8, children, includes museum admission
Terrific Trains family program
Saturday, January 7, 10 a.m. to noon
See the amazing Brandywine Railroad one more time before it's all tucked away for another year, and create a colorful train to display at home.
The Brandywine River Museum of Art features an outstanding collection of American art housed in a 19th-century mill building with a dramatic steel and glass addition overlooking the banks of the Brandywine. The museum is open daily from 9:30 a.m. to 4:30 p.m., daily (except Thanksgiving Day and Christmas Day) and is located on Route 1 in Chadds Ford, PA. Admission is $15 for adults, $10 for seniors ages 65 and over, $6 for students and children ages 6; free for children 5 and younger and Brandywine Conservancy & Museum of Art members. For more information, call 610.388.2700 or visit brandywinemuseum.org.