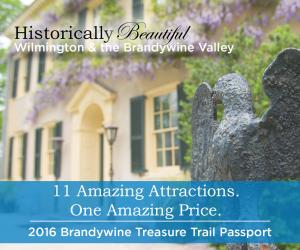 During springtime, the entire country starts waking up from its winter slumber, and gardens begin blooming with colorful flowers that release intoxicating fragrances. And we have a secret: Delaware's Wilmington and Brandywine Valley is one of the best places—if not the best place—to see gorgeous, historic mansions with gardens of overflowing rainbow-colored tulips and azaleas. This spring, stop and smell the roses (literally and figuratively) and visit these seven not-to-be-missed gardens in Wilmington, Delaware, and the Brandywine Valley.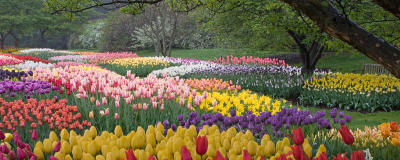 Longwood Gardens
USA Today named Longwood Gardens in Kennett Square, Pennsylvania, the No. 1 best public garden in the country according to readers, calling its Flower Garden Walk "a springtime favorite." The story also notes that more than a million people visit the garden year-round. "Indoor spaces, like the tropical Conservatory and the Orchid House with its 500 fragrant plants, offer a slice of spring throughout the year, always have something blooming," the story says.
While the garden is worth checking out throughout the year, its springtime exhibits are truly something to see in person. Large displays of gorgeous blue poppies in addition to the orchid extravaganza in its conservatory make it a favorite destination early in the year. Longwood Gardens flows both indoors and outdoors. On property is the Peirce-du Pont House, a mansion built in 1914 that's filled with historic photos and artifacts. When visiting the gardens, you can either go on a self-guided tour or join a narrated group tour to learn about the site's greenhouses, flowers and the hard work it takes to maintain the 1,077-acre destination with lavish fountains, sculptures and topiary works – a space larger than New York's Central Park.
Mt. Cuba Center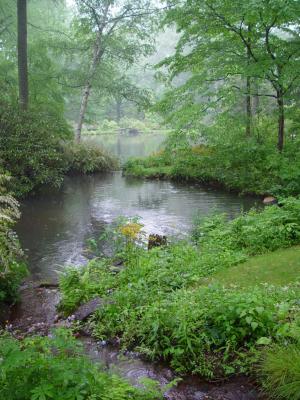 Get a taste of natural wilderness without straying too far from the sidewalk. Mt. Cuba Center in Hockessin is known for its untamed forested land that is easily accessible to visitors during the spring. The much anticipated Wildflower Celebration is a popular springtime event where nature enthusiasts can walk among the breathtaking wildflower field and pond while enjoying live music, gardening demonstrations, and kid-friendly activities. Several benches and picnic tables are scattered throughout the gardens. Head toward the Main House, a bricked colonial-style mansion (built in 1937) and look for its outdoor formal garden by the south wing. You will find a stunning display of azaleas and tulips (or delphiniums if you come around Mother's Day weekend) surrounding a cross-shaped pool. A guided tour is available for visitors who wish to learn gardening tips and admire the beauty of springtime flowers.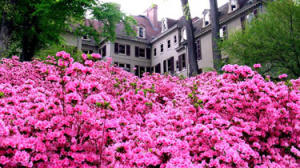 Winterthur Museum, Garden & Library
While Winterthur Museum receives praise for its well-preserved architecture and indoor exhibits, its 1,000-acre outdoor garden keeps guests coming back every spring. Once owned by the du Pont family, the garden is a modern-day reflection of the family's wealth and extravagant taste, as well as their appreciation of nature. The garden has a reflecting pool, statues, and stunning flowers, and expands into an "Enchanted Woods" spot for children who can play in the whimsical landscape that houses a fairy cottage, tulip tree house and statues of woodland fairies. Winterthur has a Yearly Bloom Calendar that details peak times to see certain flowers (dogwoods, daffodils, crocus, and azaleas are among the popular flowers in the spring). Winterthur has been called one of the best romantic botanical gardens in the country, for its "undulating hills, peaceful meadows, dense forests and winding streams, all of which contain a diverse array of both exotic and indigenous fauna and flora."

Nemours Mansion and Gardens
Located in Wilmington is Nemours Mansion and Gardens, and visiting is like magically stepping into an early 1900s French garden designed after the Versailles. The building itself is designed after an 18th-century French chateau and overlooks a large reflection pool. Lined with statues, trimmed bushes, blossoming trees and pillars, the garden has been called a modern-day "French masterpiece" by the press. Additionally, guests can go inside the mansion to get a glimpse of the early 20th-century wealth walking through rooms full of chandeliers, marble walls, and imported furnishings.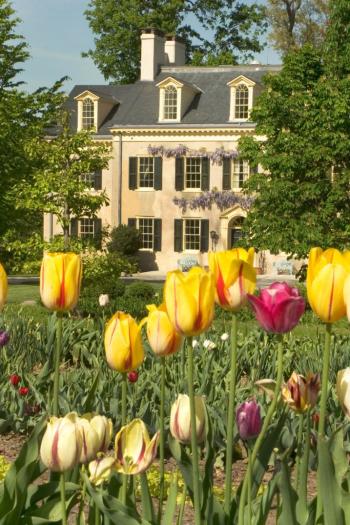 Hagley Museum
Take a journey back in time at the Hagley Museum. Previously owned by—you guessed it—the du Pont family, the 235-acre landscape is home to a museum, historical mansion, gunpowder mill, library and lyrical garden. The garden surrounds the Georgian-style mansion and is nestled along the Brandywine River. The garden is so gorgeous and attention-grabbing that the Los Angeles Times called it one of the highlights of a trip to the Brandywine Valley. Upcoming spring events at the museum include "What's For Dinner?" (a foraging tour) and Science Saturday (a kid-friendly activity to get your hands dirty and earn green thumbs). An ideal time to visit Wilmington to explore its gardens is May 7, which is when Wilmington Garden Day takes place, sending visitors on self-guided tours through some of Wilmington's most gorgeous homes and gardens, including the Hagley Museum.
Read House and Gardens
Nestled in Historic New Castle, Read House and Garden is easily recognized for its state-of-the-art artifact collection and majestic architecture, like the Federal-style, red-brick mansion built in 1801 along the Delaware River. During the spring, guests can stroll in its three gardens filled with brilliantly colored tulips, azaleas, and trellises. A cobblestone pathway will guide you through its garden to get up close with some of the most beautiful nature spots in Delaware. Luckily, the garden is within walking distance to exciting shopping, restaurants and the historic district in New Castle.
Rockwood Park and Mansion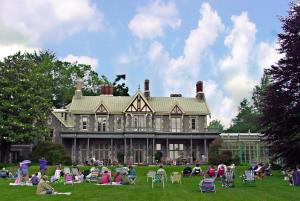 For a somewhat different garden experience, visit Rockwood Park and Mansion in Wilmington, which is rumored to be haunted. The rural Victorian Gothic mansion was built between 1851 and 1854, and currently offers a ghost tour as well as a historic garden tour. The garden was originally created by a wealthy British owner, Joseph Shipley, who wanted to break away from the "stuffy" European-style gardens. He applied a naturalistic design to create his garden, indulging in the simplistic beauty of flowers, shrubs, rose bushes and towering trees. The mansion has an extended glass-walled conservatory and currently operates as a venue space for weddings and events.
See all of these amazing gardens in Wilmington, Delaware and the Brandywine Valley for one discounted price by purchasing the Brandywine Treasure Trail Passport, valid for visits from May 28 to September 7, 2016.