Whether you're looking for a romantic getaway or a fun weekend with friends or family, look no further than the Wilmington and Brandywine Valley area in Delaware. The Huffington Post included a number of Delaware area attractions in its family vacation travel guide to the state, including Delaware Children's Museum, Delaware Art Museum and the Brandywine Zoo. Wilmington and the Brandywine Valley are a great destination to visit with family year-round, but during the winter, the area comes alive with exhibits at beautiful museums, theater shows, and events attended by both visitors and locals. Where else can you visit a gorgeous indoor orchid garden after touring a tailored selection of impressive art pieces in an old mill factory and before "Jersey Boys" live on stage? If you're looking for the perfect, idyllic winter getaway destination near Philadelphia, Baltimore and the surrounding region, here are six of top reasons that Wilmington and Brandywine Valley should be on the top of your list.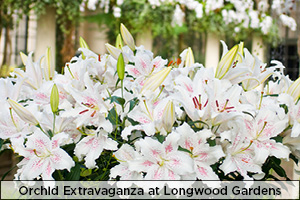 1. Orchid Extravaganza at Longwood Gardens
A short drive from Wilmington in Kennett Square, Pennsylvania, is Longwood Gardens, a 1,077-acre landscape with thousands of gorgeous flowers. The garden is known for its topiary arts, water fountains and art displays that change seasonally. During the winter, the orchid is the star of the show at Longwood Gardens. From mid-January to late March, the garden features the Orchid Extravaganza, where hundreds of orchids are on display-including a rare Taiwanese Phalaenopsis "V3" orchid. Both amateur and professional photographers can't resist strolling through the balmy indoor garden, where the gorgeous, crawling flowers hang above and all around them.Longwood's Orchid Extravaganza is on display January 23 through March 27, 2016.
Fun Fact: Orchids don't bloom for very long, so if you go twice during the extravaganza, chances are the orchids you see will differ somewhat on each visit.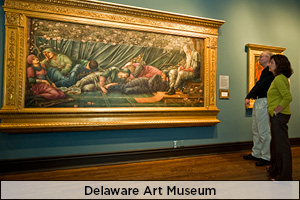 2. Delaware Art Museum
Since 1912, the Delaware Art Museum in Wilmington has been impressing patrons with its beautiful, British Pre-Raphaelite artworks, which were inspired by a movement against traditional dogmatic and classical poses. Think of it as avant garde Victorian. Guests can also browse through impressive galleries of American illustrations, 19th-century American art, and many works of John Sloan, a world-famous 20th-century painter and etcher. While there, guests are encouraged to visit the Copeland Sculpture Garden that features larger-than-life statues and figures. During the winter, the garden is often coated in beautiful white snow, making the sculpture garden look like a winter wonderland.
Fun Fact: The museum offers adult workshops as part of its Studio Art Classes program in mediums including ceramics, photography, metalsmithing and more. Classes also are offered for children at various age levels.
3. Brandywine River Museum of Art
The Brandywine River Museum of Art in Chadds Ford, Pennsylvania, is located in a 19th-century mill with its original steel and other machines still in place. The museum is most famous for its three generations of Wyeth family art. Guests will see rooms full of landscape paintings of nearby locations. The exhibit "Rural Modern" by the Wyeth family displays modernist-style paintings depicting small towns and farms in the region. "Imagine Brandywine" is another winter exhibit featuring artworks from more than 160 local school children.
Fun Fact: Andrew Wyeth drew much of his inspiration for many of his paintings from the Kuerner Farm, located 10 minutes from the museum. In 1999, the museum acquired the farm, and visitors can take docent-led tours of the farm for an in-depth look at the subjects that inspired so many of his works.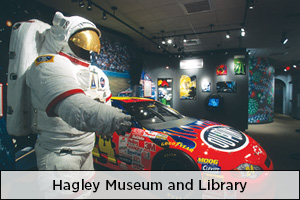 4. Hagley Museum and Library
Along the banks of Brandywine River, the Hagley Museum and Library sits on 235 acres of land dotted with historic stone structures. Once a gunpowder mill, the site was founded in 1802 by the du Pont family who ran its business on the property for more than 120 years. Today, visitors can walk among the original buildings and watch live reenactments of staff in period attire show how to make black powder among other items. Additionally, the site features interesting exhibits, including the current Driving Desire: Automobile Advertising and the American Public which features signs, print ads, commercials throughout history for the automobile advertising industry. It's easy to spend the better part of a day exploring Hagley's buildings and gardens, and if you get hungry, the Belin House Organic Cafe is on-site to serve fresh meals and snacks throughout the day.
Fun Fact: Hagley Museum and Library is Delaware's first and only museum to be designated an Affiliate of the Smithsonian Institution.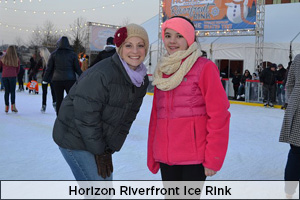 5. Horizon Riverfront Ice Rink
Couples or families who want to hit the ice should check out Horizon Riverfront Ice Rink in Wilmington. Often declared as its own "Rockefeller Center," the riverfront is known for its large rink that can comfortably fit up to 350 ice skaters. Festive white lights brighten the rink even after the holidays (the rink stays open until February 28, 2016). Guests can rent skates for as low as $3 per skater and find countless of places to eat at the Riverfront. Among places to snack or dine in the area are Starbucks, River Rock Kitchen and Ubon Thai Cuisine.
Fun Fact: Why let your night end at the rink? Extend your fun by staying overnight at the Westin Wilmington Riverfront within a walking distance to the rink.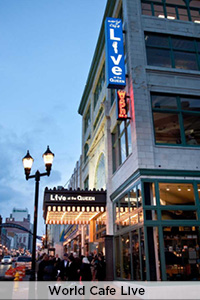 6. Theater and the Performing Arts
The Wilmington/Brandywine Valley has no shortage of visual arts performances. The World Cafe Live at the Queen in Wilmington welcomes popular musicians and bands like Macklemore and Ryan Lewis, Dar Williams and Animal Collective. Concertgoers admire the 1789 hotel-turned-theater while rocking out to their favorite hip bands. The Grand Opera House is another historical venue in Wilmington (built in 1871) that highlights classical orchestras and ballet performances as well as main-stream musicians, comedians and special performances. The Grand Opera House hosts classical winter performances like Band of Royal Marines and Manhattan Transfer.
The Playhouse on Rodney Square in Wilmington features Broadway's greatest plays from "Annie" to "Chicago: The Musical" to "Jersey Boys." The Playhouse doubles as a concert venue and comedy stand up venue as well and hosts acts like Tracy Morgan and Brian Regan. The venue is located inside the 1913 built Hotel DuPont and is considered to be a marvel since it was built during the depression. Also located in Wilmington, the Delaware Theatre Company on Wilmington's riverfront is known for its top-notch dramatic and musical plays and is often used as a pre-Broadway tune-up location. "Shows Diner: The Musical," "Women of Will," and "Nureyev's Eyes" are on the schedule. The Resident Ensemble Players is the University of Delaware's own theater full of talented theater students. Guests will find beautiful theater mis-en-scene set up, costumes, and trained actors at every play. Among the shows are classic stories like "To Kill A Mockingbird," "Heartbreak House" and "Wait Until Dark."
Fun Fact: Traveling with children? No problem. Bring them along to the Delaware Children's Theater in Wilmington for fun musical plays like "Mary Poppins," "Cinderella" and "Charlotte's Web." The theater also encourages kids to dress up in costumes to feel and look like a part in the play.
This list is just a snapshot of all the things you can do during the winter in Wilmington and the Brandywine Valley. Check out our blog for more reasons to visit Wilmington in the winter, including its burgeoning food and drink scene.