You can experience the magic of the holidays in Greater Wilmington, Delaware, and the Brandywine Valley from November to January, when the region celebrates the season with a variety of things to do and see. During the holiday season in Wilmington, you can discover magnificently decorated mansions, elaborate outdoor lighting displays, glorious indoor gardens and quaint towns that retain their colonial heritage. If you're looking for things to do with kids in Wilmington during the holidays, you should be here when Santa Claus arrives in a whirly bird or take a ride with him on one of the country's oldest steam-powered locomotives. During the holidays in Wilmington, you also can enjoy fabulous performances and fine dining experiences, and you can take advantage of Greater Wilmington's tax-free shopping. Whether you are planning a romantic weekend getaway or a fun-filled family outing, here are a number of places in Greater Wilmington where you can recapture the holiday spirit.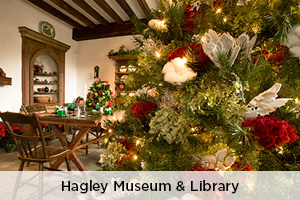 Hagley Museum & Library begins its holiday celebration the day after Thanksgiving. Eleutherian Mills, the ancestral home of five generations of the du Pont family in Delaware, is open daily from 10 a.m. to 4 p.m. for guided tours. During the holidays, the Hagley mansion is beautifully decorated with dried flowers, fruits, ribbons and fresh greenery, complemented by soft lights and Christmas music. This year's theme for Holidays at Hagley is "A Feminine Touch," and the display includes embroidery and lace decorations created by the du Pont women. It gives guests a peek at 19th-century holiday traditions in Delaware. Due to popular demand, the number of Twilight Tours has been doubled. Twilight Tours are offered on Tuesday and Wednesday evenings beginning December 3 through December 30 from 4:30 p.m. until 8:00 p.m., but advance reservations are a must. Book here.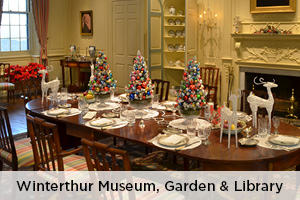 Winterthur Museum, Gardens & Library, the former home of Henry Francis du Pont and his world-class collection of decorative arts, is decorated from November 21 through January 3 for the holidays. Yuletide at Winterthur features elaborate table settings, floral displays, toys and treats set amidst exquisite period furnishings to demonstrate how Henry and his family celebrated the holiday season. Many of the 175 rooms in the mansion are graced with exquisitely decorated trees. Perhaps the most beautiful of these is the dried flower tree with more than 60 varieties of blooms on display in the Conservatory. Other seasonal festivities at Winterthur include a live, one-man performance of A Christmas Carol by Gerald Charles Dickens (the great-great-grandson of Charles Dickens), Yuletide Brunch with Santa, and the Jazz and Wine Series, which follows the extended evening tour hours offered on November 25 and December 2, 9 and 13. Be sure to spend some time viewing the two Tiffany exhibits on display in the second floor gallery.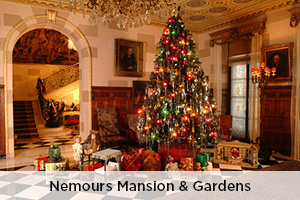 Nemours Mansion & Gardens is dressed for the holidays from early November through December and is open for guided tours. Spectacular throughout the year, Nemours exudes a special aura during the holiday season. The 70-room mansion, built for Alfred I. du Pont at the turn of the 20th century by the architectural firm that designed the New York Public Library and modeled after Marie Antoinette's Le Petit Trianon, is filled with precious antiques, artwork and collectibles and decorated to the hilt.
Christmas blooms at Longwood Gardens from November 26 through January 10. Thousands of poinsettias, towering Christmas trees and fragrant flowers transform the four-acre indoor conservatory. Outside, 500,000 LED lights twinkle creating a magical atmosphere.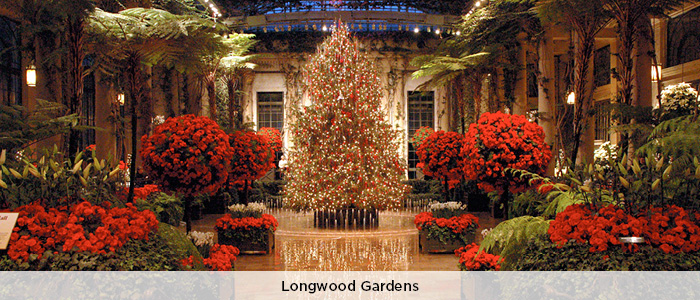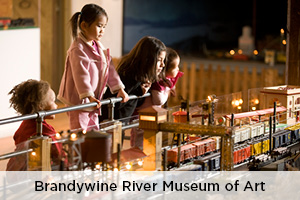 Located just minutes north of Longwood Gardens, Brandywine River Museum of Art celebrates the season with fabulous holiday displays including dolls from the Ann Wyeth McCoy Collection, an extensive O-gauge model railroad and thousands of handcrafted, whimsical "critter" ornaments on holiday trees.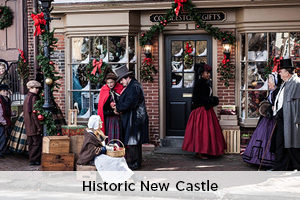 The Greater Wilmington Area is steeped in history as a visit to Historic New Castle quickly attests. Overlooking the Delaware River, this town boasts more than 300 historic properties and 30 major historic sites. On the second Saturday in December, Historic New Castle traditionally hosts the Spirit of Christmas. During this day-long celebration, many private homes and museums open their doors to the public for tours. The entire town is decorated for a colonial Christmas complete with carriage rides, music and caroling culminating in a tree lighting ceremony.
A little farther south is the tranquil residential town of Odessa with a population slightly over 300 and tree-lined streets, brick sidewalks and pristine colonial buildings. Five of the town's most distinguished properties are operated by the Historic Odessa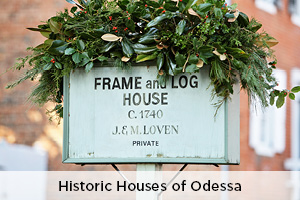 Foundation. Throughout the year, these Historic Houses of Odessa provide a unique and well-documented picture of 18th- and 19th-century lifestyles. A more whimsical note is added during Historic Odessa's annual Holiday Celebration-a seasonal tradition of interpreting scenes from classic literature. From November 13 through December 31, the Wilson-Warner house is decorated with vignettes inspired by Lewis Carroll's famous book, Alice's Adventures in Wonderland. Organized more than 50 years ago by the Women's Club of Odessa, Christmas in Odessa is a time-honored tradition. On the first Saturday in December, many private homes as well as the Historic Houses of Odessa and other public buildings open their doors for tours. The day's festivities include a Christmas Craft & Antique Show, Tea in Old St. Paul's Church, an organ recital, a Fife & Drum performance, bell ringing, caroling and an incredible fresh greens sale. Proceeds from Christmas in Odessa are used to support scholarship programs in the Appoquinimink School District.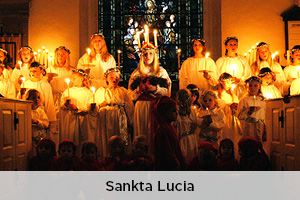 One of Greater Wilmington's most unique yuletide traditions is the Sankta Lucia celebration on Sunday, December 13, in Old Swedes Church, which was built in 1798 on what is now known as the Seventh Street Peninsula in Wilmington. Surrounded by costumed children and dressed in white with candlelight in her hair, Lucia strolls down the center aisle in Old Swedes Church at 1 p.m. and again at 3:30 p.m. This moving celebration combines two traditions-the pagan ritual of worshipping the Sun God at Midwinter and the Christian Christmas. Before or after the ceremony, visitors are encouraged to tour the Hendrickson House (1790), which is located on the property and decorated for a Swedish Christmas.
On a lighter side, experience the thrill of greeting Santa Claus as he flies into the American Helicopter Museum in a whirlybird on December 12. Take a ride in a helicopter or climb aboard Wilmington & Western's steam-powered locomotive and ride through the Red Clay Valley with Santa himself.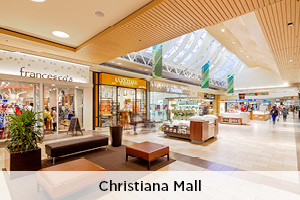 Shopping in Greater Wilmington is a real treat-and it's also tax-free! The Christiana Mall boasts more than 200 stores with anchors like Nordstrom's, Apple and Cabella's. Take advantage of the bargains to be found at the newly opened Christiana Fashion Center. Browse through quaint boutiques and galleries in Trolley Square, Greenville, Centreville and Hockessin. Perhaps the biggest surprise is the area's museum shops, which rival small department stores. The shops at Brandywine River Museum of Art, Delaware Art Museum, Delaware Center for the Contemporary Arts, Delaware Museum of Natural History, Hagley Museum & Library, Longwood Gardens and Winterthur are filled with unusual items that make memorable gifts and great keepsakes.
Wonderful dining experiences await in the Greater Wilmington Area and the choice of restaurants is sure to please every palate and pocketbook. Entertainment options are equally broad with Broadway productions, a dinner theatre, symphonies, concerts and special Christmas shows like the ever-popular Nutcracker.
Looking for things to do over the holiday school break? Read 5 Fun Family Activities in Wilmington, Delaware for the Holiday Break.
****
Located midway between New York City and Washington, D.C., and less than 30 minutes from Philadelphia, Wilmington is readily accessible by car or train. Many area hotels offer special packages, so come for the day and stay for the night. If you need help planning a visit, call the Greater Wilmington Convention & Visitors Bureau at 800-489-6664 or 302-295-2210. 
                                                ###