Wilmington's historic charm becomes something quite magical during the holiday season, as the storefronts and trees are adorned with beautiful decorations and lights. The booming culinary scene also offers festive events, exciting new holiday winter menus, and so much more. Nothing fills you with that heart-warming feeling quite like the food and drinks that make the holidays complete, so here are a list of events and new menu items at some of Wilmington's finest:
Blitzen 
220 W 9th St.,  Wilmington, DE 19801
This beloved Christmas pop-up bar is a local favorite. The vintage interior lined with antiques is transformed into a cozy den decked with lights and Christmas decorations. Every year, they not only rebuild what they refer to as a visual experience, but they keep adding to the story, making every year unique. They're open until December 24th, so stop by for some hand-crafted cocktails this month!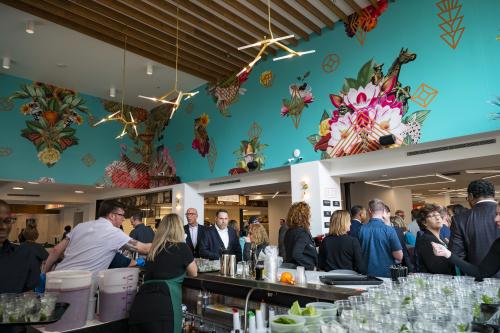 DE.CO
111 W 10th St., Wilmington, DE 19801
Attached to the historic Hotel DuPont, DE.CO is a contemporary food hall that is home to several delicious vendors. Elegant decorations and holiday events have attracted some well-known celebrities, including Santa, the Grinch, and Oscar the Grouch! They're hosting a Deck the Halls event in conjunction with their Downtown Holiday Market every Saturday until December 17th from 11 AM to 4 PM. These events include an artisan market that's great for getting some last minute gift shopping in, as well as a Bloody Mary Bar, and a Hot Cocoa Bar! Would it be weird if I combined them?
Columbus Inn
2216 Pennsylvania Ave., Wilmington, DE 19806
Want to dine in a tavern that dates back to 1798? Columbus Inn is a beautiful, spacious restaurant with a lot of history, and even received some famous visitors such as Annie Oakley and Buffalo Bill. Can you think of a better place to celebrate Christmas in style? 

Columbus Inn is hosting a Santa Brunch on Sunday, December 18th, which will include a buffet, as well as a dessert bar. Then on Christmas Eve, December 24th, they'll be hosting a four-course Feast of the Fishes, inspired by an Italian-American Christmas Eve tradition! If you want to dine with them for the holidays, make sure to make your reservations in advance.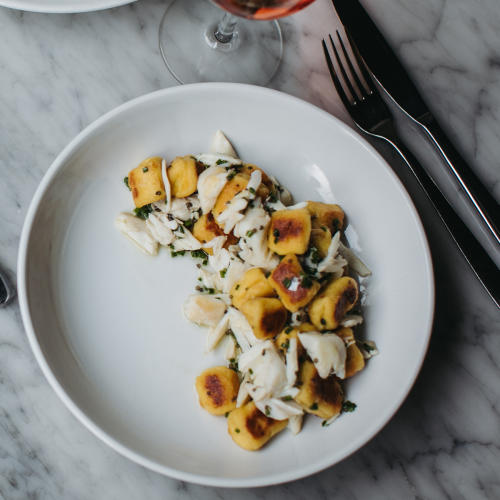 Le Cavalier
42 W 11th St., Wilmington, DE 19801
Named after the equestrian tradition of the Brandywine River Valley, Le Cavalier is an beautiful restaurant offering elevated fare inspired by North African and Provençal flavors. They'll be offering a luxurious three-course menu in their opulent dining room on Christmas Day, December 25th. Some of the options you can choose from include oysters, French onion soup with raclette, a bone-in Ribeye Au Poivre, Duck Provençal, and so much more. Don't wait to make those reservations!


Tonic Seafood & Steak
111 W 11th St., Wilmington, DE 19801
If you love Surf & Turf and live music, then bring in the holidays at Tonic Seafood & Steak for their 2nd annual Holiday Jam Sesh on December 20th from 4 PM to 11:15 PM. You can order anything from a juicy steak to perfectly seared scallops and so much more to enjoy while listening to local musical talents. RSVP here to save your spot!
Kid Shelleen's Charcoal House & Saloon
Established in 1983 in the Trolley Square neighborhood of Wilmington, Kid Shelleen's is a treasured neighborhood staple. They'll be hosting a kid friendly Brunch with Santa on December 17th, which will include a brunch buffet, non-alcoholic drinks, craft tables, cookie decorating, and photo ops with Santa starting at 9:30 AM. He's a busy man, but he's never too busy for his fans.
Bardea
608/620 N Market St., Wilmington, DE 19801
Wilmington's food scene has been in the national spotlight in recent years, and Bardea is one of the reasons why. This James Beard semi-finalist creates innovative Italian dishes, and a dining experience you won't soon forget. On December 20th, they'll be hosting their first annual Garden Giveback Holiday Garden Party. There will be live music brought to you by Lyric Drive & DJ Matt Hoff, as well as raffles, bardea-curated hors d'oeuvres, & much more. 
To make an enchanting night even better, what's more meaningful than the spirit of giving? Guests are encouraged to bring children's toys to donate, and all of the nights proceeds will be donated to the non-profit organization, Motorcycle Santa! A receipt from dining at the restaurant that day is all you'll need to access the Garden Party. You can make your reservations on Open Table, or you can stop in to buy pre-sale tickets.
Capers & Lemons Market 
301 Little Falls Drive, Wilmington, DE 19808
Are you looking for holiday gifts for the foodies in your life? Capers & Lemons is a contemporary Italian bistro offering modern dishes, where you'll also find an adjoined gourmet market with imported and hard to find goods. They have some lovely curated and holiday themed provisions as well, ready to be gifted!
Harry's Savoy Grill 
2020 Naamans Rd., Wilmington, DE 19810
Have you been to the ballroom at Harry's Savoy Grill? It is a beautiful sight to behold that's even more magical dressed up for Christmas. They'll be hosting Christmas Eve Dining on December 24th, featuring an a la carte menu in the restaurant from 3 PM to 8:30 PM, followed by a Christmas Eve celebration in the ballroom with a sumptuous buffet from 4 PM to 8 PM. You can call them at (302)475-3000 to make your reservations.
Wilmington Brew Works
3129 Miller Rd., Wilmington, DE 19802
What's even better than enjoying some frosty beers on the holidays? When Santa joins you! He'll be visiting Wilmington Brew Works on December 11th from 11am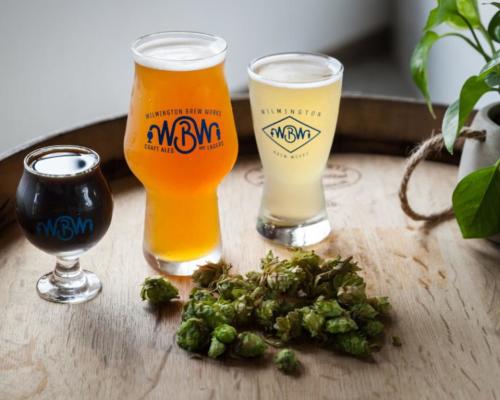 to 1 PM, with some caroler accompaniment. Both children and adults can join in on the fun and grab some selfies with the big man himself. 
They'll also be hosting a Girls Pint Out holiday meetup on Tuesday, December 20th at 6 PM. Tickets are going for $12, and includes discounted "flight of five" 5oz beers. There will also be a white elephant gift exchange, so if you want to participate and give some holiday beer - I mean cheer, bring a beer themed gift worth $20 or less with you! You can purchase your tickets here. 
The night will also feature the chamber choir Coro Allegro, who will be performing Christmas Carols for everyone to enjoy. 
Brew HaHa!
Every holiday season, I get ridiculously excited for all of the seasonal beverages! So if you're like me, you'll definitely want to check out Brew HaHa's new winter specials. They're currently offering a S'mores Latte with Mocha, Marshmallow & Cinnamon, a Frosted Gingerbread Latte with White Mocha & Gingerbread, and a Candy Cane Latte with White Mocha & Peppermint. They have several locations in Wilmington and throughout Delaware, so stop by your local Brew HaHa! and find a new favorite this holiday season!

Sleeping Bird Coffee
3111 Miller Rd., Wilmington, DE 19802
I truly appreciate a great stand-alone cup of coffee, and Sleeping Bird Coffee delivers. But they also have some lovely rotating seasonal coffee flavors, and other winter favorites such as their Brown Sugar Masala Chai, Apple Cider, and Hot Chocolate. As if that weren't sweet enough, they also released a new holiday lineup featuring a Gingerbread Latte with molasses, butter & ginger, an Andes Mint Mocha with Andes mints & dark chocolate, a Salted Smoked Maple Latte with maple & smoked salt, and an Eggnog Caramel Latte using a homemade caramel made with eggnog. Do you want to try them all as much as I do?

Have other recommendations for holiday fare and experiences in Wilmington? Let us know in the comments!