Happy 2016! I hope your cleanse is over, because there's a lot to eat this year, especially if you're visiting us here in Wilmington & The Brandywine Valley. And to kick off the year like a Boss with a hungry heart, here's a rundown of just-opened and coming-soon places I'm very excited to visit. I've noted which is which, but make sure you click for updates before heading out the door.

Tonic Bar + Grill

Wilmington restaurateur Dan Butler opened his modern steakhouse in downtown Wilmington right before the holidays. I had a chance to pop in for a quick burger and a cocktail (with my elfin companion, pictured below) before Christmas. The burger was a solid hit, but the cocktails were a home run creative and holiday themed, without being overly cutesy. I tried the Winter Wonderland (honey infused bourbon, lime juice, simple syrup, egg white and cranberry), and yes, OK, that name might be a little cutesy, but the drink tasted like an old-fashioned Christmas. Looking forward to heading back here for a steak or two.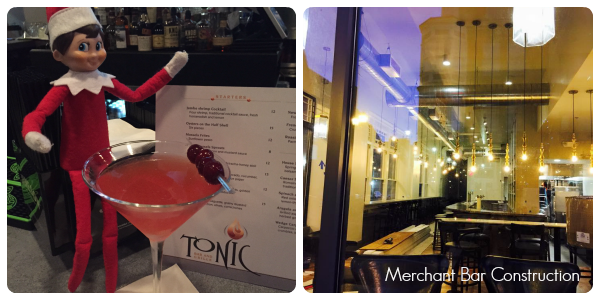 The Merchant Bar
Bryan and Andrea Sikora, the epicurean power couple behind La Fia Bistro and Cocina Lolo, must have looked out the window of La Fia one afternoon, saw the empty storefront across the street and thought Hey, we have lots of spare time on our hands. The Merchant Bar, right across the street from World Cafe Live at the Queen, will open this winter with a wide selection of beer, wine on tap, small plates of global fusion cuisine and will stay open late, for your post-show cocktail needs.
When La Fia first opened, the idea was to have a little bakery/breakfast shop inside the restaurant that would sell coffee and baguettes and general happiness. The space didn't quite allow for it but now the Sikora's have opened this new bakery storefront across the street from The Grand Opera House, selling house-baked break, pastries, sandwiches and the return of the single greatest breakfast sandwich I've ever had in my life, served on house-made English muffins. (I will be writing more about this sandwich very, very soon.)
Bringing barbecue and craft brew to downtown Wilmington, 3 Doors is slated to open sometime in March/April and comes to us from the owners of nearby Chelsea Tavern which is, yes, three doors down on Market Street. Beer from the brewery should be available at Chelsea and Earnest & Scott Taproom across the street.  

Churrascaria Saudades
Can you hear mouths water? Local steak fans have been waiting patiently (not so patiently) for this Brazilian steakhouse to open in Newark. From their website: In days of old (you have to love a restaurant website that starts with in days of old) in the southernmost state of Brazil, Rio Grande do Sul, cattle grazed the pampas (treeless plains), providing the Gaucho (Southern Brazilian Cowboy) with endless supplies of meat for the now famous tradition of Churrasco barbecues. The Gaucho would skewer large pieces of meat and slowly grill them over open-flamed pits. And then he would bring those meats to you in unlimited quantities until you tapped out and surrendered to the meat sweats. And there's a dessert cart replete with cakes, fruits, and sweets. I am very ready for this place, opening winter 2016.  
I tried to check out Middletown's new Metro stop right around the new year, but no dice the place was fully booked for the night. Pat DAmico, formerly the chef at Harry's Savoy Grill in Wilmington, seems to struck a chord in Middetown, serving upgraded comfort food, with plates of venison chili, wild boar sloppy joe's and burgers. Lots and lots of burgers. Its kinda scary how much ground beef we go through, said general manager Adam Cofield. Pats second restaurant, a finer-dining joint, should open in Middletown in the spring.  

Below Middletown
Well, a couple of years ago, we probably wouldn't be talking about much below Middletown, but the town of Smyrna can no longer be ignored by serious eaters. Check out the new Inn at Duck Creek and wait with the rest of us for the Brick Works Brewpub. Take a tour at Painted Stave Distilling (you'll find their spirits in many upstate restaurants) and stop in to hear the blues at Blue Earl Brewing Company. Smyrna, which did not traditionally have a local reputation for being cool, is suddenly being talked about like something cool. You can see why.