In Delaware, we celebrate Thanksgiving every day of the year by putting fresh roasted turkey and stuffing and cranberry sauce on a roll and eating it for lunch and then again for dinner because what were we thinking when we ordered a large?
It is "The Bobbie" from Capriotti's, and it is iconic as a sandwich gets. You might have some local "gobbler" or "pilgrim" sandwich, but know this – "The Bobbie" is original to Delaware, it is the undisputed champion of the World Cup of Sandwiches, and it is what true Delawareans want to eat at any time of the year.
Dead of winter? Get a Bobbie.
Hot summer day at the beach? Get a Bobbie.
Black Friday? You know you want a Bobbie.
Thanksgiving Day? Ok, not Thanksgiving Day. Thanksgiving, you're on your own. Capriotti's is closed.
But if you're coming to Delaware for a Thanksgiving feast, know that we set a pretty high bar for such things around here and if you want to bring something to the feast, you better really bring it.
So, as a guide, you neo-pilgrims travelling to the Land of the Bobbie for Thanksgiving, here are a few suggestions for what to bring:


 Better Cheddar Dip from Back Burner To Go in Hockessin
While you're waiting around for the main event, everyone will be happy to huddle around some of the Back Burner's Better Cheddar, made better by the presence of nuts, scallions, bacon and other tasty things. (Many will claim to have the original recipe. Few do. But why bother with recipes when you can go buy some?) Spread it on crackers, on apple slices, or anything you happen to have handy, and it will undoubtedly make it better. (While you're there, you can knock out the first course by picking up a quart of the pumpkin-mushroom soup.)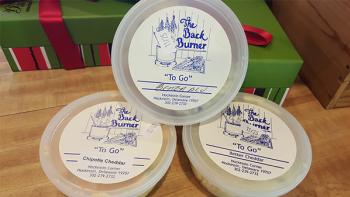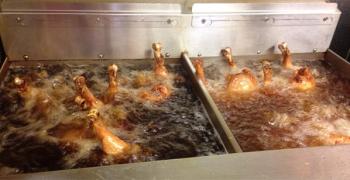 Fried turkey from Johnnie's Dog House
Want all the juicy flavor of a deep-fried turkey without the hassle of maybe burning down your house? One of my favorite local hot dog joints kicks is up a notch at Thanksgiving with 14 lbs. deep-fried turkeys, available for pre-order and pick-up before 3pm.

 Gravy from Janssen's Market
Confession: I'm a scratch cook and responsible for most of a Thanksgiving meal, but for the past three years, I've been buying a quart or two of turkey gravy from Janssen's and passing it off as my own. You can buy other sides there too – as well as high-end chocolates or other hostess gifts – but it's the gravy that saves me hours of work in the kitchen and tastes just as homemade, and I never get caught unless I forget to throw away the giblets.

 Pumpkin pie from De La Coeur Café et Pâtisserie
There are many great pies to be had in our area, but only one bakery that my co-worker believes has sent spies into her mother's home to steal her secret pumpkin pie recipe to sell on the open market. That would be De La Coeur. Buy a  baguette while you're there, and even if you don't know why you'll need one. You'll find a reason.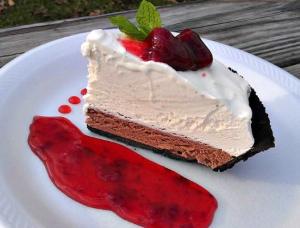 Ice cream pies at Woodside Creamery
After Thanksgiving dinner, all I want is a slice of warm apple pie, but the kids at my table would much rather have ice cream. Split the difference and make little friends for life by arriving with an ice cream pie in a graham cracker crust, or an ice cream cake with layers of vanilla and chocolate separated by crushed Oreo, all from Woodside Creamery. (Bring me home a pint for my pie, while you're there. And get your own pint.)