And now, a rare bit for this food blog – a piece of genuine breaking news.
I just got a peek at the menu for the 20th annual Celebrity Chefs Brunch supporting Meals on Wheels Delaware. And it's awesome. I'll share in a minute, but if you want to skip to the good stuff, scroll down to where it says GET HUNGRY (because if there's one thing I've learned recently, it's that people really don't love it when news people tell you they have a scoop and then spend 19 minutes or so talking about other things first).

For both of you who haven't already skipped ahead … some background:
If you've ever seen Top Chef, you know how events like the Celebrity Chefs Brunch work. You arrive at a beautiful space (in this case, the DuPont Country Club), where a couple-dozen rock star chefs are waiting at their stations with tasty little morsels. You walk up and chat. They schmooze a little bit while putting the finishing touches on their dish. Then you walk away, scarf it down, grab a drink and spend the rest of the afternoon arguing with friends over which bite they HAVE to try next.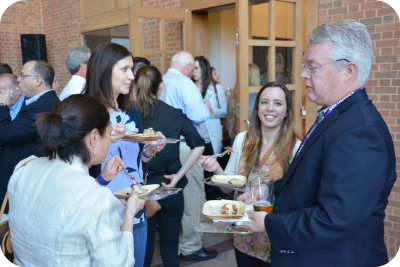 (One noted difference: You can't really get to judges table because it's almost impossible to eat everything. I know. I've tried. I can't. And this is the kind of event I train for all year.)
The Celebrity Brunch always features a couple-dozen top chefs from around this country, but this year, it's even Top Cheffier than usual, with four very memorable contestants from the season that just wrapped up on Bravo: the Northern Italy-native Chef Silvia Barban, the Executive Chef of the State of Alabama Jim Smith, the fiery Kosher/Mexican pioneer Chef Katsuji Tanabe, and the one-and-only Chef John Tesar. (The Food Network's Anne Burrell will host this year.)
Tesar attended the brunch last year and apparently enjoyed his time here so much, he offered to help recruit some friends and comrades from his then-upcoming Charleston season. Meals on Wheels Director of Events Regina Dodds told me that was an offer she couldn't turn down.
"When you read things about him, he has a little bit of a reputation, but he is an awesome person, sure generous, easy to talk to," Dodds told me. "We're super lucky to have him."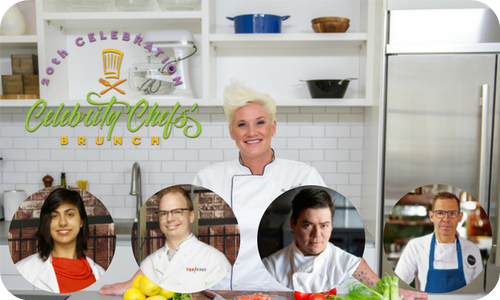 The chef committee actively recruits chefs for the brunch every year from October through February, starting with a long list of past James Beard nominees, Food & Wine award winners, Top Chefs and rising stars that members of the committee have met in their travels. This year's lineup includes chefs from South Carolina, Colorado, Tennessee, Chicago, and Oregon, as well as two local James Beard semifinalists, Hari Cameron from a(MUSE.) in Rehoboth Beach and Wilmington's own Dwain Kalup form Domaine Hudson, as well as two chefs who helped create the event 20 years ago, Tom Hannum from Buckley's Tavern and Dave Banks from Harry's Hospitality Group.
But you want to know about that menu, don't you? Fair enough. But remember, nothing here is final. Just like on Top Chef, sometimes the best-laid plans have to change after the chefs get to Whole Foods and find out someone already bought all the good looking tuna.
So with that in mind, GET HUNGRY for some:

 seared Korean beef with sticky rice and kimchee

 Thai-crusted sea scallops with hoisin-lime soy syrup, sesame-braised sea beans, and red amaranth

 smoked salmon rillettes with dill-egg foam and everything bagel crumble

 truffle scrambled eggs with Iberico bacon

 oxtail and dumplings, with buttered kohlrabi and celery leaf salmoriglio

 spicy tuna tartare on a sesame Togoroshi waffle
Yeah, I'm going to be eating all of that and circling back to the truffle egg station as quickly as seems polite. This year's Celebrity Chefs Brunch starts at 11 a.m. Sunday, April 30. (All necessary info and tickets are here.) My wife and I plan to ditch the kids in New Jersey (with relatives!) so we can attend the opening night of OperaDelaware's 2017 Spring Festival on Saturday night, get a hotel room downtown and attend the brunch in the morning -- making a weekend of it. And apparently, we might have some good company.
"Some of the chefs will specifically request to stay in downtown Wilmington," Dodds said. "A lot of the chefs will extend their stay."