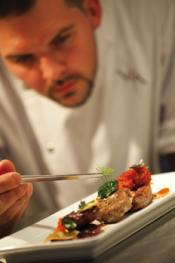 Can we stand one more look back at 2016 before we move on with the year?
I know I missed the Year in Review season, but there are bits and bites that demand recognition in a year of inspired moments in the local food scene. After all, this was the year we saw Chef Robbie Jester of The Stone Balloon in Newark, Delaware beat Bobby Flay on his TV show (with a shrimp scampi that's still on Robbie's menu). The year drinks took up smoking at the Copperhead Saloon, the new classic cocktail bar in Greenville, Delaware. The year Cajun Kate's, a stand-out Cajun restaurant in the Boothwyn Farmer's Market in Pennsylvania,  expanded its gumbo operation into Wilmington. The year we got a Shake Shack.
So, as I have in past years, I've compiled my list of the most memorable, most delicious things I've had lately. Same caveats apply as have in the past – I try to limit this list to things I encountered for the first time in 2016.

Cherrywood smoked lamb bacon at Domaine Hudson
One night over the summer, the house-cured charcuterie plate assembled by Chef Dwain Kalup included Berkshire ham with pickled shallots, salami cotto, chicken-bacon galantine, morcilla … and a cherrywood smoked lamb bacon that crackled with flavor and then practically melted in the mouth, leaving a salty, savory memory in its wake. I stole extra when my companion wasn't looking. I say this with no shame.
Jumbo lump crab guacamole at Cocina Lolo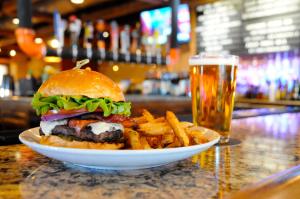 If this is the only thing that Chesapeake-TexMex fusion cuisine ever gives us, that will be enough. Without the crab, the guacamole is still a standout. With it, it's compulsively addictive.
The Metro burger with bacon at
Metro Pub & Grill
The meat? Nicely seasoned and cooked to a juicy medium. Bacon? Really great. Local tomatoes? Perfectly ripe and great. Lettuce and onion? Fresh and great. Bun? Just great. In an age of burger innovation (an age that I welcome), Metro brought things back to basics, serving a reminder of everything there is to love about a good burger. Simplicity itself.
Bacon, egg and cheese breakfast sandwich at Locale BBQ
My first breakfast sandwich from Locale BBQ came with coffee-cured bacon, gently cooked egg and cheese, a remoulade sauce, on a freshly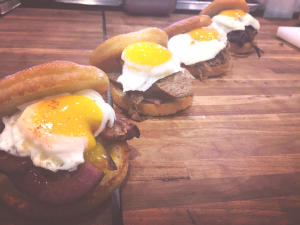 made English muffin, with this additional sauce of smoked honey, pepper flakes and "secret stuff" on the side. It just about ruined me for all other breakfast sandwiches.
Picanha at Churrascaria Saudades
There are a lot of flashy cuts that arrive at your table at Newark's Brazilian steakhouse – the rack of lamb, the filet mignon, the ribeye. But my favorite was the humble picanha, a sirloin cut with a thin strip of meltingly tender fat at the top, terrifically seasoned to bring out the fundamental meatiness of the cut. A bit of the creamy garlic mashed potatoes cleanses the palate after each bite.
Truffle manchego cheese risotto at The House of William and Merry
The perfectly cooked risotto swimming in its rich, creamy broth popped with flavor even before I removed the roasted bone marrow from the split bone and mixed it into the dish. Add shaved white truffles on top, and it's … decadent, transporting, ethereal. Take your pick of adjectives, but none seem to capture it.
Seafood crepe at Chez Robert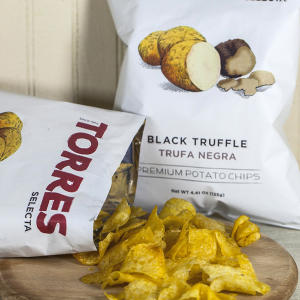 This was the year Chef Robert Lhulier stepped out of the kitchen at the University & Whist Club and into the kitchen of his own home, where he now prepares pop-up dinners for intimate tables of eight. My first time at his table, the seafood "hot pockets" (his words, not mine) was served as a second course under a delicate, heady shrimp sauce.
Torres black truffle potato chips from Janssen's Market
Paula Janssen brought these chips to her picnic this summer at the Delaware Shakespeare Festival. No classy picnic should be without.
Sirloin au poivre at Valle Cucina
Straight up, this is not a new dish. For as long as I can remember, Valle has been known as an Italian spot with excellent steaks. But this year, the simple six-ounce sirloin, served with ample au poivre sauce and with piping hot fries on the side, became my favorite steak frites in the state.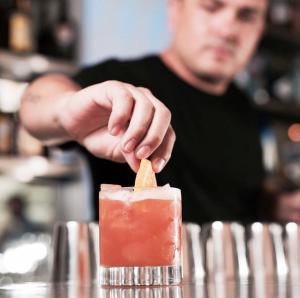 Gentleman's Jig at Merchant Bar
A rinse of Laphroaig Scotch Whisky to create a nose that recalls an Old World fire on a rainy day. Add Tullamore Dew Whiskey and St. Germain, the elderflower liquor mellowing the stiffer drink, with a bright lemon twist and orange bitters giving it a citrusy bite. My favorite cocktail of the year.
The Frankenpig at the Delaware Restaurant Association Cornerstone Awards
Only the combined madness of Tom Craft (2 Fat Guys) and Billy Rawstrom (Maiale Salumeria) could create the Frankenpig: A whole pig, deboned and injected with Fordham/Old Dominion Double D Double IPA rubbed with sriracha molasses, layered with organic confit pork belly, and stuffed (in various spots) with buffalo chicken sausage, bratwurst, wild boar sausage, mini bear hotdogs, an Angus beef ribeye and a whole pork loin, then smoked for 14 hours. I, for one, am grateful to live in a world that is wide enough for Frankenpig and me.