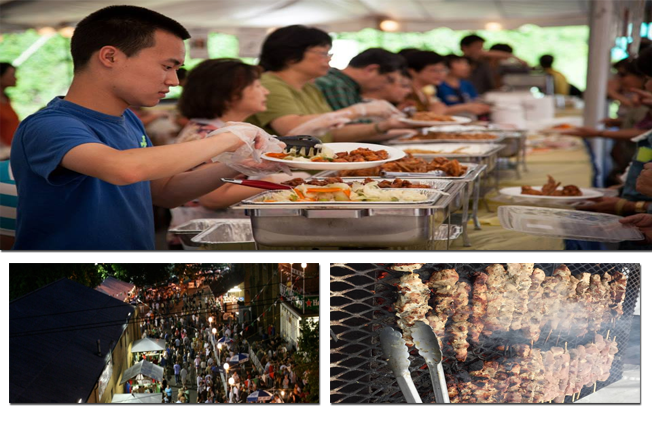 (Editors Note: Our usual professional foodie, Matt Sullivan, ate himself silly at the MidAtlantic Wine and Food Festival and his stomach needs a rest. Fear not, foodies Gaby's here to eat in his place.)
2016 Date Update: 
Holy Trinity Greek Festival: June 7-11
St. Anthony's Italian Festival: June 12-19
Delaware Chinese Festival: August 12-14
Wilmington has its share of festivals, over 100 to be exact, but there are 3 in particular that define my summer. They involve copious amounts of Greek, Italian, and Chinese food, outside with my friends. Each festival individually is worth a visit, but together, they are a tour de force of international cuisine, and you don't even need a passport.


Holy Trinity Greek Festival As a kid growing up in Wilmington, summers started with the Greek Festival. Going 40 years strong, Holy Trinity Greek Orthodox Church prepares authentic Greek Food that takes over their parking lot and church for five days. It's hard to nail down here exactly what to eat, since its all so good. This means you're going to have to give yourself multiple trips. Here are my top picks:
Loukoumades: Yes, I'm starting with dessert. If you try nothing, try these. Its dough, it's fried, and it's covered in honey and cinnamon. They make them fresh right in front of your face. You need no more reasons to get here.
Spanikopita: Phyllo dough baked with spinach and feta (and from what my taste buds tell me, some mint!). Its buttery, salty, flaky deliciousness and I get one every year. Based on the portion size, you could share, but I never do.
Pastitso: I had the pastitso for the first time this year, and I'm so glad I did! Its like lasagna, but Greek. Expertly spiced ground beef with noodles and a white cream sauce. Check your diet at the door.
Souvlaki & Gyros: Don't forget the Greek staples! These delectable sandwiches can be found in the outside dining. Don't be scared of the line that inevitably forms every year they are worth the wait!
The Greek Festival is currently happening so put it on your calendar for next year! It typically runs the first week in June.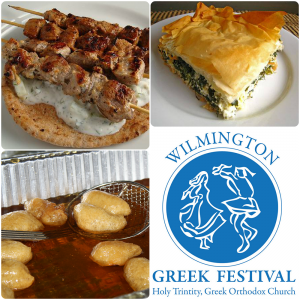 St. Anthony's Italian Festival You have little time to rest between the Greek Festival and the Italian Festival. Always opening the day after the Greek Festival, the St. Anthony's Italian Festival is eight days of Italian fanfare. You have more than a few eating options here. I recommend you buy yourself an 8 days pass. You'll be able to eat a different meal every night!
Here's the culinary breakdown:
The Ballad Room: When I was a kid, all the Italian Nonnas would be in the basement of the church cranking out homemade pasta and gravy for the masses. Now, equally as homemade, is the pasta that's getting served there from The Chesapeake Inn and

La Casa Pasta

. Spaghetti and ravioli dinners, meatballs and chicken parm can all be found here. It's also an air-conditioned dining room, for those who don't enjoy al fresco dining.
Cafe Antonian: This is where you go to get your Spezzato sandwich. A meaty and delicious stew of veal, mushrooms, and peppers stuffed in an Italian roll. I get one every year and am never disappointed. Not in the mood for veal? The crowd-pleasing porkette sandwich will be your go-to. Thinly sliced porkette in a perfectly seasoned au jus is what your summer needs. (and don't even think about walking away without putting the broccoli rabe on top of it. )
La Piazza: They've got the sandwiches at La Piazza too but that's not why you come here. You head to La Piazza for the fried stuff. Fried smelts (my favorite), fried calamari, fried all-of-it. It's not a festival without fried food, and the Italian Festival is no exception.
Cafe Nona Strada: Find a little bit of everything here including vegetarian options. The favorites include chicken spezzato -grilled and made the old-fashioned way in homemade tomato sauce, homemade meatballs, vegetarian Festival sandwich, famous Broccoli Rabe, String beans & potatoes, a variety of salads including roasted red pepper & fresh mozzarella, pepper poppers, made-to-order pizza, and nightly pasta specials.
Various wines, beers, and limoncello can be found at various stands around the festival. I never leave without picking up a cannoli near La Piazza and usually start my night with the traditional lemon Italian ice with vodka. This year the festival is June 7-14th.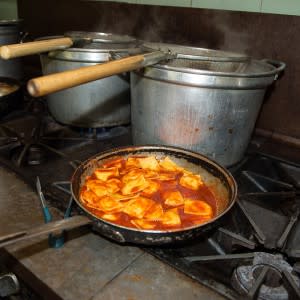 Delaware Chinese Festival I've been going to the Greek and Italian festivals every summer since I was a kid with only a small hiatus of a few years. As an adult, I've not missed a single summer of the Chinese Festival. Trust me on this: you need to get there. This 3 day festival at the Chinese American Community Center in Hockessin is an incredible display of Chinese food and culture. In short: its the best Chinese food you're ever going to have. I have no bullet points here. Eat all of it. The best part is that you can. With various stations, all set up in a row under the tent, you can just start at one end and work your way down. Steamed pork buns, scallion pancakes, bubble tea, veggie lo mein its all made right there. You'll see the grills behind the tables. Wash it all down with a Qing Dao Beer or some Chinese Plum Juice.
Pro tip: walk across to Woodside Farm Creamery after you eat. You'll need the walk to make room for homemade ice cream, and then the walk back to feel human again. Festival dates this year are June 19-21st.