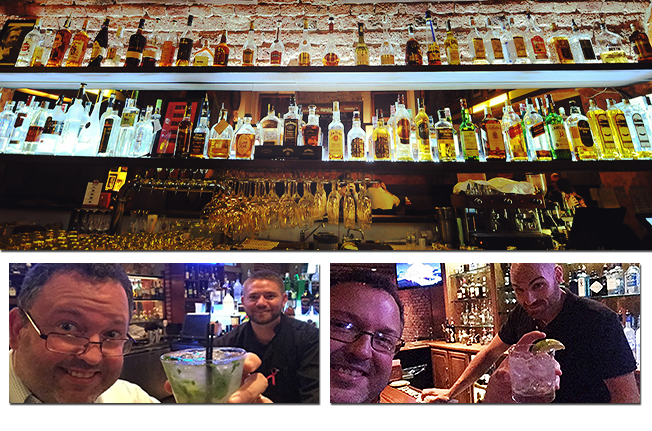 Exhaustive research. Tireless reporting. Incisive wit.
These are good reasons why you should read other things on the Internet. Here, you get selfies of me and my favorite cocktails and the people who make them.


One time, I stopped in for a drink and John told me he was busy infusing green peppers into gin. Why would you do that? I asked. He let me try some.
I remained deeply suspicious.
Then the next time I came in, I had a 909 (green bell pepper-infused Beefeater Gin, basil and white pepper shrub, Green Chartreuse, lemon juice, club soda). And I learned something important about trust.
Domaine Hudson has long been known in these parts for its impressive wine list, but its cocktail culture has played some serious catch up since they hired John last year. The Orange Manhattan is a signature drink, and like much of his best work, it manages to find new things to say about something very familiar. Id also recommend the Ginger Sidecar (Courvoisier, ginger liqueur, Cointreau, lemon juice) and the Sazerac (Bulleit Rye Whiskey, Absinthe wash, Peychauds bitters, simple syrup), all worth trying before, during or after dinner.

The Maiden Voyage is one of the few mainstays on the constantly rotating cocktail menu at William & Merry, and though I often order whats new and in season, I always come back to the Voyage. Simply prepared and served in a rocks glass with a large, single ice cube that keeps the drink cool without watering it down vitally important to this delicately flavored drink the Voyage sets the tone for the night.
Bill Hoffman and Merry Canutato, the husband-wife duo who own The House of William & Merry, have cultivated a small but impressively talented staff and they've given them space to explore their own ideas. Olivia is a server who moonlights as the creative force behind a delightfully unexpected drink menu. This summer, she used a smoked sea salt rim to bring considerable earthiness to the usual flavor profiles you'd expect to find in a margarita, and The Gypsy on the current menu brings Tanqueray, St. Germain, Green Chartreuse and lime together in beautiful balance.
The bar at W&M, overlooking the kitchen, is one of the hottest tables in Delaware. Come for the drinks, but don't leave without something to eat. The Chefs Tasting Board is never a bad place to start while you're sipping away.

Ken is everything you want from a bartender when you're out because you're angry and you want to punch things. Eternally upbeat and wearing a sly smile that suggests that he might also want to punch things but hes dealing with it better than you, Ken gets a nightly mix of regulars and out-of-towners and makes them all feel at home.
Harry's offers one of my favorite happy hours in Delaware. Drink prices are slashed, oysters are half price on Tuesday and Thursday and the bar snacks menu is as creative as it gets. But bartenders like Ken (and Harry's has several great folks behind the bar) keep me coming back at any time of the day, and the gimlet is exactly the refreshing summer drink that a restaurant on the water should offer. Now that were heading into the cooler months, Ill likely gravitate toward the 46 Manhattan (Makers 46 Kentucky bourbon whiskey, sweet vermouth, house made cherry bitters, Amarena cherry, served on the rocks) or the local Shipwreck (Delawares Painted Stave Scarlett Vodka, Amarena cherry juice, splash pineapple juice, shaken and served up).

This is a margarita without gimmick. It isn't specifically on the menu. Its the drink Paul makes when you order a margarita some tequila (pick a decent tequila), some Cointreau, and some freshly muddled citrus juices, heavy on the lime but sometimes with a bit of orange in there too.
People sometimes tell me they want a skinny margarita, Paul once said. I don't know how to make a fat margarita.
This is drink that tastes like freshly squeezed summer. In a joint with impressive wines by the glass, a well-curated beer selection and a number of seasonally interesting cocktails, there's lots to choose from but on the rooftop deck, with Paul behind the bar, the sun in the sky and all right with the world, I'm ordering a margarita.

OK, that's not a cocktail. I'm sure Lew can make a great cocktail, but it was loud and this was easy to order. It was loud because Nomad is the best jazz bar in Delaware, only steps away from the Hotel du Pont in the center of Wilmington, but you likely won't stumble across it without directions. The drink selection is on point, the music is sharp, the vibe is welcoming, and its the kind of place you want to be at 9:30 when you're not ready to commit yourself to your hotel room for the night.
And Lew's a good guy. Hell take care of you.